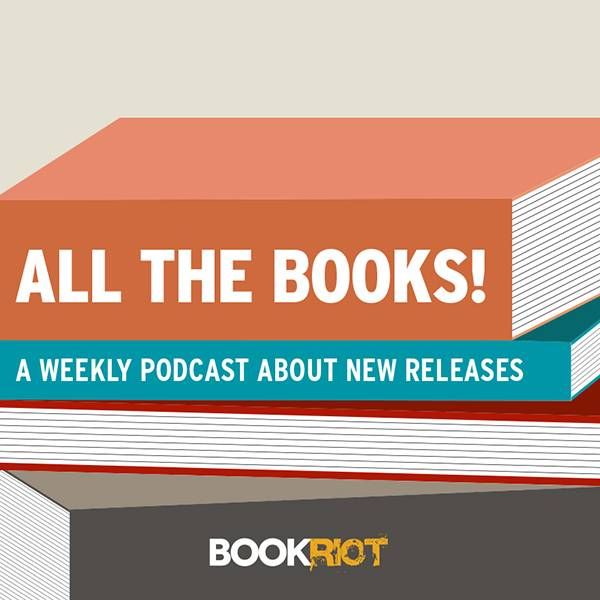 New Releases and More for November 14, 2017
This post contains affiliate links. When you buy through these links, Book Riot may earn a commission.
This week, Liberty and Jenn discuss The City of Brass, Into the Drowning Deep, The Wild Book, and more books.
This episode was sponsored by ThirdLove, Uncle John's Bathroom Reader, and Creature of Will & Temper.
Subscribe to All the Books! using RSS or iTunes and never miss a beat book.
Sign up for the weekly New Books! newsletter for even more new book news.
AND OHHHHH! Did you know we're giving away $500 to the bookstore of your choice? Click here to enter!
Books discussed on the show:
The City of Brass by S. A. Chakraborty
Future Home of the Living God: A Novel by Louise Erdrich
Shirtless Bear-Fighter Volume 1 by by Jody LeHeup (Author),‎ Sebastian Girner (Author),‎ Nil Vendrell (Artist),‎ Mike Spicer (Artist),‎ Andrew Robinson (Artist)
Beasts of Extraordinary Circumstance by Ruth Emmie Lang
The Book of Resting Places: A Personal History of Where We Lay the Dead by Thomas Mira y Lopez
Mother of All Pigs by Malu Halasa
Into the Drowning Deep by Mira Grant
The Wild Book (Yonder) by Juan Villoro (Author), Lawrence Schimel (Translator)
Whichwood by Tahereh Mafi
What we're reading:
Everything Is Horrible and Wonderful: A Tragicomic Memoir of Genius, Heroin, Love, and Loss by Stephanie Wittels Wachs
Autonomous by Annalee Newitz
More books out this week:
Mean by Myriam Gurba
Hardcore Twenty-Four: A Stephanie Plum Novel by Janet Evanovich
End Game (Will Robie Series) by David Baldacci
Blackbird by Michael Fiegel
No Saints in Kansas by Amy Brashear
The Last Sheriff in Texas: A True Tale of Violence and the Vote by James P. McCollom
Don't Save Anything: Uncollected Essays, Articles, and Profiles by James Salter
Goldeline by Jimmy Cajoleas
The Book of Formation by Ross Simonini
The Inside Out Man by Fred Strydom
The Art of Misdiagnosis: Surviving My Mother's Suicide by Gayle Brandeis
On Power: My Journey Through the Corridors of Power and How You Can Get More Power by Gene Simmons
Thousands by Lightsey Darst
Fragments of the Lost by Megan Miranda
Runebinder by Alex R. Kahler
Promise Me, Dad: A Year of Hope, Hardship, and Purpose by Joe Biden
Artemis by Andy Weir
Adult Fantasy: searching for true maturity in an age of mortgages, marriages, and other adult milestones by Briohny Doyle
Oathbringer: Book Three of the Stormlight Archive series by Brandon Sanderson
I Don't Want to Know Anyone Too Well: Collected Stories by Norman Levine
The Ghost of Christmas Past (Molly Murphy Mysteries) by Rhys Bowen
The Emerald Circus by Jane Yolen
The Imagined Land by Eduardo Berti, Charlotte Coombe (Translator)
Debriefing: Collected Stories by Susan Sontag
Sleep No More: Six Murderous Tales by P. D. James
The Savage by Frank Bill
Creatures of Will & Temper by Molly Tanzer
The Night Language by David Rocklin
A Beautiful Young Woman by Julian Lopez
Improvement: A Novel by Joan Silber
After the End of the World (Carter & Lovecraft) by Jonathan L. Howard
Strangers in Budapest by Jessica Keener
The Library at the Edge of the World by Felicity Hayes-McCoy
Bunk: The Rise of Hoaxes, Humbug, Plagiarists, Phonies, Post-Facts, and Fake News by Kevin Young
Fates and Traitors by Jennifer Chiaverini (Now in paperback.)
Pachinko by Min Jin Lee (Now in paperback.)