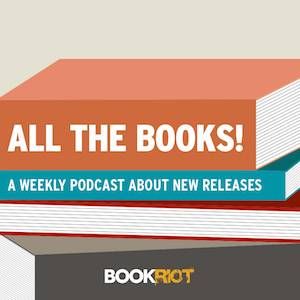 New Releases and More for November 20, 2018
This post contains affiliate links. When you buy through these links, Book Riot may earn a commission.
This week, Liberty and María Cristina discuss Watersnakes, My Sister, the Serial Killer, Newcomer, and more great books.
This episode was sponsored by Book Riot Insiders, Simple Contacts, and Ritual Essential for Women.
Subscribe to All the Books! using RSS or iTunes and never miss a beat book.
Sign up for the weekly New Books! newsletter for even more new book news.
Books discussed on the show:
My Sister, the Serial Killer by Oyinkan Braithwaite
How She Died, How I Lived by Mary Crockett
Newcomer: A Mystery by Keigo Higashino and Giles Murray
Watersnakes by Tony Sandoval
Fire & Blood: 300 Years Before A Game of Thrones (A Targaryen History) by George R.R. Martin
Jim Henson's Labyrinth: Coronation Vol. 1 by Simon Spurrier
A Cathedral of Myth and Bone: Collected Stories by Kat Howard
How Long 'til Black Future Month?: Stories by N. K. Jemisin
As a City On A Hill by Daniel T. Rogers
What we're reading:
Empress of All Seasons by Emiko Jean
Bring It On Home: Peter Grant, Led Zeppelin, and Beyond–The Story of Rock's Greatest Manager by Mark Blake
More books out this week:
Target Alex Cross by James Patterson
Master of His Fate (The House of Falconer Series) by Barbara Taylor Bradford
City of Broken Magic (Chronicles of Amicae) by Mirah Bolender
Hardly Children: Stories by Laura Adamczyk
Little Dancer Aged Fourteen: The True Story Behind Degas's Masterpiece by Camille Laurens and Willard Wood
Nothing Is Lost: Selected Essays by Ingrid Sischy
Gunsmoke & Glamour by Hillary Monahan
Tony's Wife: A Novel by Adriana Trigiani
The Frangipani Tree Mystery (Crown Colony) by Ovidia Yu
The Circuit: A Tennis Odyssey by Rowan Ricardo Phillips
Extinctions by Josephine Wilson
Camellia Street by Mercè Rodoreda, David Rosenthal (Translator)
The Last Unicorn: The Lost Journey by Peter S. Beagle
Hannah Versus the Tree by Leland de la Durantaye