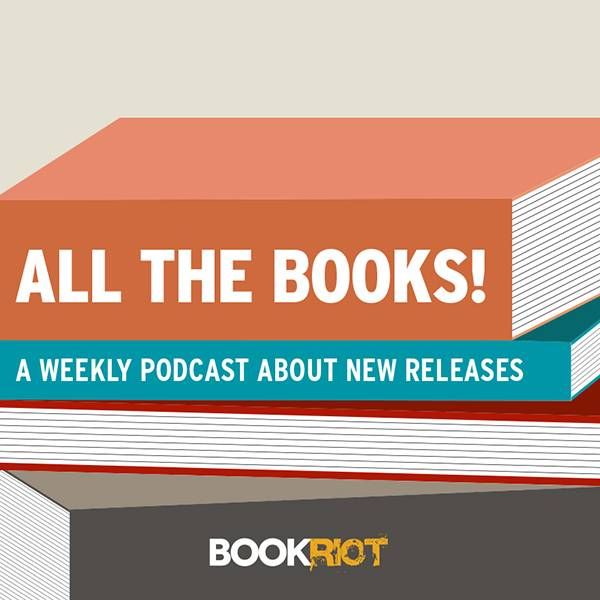 New Releases and More for July 24, 2018
This post contains affiliate links. When you buy through these links, Book Riot may earn a commission.
This week, Liberty and Rebecca discuss I Can't Date Jesus, A Noise Downstairs, Killing It, and more great books.
This episode was sponsored by Recommended, Bombas, and How To Love a Jamaican: Stories by Alexia Arthurs.
And don't forget to enter to win $500 worth of the year's best YA books!
Subscribe to All the Books! using RSS or iTunes and never miss a beat book.
Sign up for the weekly New Books! newsletter for even more new book news.
Books discussed on the show:
JELL-O Girls: A Family History by Allie Rowbottom
From the Corner of the Oval: A Memoir by Beck Dorey-Stein
A Noise Downstairs by Linwood Barclay
Give Me Your Hand by Megan Abbott
Women of the Dunes by Sarah Maine
My Favorite Thing is Monsters by Emil Ferris
I Can't Date Jesus: Love, Sex, Family, Race, and Other Reasons I've Put My Faith in Beyoncé by Michael Arceneaux
Spinning by Tillie Walden
Killing It: An Education by Camas Davis
What we're reading this week:
Ordinary People by Diana Evans
Severance by Ling Ma
More books out this week:
Endless Water, Starless Sky (Bright Smoke, Cold Fire) by Rosamund Hodge
The Last Thing I Told You by Emily Arsenault
Inappropriation: A Novel by Lexi Freiman
Contagion by Erin Bowman
Annex (The Violet Wars) by Rich Larson
Whistle in the Dark: A Novel by Emma Healey
You're On An Airplane: A Self-Mythologizing Memoir by Parker Posey
Chekhov: Stories for Our Time (Restless Classics) by Anton Chekhov
Record of a Spaceborn Few (Wayfarers) by Becky Chambers
The Future Will Be BS-Free by Will McIntosh
Pirata: A Novel by Patrick Hasburgh
How to Love a Jamaican: Stories by Alexia Arthurs
The Duke Buys a Bride: The Rogue Files by Sophie Jordan
Hangman by Daniel Cole
Sanctuary (A Sanctuary Novel) by Caryn Lix
Mary B: A Novel: An Untold Story of Pride and Prejudice by Katherine J. Chen
What Remains of Her by Eric Rickstad
America for Beginners: A Novel by Leah Franqui
Thrawn: Alliances (Star Wars) by Timothy Zahn
30 Before 30: How I Made a Mess of My 20s, and You Can Too by Marina Shifrin
Ghosted: A Novel by Rosie Walsh
Charlotte Walsh Likes To Win by Jo Piazza
Unlocked by John Scalzi
Proud: My Fight for an Unlikely American Dream by Ibtihaj Muhammad and Lori Tharps
Silent Hearts by Gwen Florio
Nightbooks by J.A. White
Now My Heart Is Full: A Memoir by Laura June
Tour de Oz: The extraordinary story of the first bicycle race around Australia by Bret Harris