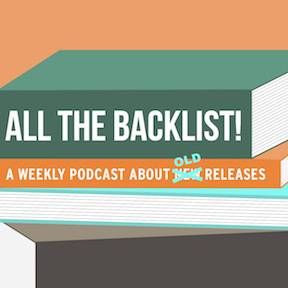 New Releases and More for January 29, 2019
This week, Liberty and Rebecca discuss We Cast a Shadow, Deep Creek, Notes on a Nervous Planet, and more great books.
This episode was sponsored by the Read Harder Journal, Flare Up by Shannon Stacey, and Doubleday, publishers of The Plotters by Un-su Kim.
Subscribe to All the Books! using RSS or iTunes and never miss a beat book.
Sign up for the weekly New Books! newsletter for even more new book news.
Books discussed on the show:
We Cast a Shadow: A Novel by Maurice Carlos Ruffin
Deep Creek: Finding Hope in the High Country by Pam Houston
The Falconer: A Novel by Dana Czapnik
Black Is the Body: Stories from My Grandmother's Time, My Mother's Time, and Mine by Emily Bernard
99 Percent Mine: A Novel by Sally Thorne
Notes on a Nervous Planet by Matt Haig
Devotions by Mary Oliver
What we're reading:
Good Talk: A Memoir in Conversations by Mira Jacob
The Unwinding of the Miracle: A Memoir of Life, Death, and Everything That Comes After by Julie Yip-Williams
More books out this week:
King of Scars by Leigh Bardugo
Come Find Me by Megan Miranda
The Love and Lies of Rukhsana Ali by Sabina Khan
Dreyer's English: An Utterly Correct Guide to Clarity and Style by Benjamin Dreyer
The Twenty-Ninth Year by Hala Alyan
A Curse So Dark and Lonely by Brigid Kemmerer
Reclaiming Our Space: How Black Feminists Are Changing the World from the Tweets to the Streets by Feminista Jones
All the Lives We Ever Lived: Seeking Solace in Virginia Woolf by Katharine Smyth
Underground: A Human History of the Worlds Beneath Our Feet by Will Hunt
Vigilance by Robert Jackson Bennett
At the Wolf's Table: A Novel by Rosella Postorino and Leah Janeczko
Ransacker (Berserker) by Emmy Laybourne
The End of Loneliness: A Novel by Benedict Wells and Charlotte Collins
Dark Sky Rising: Reconstruction and the Dawn of Jim Crow (Scholastic Focus) by Henry Louis Gates Jr. and Tonya Bolden
I Used to Be a Miserable F*ck: An Everyman's Guide to a Meaningful Life by John Kim
House of Stone: A Novel by Novuyo Rosa Tshuma
Meena Meets Her Match by Karla Manternach and Rayner Alencar
Death Prefers Blondes by Caleb Roehrig
WeirDo (WeirDo #1) by Anh Do
The Bold World: A Memoir of Family and Transformation by Jodie Patterson
The Wolf in the Whale by Jordanna Max Brodsky
The World According to Fannie Davis: My Mother's Life in the Detroit Numbers by Bridgett M. Davis
Reckoning of Fallen Gods: A Tale of the Coven by R.A. Salvatore
The Plotters: A Novel by Un-su Kim
The Cerulean by Amy Ewing
The Lost Girls of Paris by Pam Jenoff
Golden Child: A Novel by Claire Adam
Here and Now and Then by Mike Chen
Shameless: A Sexual Reformation by Nadia Bolz-Weber
41 Reasons I'm Staying In: A Celebration of Introverts by Hallie Heald
The Pope: Francis, Benedict, and the Decision That Shook the World by Anthony McCarten
Battlepug: The Compugdium by Mike Norton (Author, Artist), Allen Passalaqua (Artist), David Dunstan (Artist)
Go Ahead in the Rain: Notes to A Tribe Called Quest by Hanif Abdurraqib
Some Girls Bind (Ya Verse) by Rory James