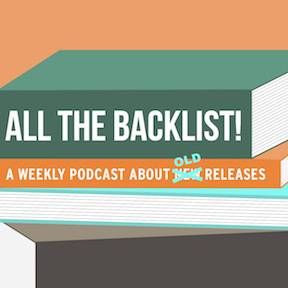 New Releases and More for February 26, 2019
This post contains affiliate links. When you buy through these links, Book Riot may earn a commission.
This week, Liberty and Vanessa discuss The Priory of the Orange Tree, Go Ahead in the Rain, Kid Gloves, and more great books.
This episode was sponsored by Audible, Blinkist, and The Night Tiger by Yangtze Choo, out now from Flatiron Books.
Subscribe to All the Books! using RSS or iTunes and never miss a beat book.
Sign up for the weekly New Books! newsletter for even more new book news.
Books discussed on the show:
The Priory of the Orange Tree by Samantha Shannon
The Raven Tower by Ann Leckie
American Spy by Lauren Wilkinson
The Good Immigrant: 26 Writers Reflect on America edited by Nikesh Shukla and Chimene Suleyman
Kid Gloves: Nine Months of Careful Chaos by Lucy Knisley
Go Ahead in the Rain by Hanif Abdurraqib
The Atlas of Reds and Blues by Devi S. Laskar
To Night Owl from Dogfish by Holly Goldberg Sloan and Meg Wolitzer
What we're reading:
Early Riser by Jasper Fforde
Gideon the Ninth by Tamsyn Muir
More books out this week:
An Unconditional Freedom (The Loyal League) by Alyssa Cole
Four Dead Queens by Astrid Scholte
PTSD by Guillaume Singelin
Magic Is Dead: My Journey into the World's Most Secretive Society of Magicians by Ian Frisch
The Lost Night by Andrea Bartz
No Way by S. J. Morden
California Girls by Susan Mallery
Women Warriors: An Unexpected History by Pamela D. Toler
The Game of Stars (Kiranmala and the Kingdom Beyond) by Sayantani DasGupta
Rayne & Delilah's Midnite Matinee by Jeff Zentner
Dead Men's Trousers by Irvine Welsh
The Beauty of the Moment by Tanaz Bhathena
Rise of the Dragons by Angie Sage
Savage Feast: Three Generations, Two Continents, and a Dinner Table (a Memoir with Recipes) by Boris Fishman
We Must Be Brave by Frances Liardet
Hunting Game (An Embla Nyström Investigation) by Helene Tursten and Paul Norlen
That Time I Loved You: Stories by Carrianne Leung
Mother Country: A Novel by Irina Reyn
We Set the Dark on Fire by Tehlor Kay Mejia
An Affair of Poisons by Addie Thorley
The Huntress by Kate Quinn
Goulash: A Novel by Brian Kimberling
The Big Crush by David J. Schow
American Duchess: A Novel of Consuelo Vanderbilt by Karen Harper
The Border by Don Winslow
This View of Life: Completing the Darwinian Revolution by David Sloan Wilson
Lady Derring Takes a Lover: The Palace of Rogues by Julie Anne Long
Low Country Hero by Lee Tobin McClain
It's Getting Scot in Here by Suzanne Enoch
The Lost Prince: A Search for Pat Conroy by Michael Mewshaw
Fay Wray and Robert Riskin: A Hollywood Memoir by Victoria Riskin
Binstead's Safari by Rachel Ingalls
The Very Best of the Best: 35 Years of The Year's Best Science Fiction by Gardner Dozois
Captain Marvel: Liberation Run by Tess Sharpe
The Body Myth by Rheea Mukherjee
After She's Gone: A Novel (Hanne Lagerlind-Schon) by Camilla Grebe and Elizabeth Clark Wessel
Say Nothing: A True Story of Murder and Memory in Northern Ireland by Patrick Radden Keefe
Birthday by César Aira and Chris Andrews
The Stars Below (Vega Jane, Book 4) by David Baldacci
Chaos, A Fable by Rodrigo Rey Rosa and Jeffrey Gray
Drawn and Buttered (A Lobster Shack Mystery) by Shari Randall
Political Action: A Practical Guide to Movement Politics (New York Review Books Classics) by Michael Walzer and Jon Wiener
The Weight of a Thousand Feathers by Brian Conaghan
More Walls Broken by Tim Powers and Jon Foster
Death & Honey by Kevin Hearne and Lila Bowen
tsunami vs. the fukushima 50: poems by Lee Ann Roripaugh
You Who Enter Here (Suny Series, Native Traces) by Erika T Wurth