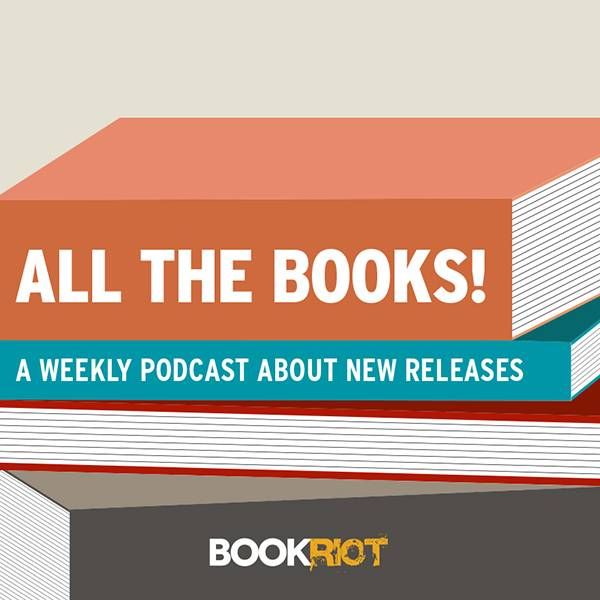 New Releases and More for February 19, 2019
This post contains affiliate links. When you buy through these links, Book Riot may earn a commission.
This week, Liberty and María Cristina discuss Bangkok Wakes to Rain, The White Book, The Study of Animal Languages, and more great books.
This episode was sponsored by Audible and Blinkist.
Subscribe to All the Books! using RSS or iTunes and never miss a beat book.
Sign up for the weekly New Books! newsletter for even more new book news.
Books discussed on the show:
The Care and Feeding of Ravenously Hungry Girls by Anissa Gray
The Source of Self Regard: Selected Essays, Speeches, and Meditations by Toni Morrison
Bangkok Wakes to Rain: A Novel by Pitchaya Sudbanthad
The Study of Animal Languages: A Novel by Lindsay Stern
The White Book by Han Kang
Darwin: An Exceptional Voyage by Fabien Grolleau and Jéremie Royer
Death Prefers Blondes by Caleb Roehrig
The City In the Middle of the Night by Charlie Jane Anders
What we're reading:
Wanderers by Chuck Wendig
The Dreamers by Karen Thompson Walker
More books out this week:
Broken Stars: Contemporary Chinese Science Fiction in Translation by Ken Liu
Trump Sky Alpha: A Novel by Mark Doten
Nobody's Looking at You: Essays by Janet Malcolm
For the Killing of Kings (The Ring-Sworn Trilogy) by Howard Andrew Jones
Spearhead: An American Tank Gunner, His Enemy, and a Collision of Lives in World War II by Adam Makos
The Moon Sister: A Novel (The Seven Sisters) by Lucinda Riley
The (Half) Truth by Leddy Harper
Letter to Survivors by Gebe and Edward Gauvin
The Elegant Lie by Sam Eastland
The Familiars: A Novel by Stacey Halls
Aerialists: Stories by Mark Mayer
Hunting LeRoux: The Inside Story of the DEA Takedown of a Criminal Genius and His Empire by Elaine Shannon
Liquid Rules: The Delightful and Dangerous Substances That Flow Through Our Lives by Mark Miodownik
The Nocilla Trilogy: Nocilla Dream, Nocilla Experience, Nocilla Lab by Agustín Fernández Mallo, Thomas Bunstead (Translator)
Colonize This!: Young Women of Color on Today's Feminism New Edition by Daisy Hernandez, Bushra Rehman
Arturo's Island: A Novel by Elsa Morante, Ann Goldstein (translator)
How to Hide an Empire: A History of the Greater United States by Daniel Immerwahr
The Afterward by E.K. Johnston
The Haunting of Tram Car 015 by P. Djèlí Clark
The Art of Losing by Lizzy Mason
The Secrets of Clouds by Alyson Richman
The Next to Die: A Novel by Sophie Hannah
The Birds That Stay by Ann Lambert
The Good Immigrant: 26 Writers Reflect on America by Nikesh Shukla and Chimene Suleyman
Immoral Code by Lillian Clark
American Heroin by Melissa Scrivner Love
Earth-Shattering: Violent Supernovas, Galactic Explosions, Biological Mayhem, Nuclear Meltdowns, and Other Hazards to Life in Our Universe by Bob Berman
Chamber Music: Wu-Tang and America (in 36 Pieces) by Will Ashon
Death in Provence: A Novel by Serena Kent
The Vanishing Man: A Prequel to the Charles Lenox Series by Charles Finch
The Stranger from the Sea: A Novel by Paul Binding
Blood Orange by Harriet Tyce
Where Oblivion Lives (Los Nefilim Book 1) by T. Frohock