Librarians Talking Libraries
Welcome to the Dear Book Nerd podcast, a bi-weekly show that answers your questions about life, love, and literature! My special guest co-host this week is librarian extraordinaire Stephanie Anderson. We discuss two listener-submitted questions relating to libraries and touch on topics such as frustrating library job searches and the complicated issue of library e-books. Don't miss it!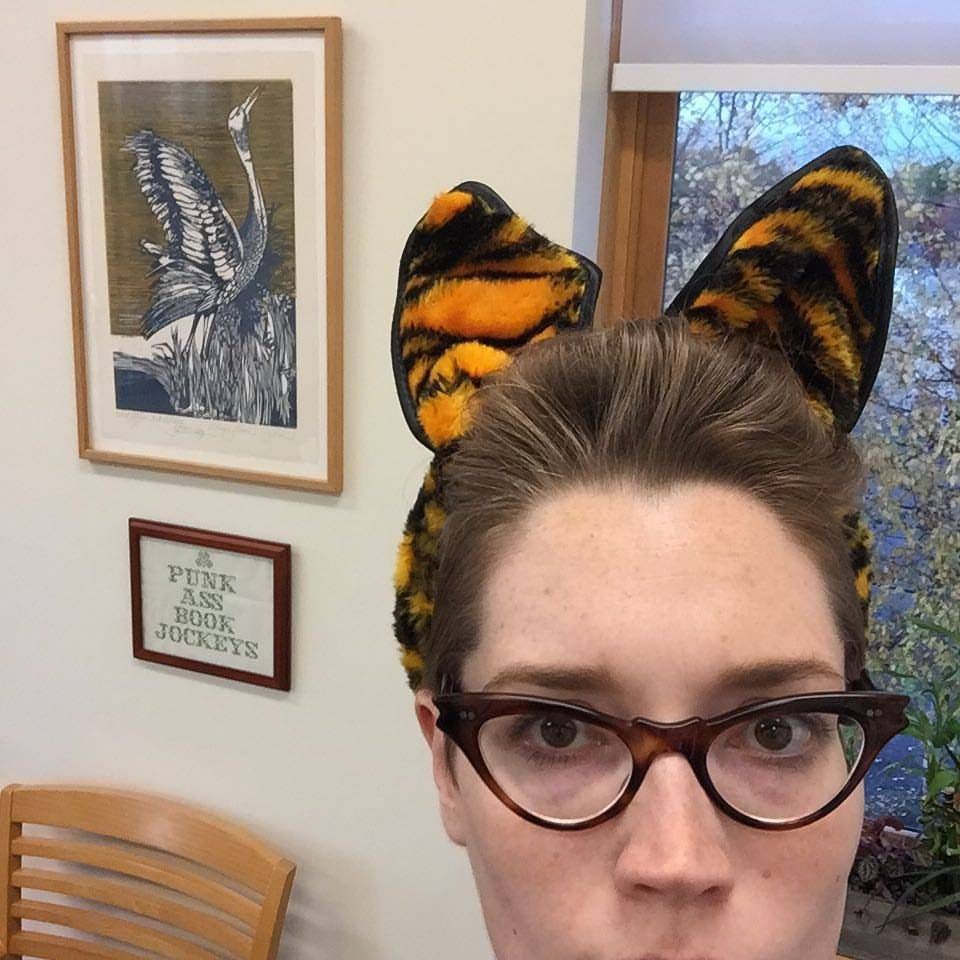 Stephanie is the Assistant Director for Public Services at Darien Library and a former manager at WORD bookstore. She was also a 2016 Library Journal Mover and Shaker and serves on the steering committee for Library Reads. You can find her on Twitter @bookavore. Thank you, Stephanie!
This episode was sponsored by The Square Root of Summer by Harriet Reuter Hapgood and The A-Z of You and Me by James Hannah.
_______________________________________________
QUESTIONS DISCUSSED:
Dear Book Nerd,
I came across your podcast a few weeks ago and have listened in an attempt to catch up. I'm still behind (almost there — 21 more hours of listening!) but I keep running into this problem that I'm hoping you can help me with.
In May, I'll be graduating with my MLIS. I wasn't able to get as much library experience as I would have liked leading up to this point, but for about the last year-and-a-half, I've worked a full time job and a part time job, and I added a second part time job ten months ago, all in libraries. I had a brief summer internship way back when, too. My full time job isn't in the kind of library I'd like to be in permanently (public), so I've started applying to public libraries.
No matter what I try, I cannot make it to the interview stage. I've had mentors look over my applications; I've rewritten applications, cover letters, and resumes; I've networked; I started pushing my professional blog more — and yet even for FT Library Assistant I positions (which is what my two PT jobs are, essentially), I can't get in. I'm in a fairly competitive part of the country, thanks to being near two library schools (neither of which I attend), but moving isn't really an option for me right now.
When I've received feedback on applications from HR or hiring managers for particular jobs, I've been told they're great applications. The only problem is they receive so many applicants with more (arguably overqualifyingly so) experience, so I'm rejected on that basis. It's incredibly frustrating, and I feel like there's nothing proactive I can do at this point. All I can do is wait until I have more experience.
While I've learned a lot at my FT job, it's not ideal for me. I've found the culture and I are not suited together and I'm absolutely disinterested in the greater topic of my organization. Many days, I don't have any work to do and end up staring at the wall for six hours (listening to you, of course!). I'm more than ready to move on and the more I get rejected, the more I worry I'll be stuck in this job for life.
Anyway, my questions are these: 1. Is there anything else proactive I can be doing to get "twice the experience in half the time"? I'm obviously really strapped for time right now, but I'm open to suggestions. I also cannot volunteer at the two public libraries at which I work; it's against the policies. 2. What can I do besides throw myself a pity-party for every rejection? It's exhausting to hear that I'm perfectly qualified, but other people were more qualified.
Thanks for the great show. I've picked up a lot of great readers' advisory bits from it and feel like it's very informative.
All the best,
Nice Try
Dear Book Nerd,
I heard recently that ebooks that you borrow from the library (usually from overdrive) are purchased by license for a set amount of time and cost over a $100 a license! Is this true? How are libraries adapting to this? Where can I learn more? I love my ereader and I love being able to borrow digital books from the library but is it an unaffordable model?
Sara

Dear Book Nerd,
My wife and I listen to your show on our road trips up and down the sunny state of California and they always keep us entertained and often spark conversation. We also especially like your any reading is good reading, non-judgmental attitude.
I love reading. But I especially love reading Terry Pratchett. So much so that I will stop reading a book halfway or stay up till the wee hours of the morning, even though I still have to go to work, simply because I chose to pick up a Discworld novel on a whim. My concern is that I feel that I'm limiting my horizons. But I just haven't found another author who is both humorous, hopeful, and humanistic. Do you have any suggestions for funny, witty books?
Thanks so much for the awesome show,
Searching in the Sunshine
_______________________________________________
LINKS DISCUSSED:
In the Library With The Lead Pipe
15 Essential ebook License Terms for Libraries (ALA)
Frequently asked questions regarding e-books and U.S. libraries (ALA)
Ebooks and Copyright Issues (ALA)
Virtual Library Legislative Day
Library Reads
_______________________________________________
BOOKS/AUTHORS DISCUSSED:
The Girl Who Circumnavigated Fairyland in a Ship of Her Own Making (Fairyland, #1) by Catherynne M. Valente
I Can Barely Take Care of Myself by Jen Kirkman
No Land's Man: A Perilous Journey through Romance, Islam, and Brunch by Aasif Mandvi
Year of Yes:How to Dance It Out, Stand In the Sun and Be Your Own Person by Shonda Rhimes
Winner of the National Book Award by Jincy Willett
Sherman Alexie, Mindy Kaling, Christopher Moore, Louis Sachar, David Sedaris
https://twitter.com/ScrewyDecimal/status/726879934539567104
_______________________________________________
Listen to past episodes and read past columns of Dear Book Nerd here!
And you can subscribe to the podcast via RSS here, or via iTunes here.
The show can also be found on Stitcher here.
Do you have a bookish question about life, love, or literature for Dear Book Nerd? Fill out the form below or email DearBookNerd@bookriot.com. Don't be shy, ask away!
Oops! We could not locate your form.