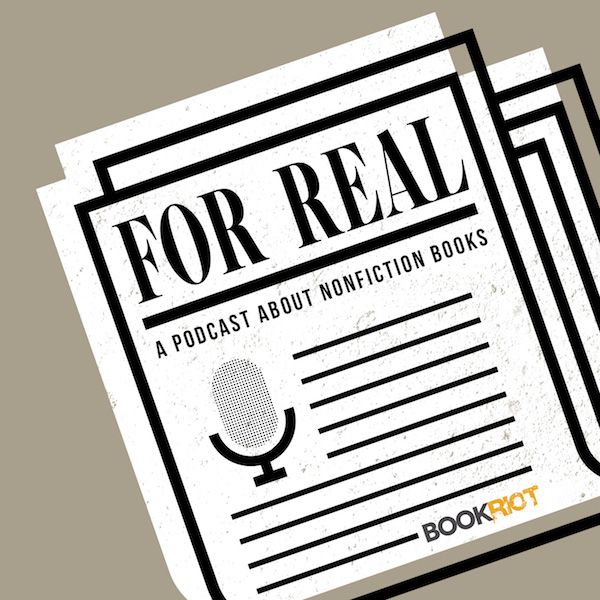 International Women's Day
This post contains affiliate links. When you buy through these links, Book Riot may earn a commission.
This week Alice and Kim talk about a ton of March new releases and books to celebrate International Women's Day on March 8.
This episode is sponsored by Libro.fm audiobooks and The Lady from the Black Lagoon by Mallory O'Meara from Hanover Square Press..
Subscribe to For Real using RSS, Apple Podcasts, or Stitcher.
For more nonfiction recommendations, sign up for our True Story newsletter, edited by Kim Ukura.
New Books
Skeleton Keys: The Secret Life of Bone by Brian Switek
Devices and Desires: Bess of Hardwick and the Building of Elizabethan England by Kate Hubbard
Women Warriors: An Unexpected History by Pamela D. Toler
The Wrong End of the Table: A Mostly Comic Memoir of a Muslim Arab American Woman Just Trying to Fit in by Ayser Salman
Dannemora: Two Escaped Killers, Three Weeks of Terror, and the Largest Manhunt Ever in New York State by Charles Gardner
An American Summer: Love and Death in Chicago by Alex Kotlowitz
Real Queer America: LGBT Stories from Red States by Samantha Allen
That Good Night: Life and Medicine in the Eleventh Hour by Sunita Puri
America's Jewish Women: A History from Colonial Times to Today by Pamela Nadell
Ten Drugs: How Plants, Powers, and Pills Have Shaped the History of Medicine by Thomas Hager
International Women's Day
Border: A Journey to the Edge of Europe by Kapka Kassabova
The Queen of Katwe: A Story of Life, Chess, and One Extraordinary Girl's Dream of Becoming a Grandmaster by Tim Crothers
I Should Have Honor: A Memoir of Hope and Pride in Pakistan by Khalida Brohi
Sky Train: Tibetan Women on the Edge of History by Canyon Sam
The Lonely War: One Woman's Account of the Struggle for Modern Iran by Nazila Fathi
Bananeras: Women Transforming the Banana Unions of Latin America by Dana Frank
Reading Now
This Is Where You Belong: The Art and Science of Loving the Place You Live by Melody Warnick
Hot Protestants: A History of Puritanism in England and America by Michael P. Winship