Are You Buying Too Many Books?
Welcome to the Dear Book Nerd podcast, a bi-weekly show that answers YOUR questions about life, love, and literature! My special guest co-host this week is the wonderful Amanda Nelson. We tackle questions about how to deal with a book buying problem, whether or not you should encourage others to read if they don't ask you to, and much more. Don't miss it!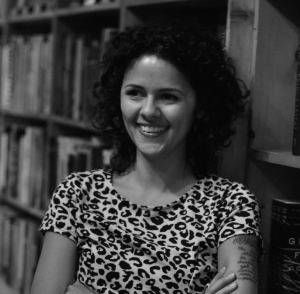 Amanda is the managing editor here at Book Riot and host of the Get Booked podcast. You can find her on Twitter @ImAmandaNelson. Thank you, Amanda!
This episode was sponsored by ROOM the Movie and Penguin Random House Audio.
______________________________________________________________________
QUESTIONS DISCUSSED:
Dear Book Nerd,
I am a full-time children's librarian who reads 3-4 books per week (children's and adult) and has an active social life. I find myself frustrated when people in my life express amazement at the fact that I can read that much, or dismiss it away with the fact that I'm a librarian. How would you go about encouraging people that they can, in fact, make time for reading? I am a huge proponent of audiobooks and talk about them a lot with readers and non-readers, but other than that, I'm not sure how to encourage people without sounding rude.
Amber
Dear Book Nerd,
I recently listened to Episode #15 of your podcast and thought you gave some great advice about reviews and Goodreads. I have similar question that I was wondering if you could help me out with.
Over the summer, I requested a bunch of titles that looked interesting to me on NetGalley. This was my first time requesting anything on the site and quite frankly didn't think I'd be approved. While I do have a blog, I'm horrible at keeping it updated; I figured publishers would take one look at that and decline me. To my surprise, I was approved for several of the titles I requested. I was thrilled to be approved, but I've been having a hard time getting myself to actually read them. As I said, the titles in question all sound interesting to me. I wouldn't have requested them if I didn't think there was a good chance I'd like them. But right now I'm craving very different types/genres of books. My head is just elsewhere right now. I guess I could try to push myself to read them, but I'm afraid if I do that I might not be able to review the titles fairly. But I also feel so guilty for not reading them right now that it's making it difficult for me to enjoy other books.
At this point, most of the titles I requested have already been released and it's getting kind of embarrassing that I haven't read them yet. So what I'm wondering is, what is the general etiquette of reviewing NetGalley titles? Is there a generally accepted timely of when reviews should appear? Would it be ok if I read/review these titles months – or even years – from now or not at all? I just feel so guilty about this because I'm the one that made the request. Help?
Joss
Dear Book Nerd,
I am a book buying addict. I buy books all the time–when I am happy, sad, celebrating something, or if the day ends in a "y." The problem is that I now have hundreds of unread books, and yet, I still can't resist buying more, especially because there are all these wonderful looking new releases that come out every week. My wallet hates me.
I really want to read what I already own and get my TBR pile under control, but I can't seem to stop acquiring new books. I've tried book bans, a rule where I have to read a certain number of books before I can buy more, and other strategies, but all have failed. Do you have any recommendations for how to stop buying books and refocusing excitement toward the unread books that you already own?
Book Buying Addict
Dear Book Nerd,
I buy way too many books. I would estimate I have about 100 unread books on my shelf that I have not read yet, but I can't seem to stop buying them. If I hear about a new release and get excited about it, or even just walk into bookshop I find it incredibly hard not to buy a new book. How do I stop buying books until I've read all the ones I already have?
Georgina
______________________________________________________________________
LINKS DISCUSSED:

"How to Bust TBR Guilt" (Video by Amanda Nelson)
Goodreads Seasonal Reading Challenge
______________________________________________________________________
Listen to past episodes and read past columns of Dear Book Nerd here!
And you can subscribe to the podcast via RSS here, or via iTunes here.
The show can also be found on Stitcher here.
Do you have a bookish question about life, love, or literature for Dear Book Nerd? Fill out the form below or email DearBookNerd@bookriot.com. Don't be shy, ask away!