Antiquarian Books and More!
Welcome to the Dear Book Nerd podcast, a bi-weekly show that answers your questions about life, love, and literature! My special guest host this week is the glorious Rebecca Romney. We discuss the topics of selling antiquarian books and when to give up on a book. Don't miss it!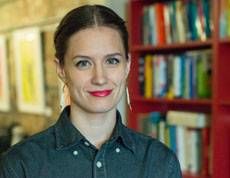 Rebecca is rare books specialist who works at Honey and Wax Booksellers. She also hosts the Biblioclast Podcast and has appeared on the TV show Pawn Stars. Rebecca is also the author of the forthcoming book Printer's Error: Irreverent Stories from Book History. You can find her on Twitter @rebeccaromney. Thank you, Rebecca!
This episode was sponsored by Penguin Random House Audio and Afterward by Jennifer Mathieu.
_______________________________________________
QUESTIONS DISCUSSED:
Dear Book Nerd,
I have recently found your podcast and have been catching up from the beginning. I am not quite finished, so I apologise if this letter touches too many repeat themes. I want to thank you as I have been listening to it during a slog of admin and it has kept me going. It has also got me excited about books and reading during a bit of slump, and it reminds me why I love reading and love my job. So thank you.
Gushing aside, my job is the reason I am writing. I work as/for an Antiquarian book dealer. We sell books of all sorts dating from as early as 1500 right up until recent modern first editions, covering many languages, topics, formats and genres. We sell on the usual suspects [sites redacted].
My query is as follows, what is your opinion on antiquarian books, do you think there is room for this field in the modern world. Moreover what about the ethics behind some of what we sell? I refer mostly to modern first editions and advanced reader copies, which are sold for their collectible nature to avid fans. I know the selling of ARC's are frowned upon etc, but is it different under the realm of antique/collectible/rare bookselling? Likewise the ethics of selling controversial books, for example some books about wars or highly sexual books are banned by our third party sellers. We also refuse to sell certain books (usually of an illegal/illicit sexual nature) but not some others such as Mein Kampf. Should I feel conflicted? Are we under the same 'rules' as high street sellers or do some of my concerns fall under the 'of their time' excuse? I would welcome your opinions.
Thank you again, I apologise for rambling.
Dusty Book Nerd
Dear Book Nerd,
How do you recognize when it's time to give up on a book? I've started a book and have gotten about halfway through, but I keep looking for other things to read instead of this book. It got to the point where I started downloading public domain classics to a Kindle just to read something else. This book is taunting me. Is it time to just admit I won't finish it, and return it to the library?
Loves to Read
_______________________________________________
LINKS/BOOKS DISCUSSED:
Colorado Antiquarian Book Seminar
Antiquarian Booksellers' Association of America
History of the Decline and Fall of the Roman Empire by Edward Gibbon
How the Sunk Cost Fallacy Makes You Act Stupid (Life Hack)
_____________________________________________________________________
Listen to past episodes and read past columns of Dear Book Nerd here!
And you can subscribe to the podcast via RSS here, or via iTunes here.
The show can also be found on Stitcher here.
Do you have a bookish question about life, love, or literature for Dear Book Nerd? Fill out the form below or email DearBookNerd@bookriot.com. Don't be shy, ask away!
Oops! We could not locate your form.