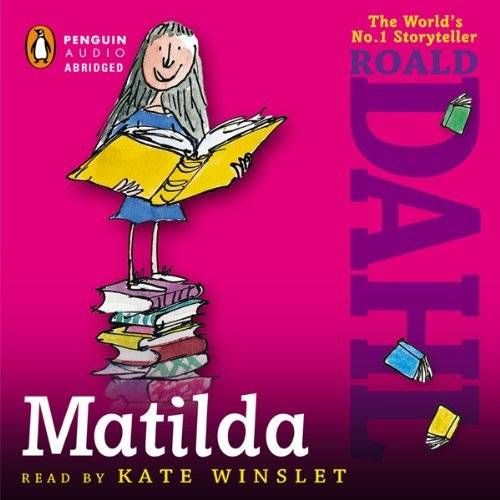 Audiobooks
Listen to Kate Winslet, Richard Ayoade, and Other Famous People Read Roald Dahl
Rioters, I'm so excited. I just can't hide it. I've been holding my breath to share this with you for weeks! The new upswing in audiobook publishing has sent lots of publishers to their backlist to record beloved classics, and one of my favorite projects in this vein is from Penguin Audio, who just released several Roald Dahl audiobooks in July and will release several more this September.
The series features some of the UK's best known screen and stage actors. Here are sound clips from eight of the narrations that have got me squealing like a thirteen-year-old at a slumber party:
Kate Winslet reads Matilda
Kate Winslet is no stranger to books. Her bookish acting repertoire includes Revolutionary Road, The Reader, Little Children, All the King's Men, Hamlet, Sense and Sensibility, and soon we'll get to see her in Divergent(!). And she's no newbie to audiobooks, either — Winslet has previously narrated Thérèse Raquin by Émile Zola and the Mr. Gum books by Andy Stanton. Here she is reading from Matilda:

Richard Ayoade reads The Twits
Many of us know and love Richard Ayoade from his role as the quirky and lovable Moss on the oddball British sitcom The IT Crowd. Lately he's been breaking into the Hollywood mainstream, co-starring with Ben Stiller, Vince Vaughn, and Jonah Hill in The Watch. This is his first bookish project that I know of, and I love it:

Chris O'Dowd reads Fantastic Mr. Fox
Since Chris O'Dowd co-starred with Richard Ayoade on The IT Crowd, he's appeared in Bridesmaids and HBO's Girls, and he also starred in the miniseries adaptation of The Crimson Petal and the White (hollah for my boy Michel Faber!). His reading of Fantastic Mr. Fox is my very favorite from this already outstanding lineup — I really really hope we get more audiobooks from Chris O'Dowd in the future:

Dan Stevens reads Boy
Dan Stevens is at the top of the bookish class. The Downton Abbey heartthrob has also acted in BBC's Sense and Sensibility miniseries and adaptations of Turn of the Screw, Dracula, and Frankenstein, but he gets major literary brownie points for sitting on the judging panel for the 2012 Man Booker Prize for fiction and narrating more than 20 audiobooks, including Wolf Hall by Hilary Mantel and Fall of Giants by Ken Follett. You can read to me anytime, Dan Stevens:

Stephen Fry reads The Enormous Crocodile
Stephen Fry is at the heart of the audiobook world's most contentious beef: who wins at narrating Harry Potter — Stephen Fry or Jim Dale? His other bookish acting highlights include The Hobbit, Sherlock Holmes, Alice in Wonderland, Tristram Shandy, and Jeeves and Wooster. And then there's his audiobook career: Oscar Wilde, Anton Chekhov, The Hitchhiker's Guide to the Galaxy, Winnie-the-Pooh, Paddington, and dozens more. Here's Fry throwing down some Roald Dahl:

Hugh Laurie reads The Giraffe and the Pelly and Me
You know him as Dr. House, although he's acted in Sense and Sensibility with Kate Winslet and Jeeves and Wooster with Stephen Fry, too. Laurie's also got a few audiobooks under his belt, including Great Expectations and Gulliver's Travels. (I bet his buddy Stephen put him up to it.) For the Dahl series, he tackled one of the whimsical animal stories:

Miriam Margolyes reads Revolting Rhymes & Dirty Beasts
Professor Sprout, amirite?? Margolyes has acted in just a handful of bookish projects outside of Harry Potter, including a PBS biopic of Charles Dickens' life. She has an extensive audiobook career, though, including Pride and Prejudice, Through the Looking Glass, and lots of Dickens and Wilde. She's awesome in this reading from Revolting Rhymes & Dirty Beasts:

Andrew Scott reads The Wonderful World of Henry Sugar
Andrew Scott's most famous bookish role is the eeeeeevil Moriarty from BBC's Sherlock reboot. He's also starred in screen adaptations of Chekhov's The Duel and Stephen Ambrose's Band of Brothers. His brief audiobook career includes works by Cassandra Clare and Charlaine Harris. Here's a clip from his only sort-of eeeeeevil narration of The Wonderful World of Henry Sugar:
The new Roald Dahl audiobook series also includes awesome recordings of The BFG, Charlie and the Chocolate Factory, James and the Giant Peach, The Witches, and more. Which ones are you most excited about? What other authors would you like to see rebooted for audio?
____________________________
Sign up for our newsletter to have the best of Book Riot delivered straight to your inbox every two weeks. No spam. We promise.

To keep up with Book Riot on a daily basis, follow us on Twitter, like us on Facebook, , and subscribe to the Book Riot podcast in iTunes or via RSS. So much bookish goodness–all day, every day.