19 Poetry Books Out in 2018: List List #289
This List List is sponsored by Amazon Publishing, publishers of The Upside Of Falling Down by Rebekah Crane.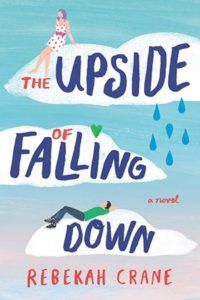 The lone survivor of a place crash in Ireland, American teen Clementine discovers there's an upside to a life that's fallen apart. Now, hiding out in a sleepy Irish town, far from the scrutiny of the relentless press, Clementine feels the adventurous rush of a life she never knew…and a love she'll never forget. Rebekah Crane's coming-of-age story is packed with adventure, humor, romance, and heart-warming hopefulness.
---
at Signature, 19 Best Poetry Books Out in 2018
at Bustle, 15 Books For Your Valentine's Day Present
at Elite Daily, The Best Books To Read On Spring Break If You're Looking For A Sweet Escape
at Lee & Low Blog, 7 Multicultural Books for Sixth Grade
at Literary Hub, 13 Writers Who Grew to Hate Their Own Books
at Read it Forward, 5 Books About Family Secrets
at MyDomaine, 5 Women on the Books That Helped Them Through a Tough Time
at Off the Shelf, 14 Remarkable Immigrant Stories You Can Find in a Favorite Museum's Gift Shop
at Esquire, 15 Short Story Collections Everyone Should Read
at Electric Literature, 7 Books to Keep Your Focus on Puerto Rico
at Tor.com, 5 Sci-Fi Books That Are More Relevant Now Than Ever
at BuzzFeed, 27 Books To Read When You Need An Escape From The Freezing Weather