This content contains affiliate links. When you buy through these links, we may earn an affiliate commission.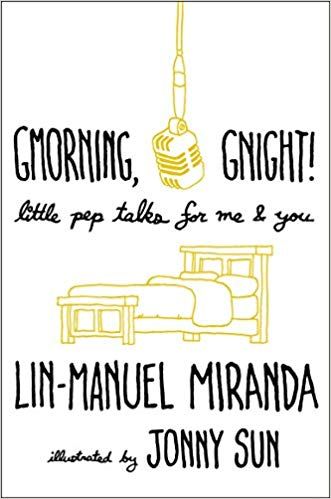 Lin-Manuel Miranda's new book came out on October 16, at the height of the election madness. Right at that lull where my brain needed a break from the news, and from the sizzling anxious madness felt and then passed on by everyone from the writers of the books I was reading, to the lady behind the desk at the YMCA, to my relatives on the phone.
I needed some light, some levity, some sweetness, and Miranda's Gmorning, Gnight!: Pep Talks for Me & You was an expensive espresso shot of all three. This little book is tiny vignettes that he conceived on Twitter, one for each morning and one for each night. Each has a line illustration by Jonny Sun that is as beautiful and accessible as the text itself. Here is an example of a Gmorning:
Gmorning, Today I wish you clarity, clarity of thought, clarity of expression, and a direct line between what you feel and what to do about it.
Now, I will be the first to admit that I am the kind of snob that often turns my nose up at such books of little thoughts. They are often gimmicky, ignore reality, and are secretly full of victim blame. They are one of those generic packages that people give you when they have no idea who you.
But not this one.
There is this kind, lovable, awareness to Gmorning, Gnight!. It knows what it is and how it works, what it can do and what it cannot. It is short too; the audiobook will take you about the time it takes to fold a couple of loads of laundry. (Not that I tried it or anything.) It also lifted my weary brain, letting it float on a bit of genuine, authentic optimism.
I have a theory that disarming earnestness is one of Lin Manuel Miranda's secret weapons. It tears down the trappings of inhibition and leaves just raw, playful enthusiasm in its place.
This earnestness is one of the dozens of reasons that his musical Hamilton is also so dang good.
Of course, the composer and writer is a genius; he'd have to be to make a rap about the birth of American Credit as compelling as "Cabinet Battle #1" is. However, I think the earnest enthusiasm is also part of what makes his work so dang easy to love.
Maybe its earnest joy is part of the reason that my friend who just started Law School quotes Hamilton at me after she attends city council meetings, or why I know two different Moms who listen to it on repeat even after their kids have left the car. It is also the reason my friend and I have belted it down Lake Shore Drive.
We could all use a few more small wonders right now, and we could also all learn how to be unafraid to enjoy the things we love, without any embarrassment. So this is why I will leave this little book in the saved section of my Scribd account, and reach back when things seem a little dark.