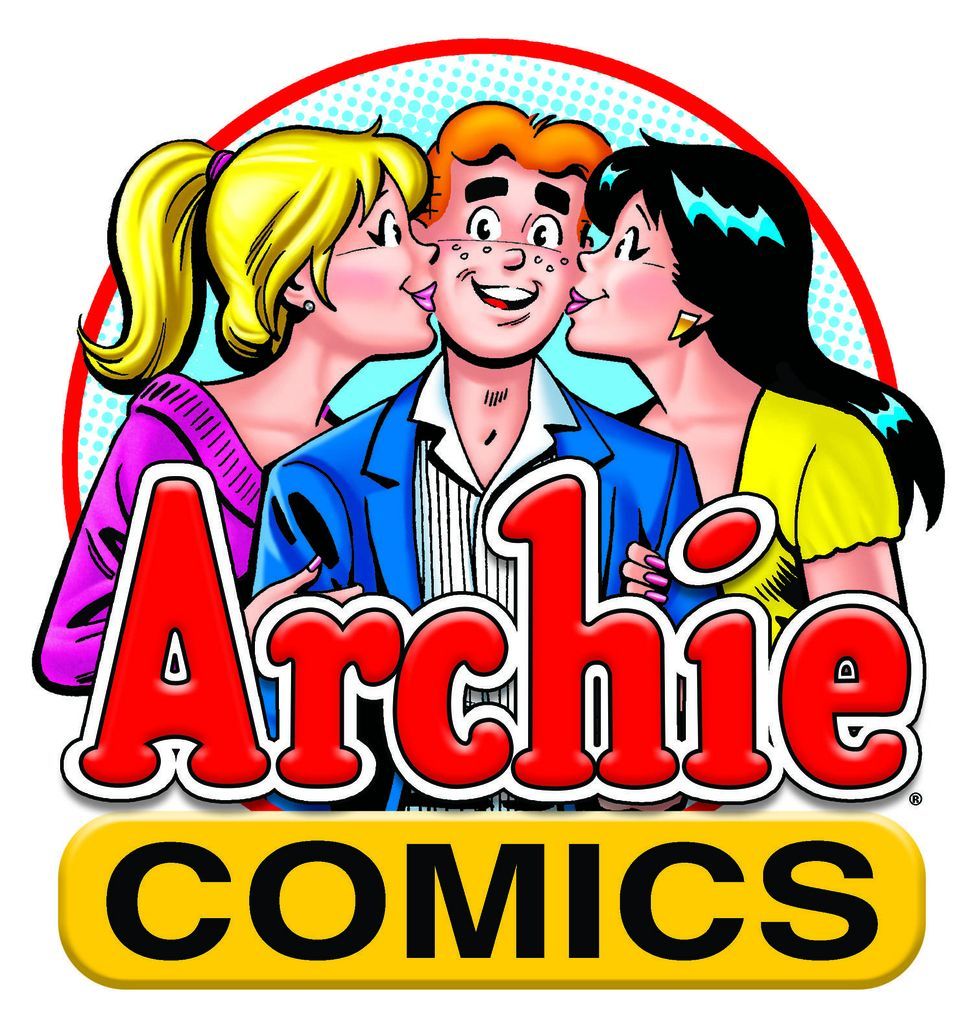 Other people grew up Marvel or DC, I grew up Archie.
I started reading Archie comics so long ago, I can't pinpoint exactly when they became such good friends of mine.
My mom grew up with them and so I grew up with them. And I was obsessed. We couldn't check out at a grocery store without the begging, "Please! Just one issue. I don't even need a double digest!" (I will not comment on how last year I spent thirty dollars on the dual Archie Marries Betty / Archie Marries Veronica issue.)
A quick background:
Archie is your average American teenager who lives in the fictional town of Riverdale. He's best friends with Forsythe "Jughead" Jones, and at any given time is vying with Reggie Mantle for the affections of either Betty or Veronica.
The characters' thoughts and ideas were amorphous, largely depending on what writer / illustrator was working on each issue. (Which is why Archie can exist both in the Archie universe and the bizarre Spire Christian Comics parallel universe from the '70's.)
I started with my mom's old issues, so I met Archie from his time in 1960's America, and boy was the gang grooooovy. I loved the bellbottoms and the ridiculous hijinks. And I loved the inserts with Josie and Sabrina as much as I hated the interruptions of Lil Jinx, Katy Keene, and Cheryl Blossom.
Here are things I learned from Archie Comics:
The Appeal of Crossovers
I loved when characters from other universes would show up in Archie's world. There was one strip when The Archies played a show with Josie and the Pussycats, and of course mayhem ensued. They redid this idea a few years ago, with the two bands going on tour together – only this time romance stews between Archie and Valerie. (Last time, I think it was predictably between Archie and Josie.)
The Value of a Good Short Strip
Archie comics would do this one page, one panel "strips" called Pin-ups. It had all the humor and visual charm of a full story, and I got it in 3 seconds. Also, the pin-ups that were really just fashion shoots of the characters from the time period of publication… I ate those up. I mean, look at this wild look: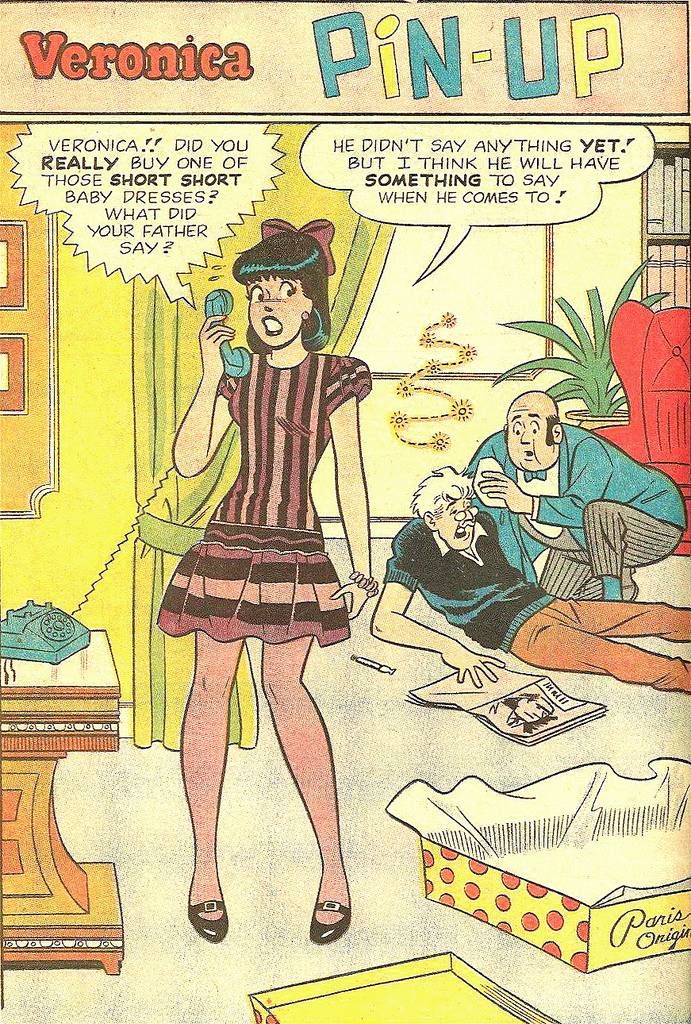 Necessity of a Good Romantic Triangle / Square / Parallelogram / Rhombus?
Going into a strip, you never knew who it was that Archie would fall in love with: Betty? Veronica? Cheryl? The new girl in town? Valerie? Midge?
Just kidding, not Midge, Big Moose would kill him.
In the end, it didn't really matter. While I will always be a Betty Cooper + Archie Andrews girl at heart, I never really cared who was romancing who in any of the strips. I just loved reading them. I know that now days we are all TeamPeetaTeamGaleTeamEdwardTeamWhoever, but I think we've gotten a little too stuck on this idea of ship versus ship.
By being ever changing and forgetting most continuity, Archie kept it weirdly simple. It wasn't about the ship. It was about the kids.
Importance of Diversity like Woah!-ish
Okay, maybe not like woah, but for a brown kid growing up in a largely non-diverse town, it was a great way to see that it didn't matter how different you looked. In the issues I read, the core acts were, of course, largely white (though Chuck and Nancy were always around if they needed some, ahem, variety). This was par for the course at the time. However, unlike other forms of media, I did see Indians, Spanish speakers, or East Asians show up. The Archie universe (for me) always had appearances by people from different walks of life.
Granted, their "different walks of life" were usually the reasoning for their being in the strip, IE: Archie and Carlotta will trade English lessons for Spanish lessons! So, it wasn't the seamless integration that I would have liked, but it was more than anything else I was reading.
So, uh, YEAH DIVERSITY.
(And they're still doing it… you know who is having gay marriages? RIVERDALE IS HAVING GAY MARRIAGES!)
Now, I'm going to head to the grocery store to pick up a new digest. I'm sure there are some with some great loosely disguised pop culture references.
_________________________
Sign up for our newsletter to have the best of Book Riot delivered straight to your inbox every two weeks. No spam. We promise.
To keep up with Book Riot on a daily basis, follow us on Twitter or like us on Facebook. So much bookish goodness–all day, every day.