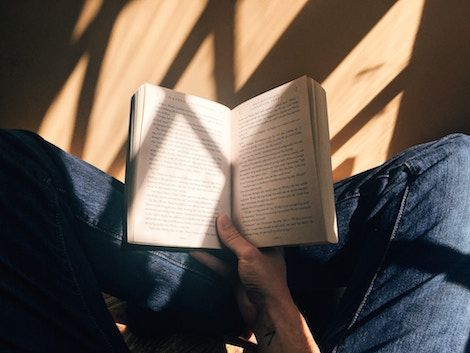 Newsletter 1
Night Rainbows and Madams: 4 Life-Changing Books
This content contains affiliate links. When you buy through these links, we may earn an affiliate commission.
It's conventional wisdom that some books are life-changing books. Books are windows into other worlds and other ways of being. See the world? Read a book.
But can you pinpoint what books diverted your life into new directions? Or how exactly they changed the course of your life? I'm going to talk about four books that changed the direction of my life in very different ways. Mild spoilers ahead.
If You're Afraid of the Dark is the most astonishing little book. It's filled with delightful, almost surrealistic aphorisms that are accompanied by sweet drawings. There are flying horses, lightbulb necklaces, and clouds for breakfast. It's a beautiful, life-affirming book with wondrous fantastical elements. I've read it countless times ever since I was a child. It still resonates strongly with me. It was even one of the readings at my wedding and it will, hopefully, be read throughout my life's journeys.
I love it because it presents a positive vision of the world with a surrealistic bent. For those who know me, that's my jam. I love how the book advises making the best of the situation but in creative ways.
I read this at time when I was really into Holocaust narratives. As a Jewish teenager, I wanted to understand how something so horrible could happen as well as understand the resiliency and resistance of people living through it. I remember initially finding One Hundred Years a real slog. It was critical to use the family tree in the front of the book or one would get horrible lost. But two-thirds of the way through the book, my teacher pointed out that Márquez chose to frame a scene like it was in the Holocaust. And it struck me that there were so many more recent genocidal events that needed to be studied and understood. It was at that moment that my attention turned to studying Latin America and the murderous military dictatorship of the 1960s/'70s/'80s.
I would later get a BA in Latin American history and MA in Latin American Studies. Granted my focus turned to popular culture under socialist/communist governments, but it was the influence of One Hundred Years that set me on that path.
A Cook's Tour: Global Adventures in Extreme Cuisines by Anthony Bourdain
This book helped change my relationship to food. Before I read this book (and met my best friend), I had categories of food I liked and others that I wouldn't try. But after this book, everything changed. My current policy is that I'll try almost anything once. I shouldn't close myself off to food in the expectation that I won't like it. Try it and then decide. Since then, I've eaten such a diversity of tasty food including grubs, blood tofu, and durian! His work also ushered me along the wonderful world of food writing, which now is a central part of my reading. I've written about food history here and here.
Also, his chapter about killing a pig changed my view of food and animals. Since then, I've been trying to reconcile that the meat I eat belonged to a creature who wanted to live. It hasn't changed my habits; I'm still a meat eater, but it has given me a respect for my meat in a way I had not in the past.
Sin in the Second City: Madams, Ministers, Playboys, and the Battle for America's Soul by Karen Abbott
I am a lifelong Chicagoan but for most of my life, I thought Chicago history was extremely dull. For that matter, I wasn't a huge fan of American history either. But after reading Sin in the Second City about the incredible Everleigh sisters, madams of the Levee district, that all changed. I realized how gritty and crazy Chicago history could be. There was a lot that happened even in the short lifespan history of this city. Also, the Everleigh sisters were incredible in their own right. However you may feel about prostitution, they were interesting characters worthy of consideration.
Years later, my interest in Chicago history took me into the amazing world of historical reenactments in Chicago. I've played Minna Everleigh, one of the sisters, several times, along with other prominent women, like Jane Addams and Nina van Zandt, wife of Haymarket martyr August Spies, married by proxy in jail.
These are four life-changing books that have had a profound influence on my life in very different ways. One Book Rioter talks about a book that scarred her for life here. What books have directly impacted your way of life?