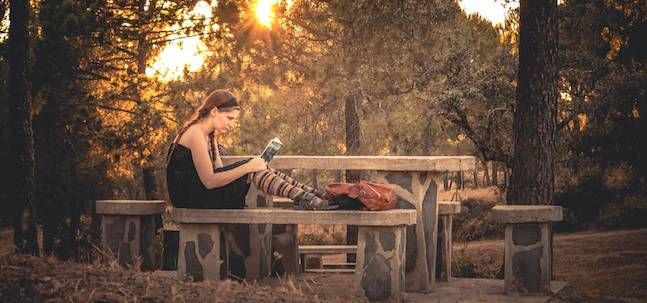 This content contains affiliate links. When you buy through these links, we may earn an affiliate commission.
This is a guest post from Amanda Kay Oaks. Amanda is a writer, tutor, editor, and professional wearer of many hats. She is a Notre Dame AmeriCorps member serving at an adult education center in her home town of Cincinnati, Ohio. Follow her on Twitter @I_Write_Things.
---
As a kid, I had one adamant requirement whenever I went to pick my next book: it had to have a female protagonist. In the YA section of bookstores and libraries, this wasn't as hard as you might think. Adult literature and canonical problems aside, YA is a treasure trove of young female narrators so rich that I never really noticed a representation problem when I was younger.

What I did notice was that the books I loved were never the books we read in school.
The books we read in school were what I called "boy books." I didn't understand how our female English teachers could keep throwing the same boy-centric nonsense at us when there were so many books out there with young girls as the main characters. What made these male experiences universal, while I had to sit quietly and pretend I didn't have things like a period and boobs.

Whether I was told this or just assumed it based on context clues, I was convinced that we were reading these books because our teachers were looking for "universal" books. That they felt boys didn't want to read about girly things and that for some reason this was an excuse for us to never read them. This makes about as much sense to me now as it did then. Who is to say that having to become a man and kill your pet pig/dog/whatever is universal? Why did teenage boys get to corner the market on coming of age? I'm sure there are all kinds of perfectly awful things that happen to boys during puberty, but they are not the same things that happen to girls. I mean, we have to deal with the fact that we're gonna bleed for a week a month and that's supposed to be normal, yet any reading that helps us cope with this ends up being extracurricular.

I lived a binary reading life. In my spare time, I refused to consider the male perspective, reading Meg Cabot, Sarah Dessen, and Judy Blume. At school, I had to read books like A Day No Pigs Would Die, Superfreak, and The Old Man and the Sea where boys did boy things and I was bored out of my mind. Female characters were often entirely absent or, if they existed, played small roles and didn't get to speak much for themselves. I was anxious for my less bookish peers; how were they supposed to learn to love books when we were drudging through an onslaught of sameness?

People will say that YA has plenty to offer young women, and, true, the young adult fiction section is riddled with close ups of young girls looking serious. Yet these books are not the ones our schools are willing to take seriously.

I didn't notice it then, but I wonder now how this can be expected to affect young women. Going through school being told that your stories, your perspective, are not worthy of being studied. It can be read for "fun" when you get to choose your own books, but boys should never be forced to sit through something that doesn't apply to them. What a ridiculous double standard this sets.
As the problem of representation becomes even more complicated, with attention being rightly drawn to representations of LGBTQ youth and people of color, it is important to think about the messages that school reading units send to students. In ignoring certain perspectives and pretending that the white male perspective is the only "universal," we are telling students their personal views do not matter. As a young girl, I took the rebellious approach and refused to read these books outside of class time, but we can't pretend all students will react that way. How many girls never picked up reading because they didn't want to hear another story that didn't resonate with them?