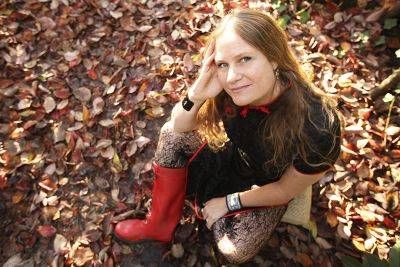 Lists
Lidia Yuknavitch Quotes That Will Inspire You
This content contains affiliate links. When you buy through these links, we may earn an affiliate commission.
I'm a big fan of underlining quotes when I read, and then copying them down into journals or notebooks later. I've been known to make Moleskines full of quotes for friends, and I've given ample thought to different quotes that I'd like tattooed on my body. Especially during trying times, the right quote or passage can provide encouragement, hope, strength, or inspiration. Some writers are so lyrical on the page that your books are full of markups; for me, Lidia Yuknavitch is one of those writers. I often recommend her books to people; reading her memoir was a kind of awakening for me – people can write like this? We're allowed to write this way? A memoir can look like this?
I will always tell people to read her books – but in lieu of transcribing all of her writing, here are my favorite Lidia Yuknavitch quotes.
Liberty's Excess: Fictions
"First memory like a shot in the vein. Four long years of youth sliding cold silver glint into waiting blue." (p.11)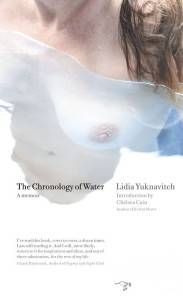 The Chronology of Water: A Memoir
"…The truth of it is, the story of a woman having a baby is the fiction we make it. More precisely, a woman with bulging life in her belly represents – is a metaphor for making a story. A story we can all live with. The fertilization, the gestation, the containment, the production of a story." (p. 31)
"…I wrote story after story. There was no inside out. There were words and there was my body, and I could see through my own skin. I wrote my guts out. Until it was a book. Until my very skin made screamsong." (p. 184)
"I am a wrecker and maker of wordhouses." (p.194)
"It is possible to carry life and death in the same sentence. In the same body. It is possible to carry love and pain. In the water, this body I have come to slides through the wet with a history. What if there is hope in that." (p. 247)
"Make up stories until you find one you can live with….Make up stories as if life depended on it." (p. 292)
"The things that happen to us are true. The stories we tell about it are writing. A body away from. us. Writing – with its forms and contortions, its resistances and lies, its unending desires, its on and on. Listen I can see you. If you are like me. You do not deserve most of what has happened or will. But there is something I can offer you. Whoever you are. Out there. As lonely as it gets, you are not alone. There is another kind of love. It's the love of art. Because I believe in art the way other people believe in god." (p. 293)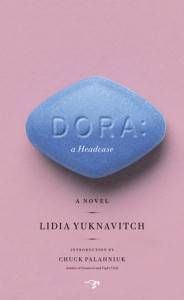 "I walk the city. Black backpack black ear buds black hoodie black skinny jeans black leather wristbands FIRE ENGINE RED SHINY DOCS. I stomp up the hill to the beat of X. Rain barely lands on my head. This pair of jeans always turns me on if I walk uphill just right. Sing it Exene. Creamy. I stick my hand in my Dora purse. I'm on "record" picking up street sounds. I'm a head and a body and technology. I'm my own walking history." (p. 48)
"There's a girl calm people don't know about. It's a girl teen standstill. A motionless peace. It doesn't come from anywhere but inside us, and it only lasts for a few years. It's born from being a not woman yet. It's free flowing and invisible. It's the eye of the violent storm you call my teenage daughter. In this place we are undisturbed by all the moronic things you think about us. Our voices like rain falling. We are serene. Smooth. With more perfect hair and skin than you will ever again know. Daughters of Eve." (p. 96-7)
"History and time open like a mouth, inside which pulses the small pang of an ordinary woman." (p. 57)
"This has been my life. It is not a black hole of grief. It is making art." (p. 165-6)
"Art, she is in me." (p. 166)
"In a floating memory, the writer shuts off the light in her son's bedroom, the boy finally breathing the sleep of little boys before they are asked to do the unthinkable, step into the story of men. She thinks of boys everywhere, how beyond-language beautiful they are…." (p. 167)
"…But after many years, I have finally arrived at a raison d'etre. To tease a story from within so-called history. To use my body and art to do it. To raise words, to raise lives. And to resurrect a killing scene." (p. 8)
"We are what happens when the seemingly unthinkable celebrity rises to power." (p. 12)
"The will to live is so strong. I feel the sporadic waves in my ears; the blasted song in my head is receding but not leaving. I want her story back. The one that was taken from her and replaced with heretic. Eco-terrorist. Murderous maiden who made the earth scream. I want to use my body to get it." (p. 21)
The Misfit's Manifesto (forthcoming in October 2017)
"…Put slightly differently, if we could all learn to see what misfits see, that is, that so-called mistakes, failures, oddball traits, and vulnerabilities are actually beautiful new roads to creativity and social organization, we just might be able to begin to redefine who we are and how we treat one another in a way that does not celebritize some people while disappearing others. We have voices. We have bodies. We have stories." (p. 5)
What are your favorite Lidia Yuknavitch quotes?