One of the smells I most associate with my childhood summers is the unique blend of Pizza Hut pizza and old books. For over thirty years, the chain's Book It! program has brought together many a bookish kid and pizza. I always looked forward to my local library's summer reading program and fondly remember going to sign up with my mom.
Now in my 30s, I just assumed that signing up for a summer reading program was one of those joys of childhood I'd never recapture. I'm still motivated by stickers, free fast food, and tote bags, but didn't think anybody would give those to me for reading all summer.
Happily, libraries around the country have started to open up their summer reading programs to adults. Libraries found that these programs promote adult literacy and encourage patrons to interact with the library in new ways. Plus, they are just a lot of fun for everyone involved.
I was beyond excited to find out that my local library, the DC Public Library, has a summer reading program for adults! It's gone high tech. Instead of clip-art covered paper reading logs, you now sign up and log your reading online. New this year, readers can link their online profiles with other household members or form teams. This new feature lends itself to (mostly) friendly reading rivalries between neighbors, departments in an office, church groups, etc. I approve on all fronts. Other than that, it's the same as I remember from childhood: read, log your books, collect awesome prizes. DC readers can earn pins, sunglasses, online badges, and a free Chipotle burrito (I think we can all agree that the burrito is to the 2000s what the personal pizza was to the 1980s and '90s). They're also eligible to earn entries into a drawing for a Kindle, Washington Nationals game, and other cool prizes.
The DCPL isn't alone. There are summer reading programs in a growing number of library systems, including: Allen County (IN) Library, Waukegan (IL) Public Library, the Iowa City Public Library, the Seattle Public Library, the Los Angeles Public Library, Ventura County Library, and many more. Readers in Cincinnati (OH) get a ticket to a Reds baseball game just for signing up for the program!
Each library has a slightly different spin on the summer reading program. There's the classic "number of books read" approach, of course, but some libraries now ask people to log the number of hours spent reading or listening (heck yeah audiobooks). Tracking hours seems like a good way to level the playing field between power readers and slower readers. It also puts to rest any concern about people reading "easy" books instead of "hard" or "important" books (with all the quotes around those categories). Some libraries even use a "bingo" card approach. Readers hit bingo when they've completed different reading tasks (like reading books in a few different genres, attending an event, or reading for a specific length of time).
Many libraries also require that participants attend an event, use a new library resource, or learn a new skill at the library (I think I want to learn how to use the DCPL's laser cutter). I'll admit that, now that I can request books online, I sometimes just race into my library, pick up my holds, use the self-checkout kiosk, and leave without even making eye contact with a librarian. This will force me to engage with the library in a way that I always mean to but usually don't.
While the nostalgia factor alone convinced me of the merit of adult summer reading programs, there has been some push-back. Critics of the programs tend to say that adults shouldn't need incentives to read, reading is its own reward, etc. And to these people, I say, "oh come on." Unlike mandatory classroom reading logs (and there's evidence those might not help as much as we think), these summer programs for kids and adults are voluntary. They are fun, for heaven's sake. I'm all for anything that encourages people to read, use their public libraries, and think about how to squeeze in a few more pages before bed. Whether or not this reading meets some bizarre ideological purity standard just does not interest me. What does interest me? Library branded sunglasses, y'all.
Pizza Hut still sponsors a summer Book It! program. Sadly, it doesn't look like they've added an adult option. You'll need to buy your own personal pizza if you're feeling nostalgic for the smell of childhood summers: pizza and old books.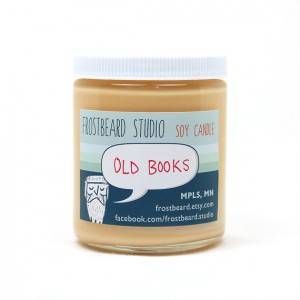 I wonder if I could convince the folks behind Frostbeard candles to make an old books + pizza candle?