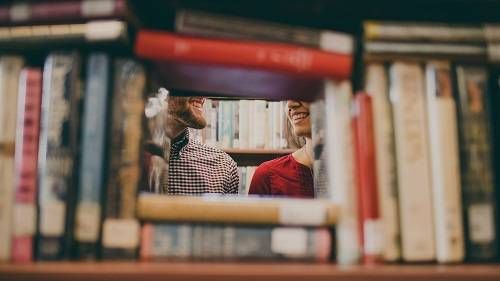 Libraries
50 of Our Favorite Library Quotes About How Awesome Libraries Are
This content contains affiliate links. When you buy through these links, we may earn an affiliate commission.
It may not surprise you that we here at Book Riot are big fans of libraries, so a round-up of the best library quotes was necessary.
Since I was a child, libraries have been everything to me. I started reading at 4 and never had less than the maximum number of books checked out from the library nearest my grandma's house, a thirty minute drive away. In middle and high school, they were a haven from classmates who never seemed to notice I existed. My first job in college was at the George A. Smathers Library at the University of Florida. When I was thrust into a leadership position at a nonprofit, the nonprofit resource center at the St. Louis County Library became my second University. During years working as a traveling project engineer, libraries all over the country helped reignite my love of reading and writing. Now, I've found my way back to the library world, about to mark five years as an event planner at the Orange County Library System.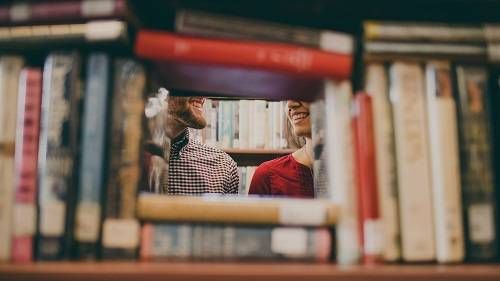 As a patently nerdy child, I have always had a profound love of quotes, collecting them like seashells on the beach. Doing the research for this list of library quotes was a delight, combining two of my great loves.
As an event planner at a progressive library system, I know that libraries are so, so much more than book warehouses. They are a lifeline. That's why I've chosen to pepper this list with pictures from libraries getting the job done all over the country.
I work every day in a building that houses: writing workshops, a music recording studio, classes in programs like Photoshop, resume help, health & fitness classes, homework help followed by RPG games to motivate students, a Pokemon club, cooking classes, a sewing lab, robotics and programming classes, musical performances, a photography and video studio, acting classes, a social worker specializing in homeless issues, and so much more. People tell us every day that we've made their life better.
That's probably the best quote I'll ever hear about libraries: "You've changed my life." You never get tired of hearing that. The rest of these library quotes are pretty okay, too.
Literacy is the most basic currency of the knowledge economy. —Barack Obama
Libraries are a cornerstone of democracy—where information is free and equally available to everyone. People tend to take that for granted, and they don't realize what is at stake when that is put at risk.—Carla Hayden
"Harry—I think I've just understood something! I've got to go to the library!"
And she sprinted away, up the stairs.
"What does she understand?" said Harry distractedly, still looking around, trying to tell where the voice had come from.
"Loads more than I do," said Ron, shaking his head.
"But why's she got to go to the library?"
"Because that's what Hermione does," said Ron, shrugging. "When in doubt, go to the library."
—J.K. Rowling, Harry Potter and the Chamber of Secrets
The very existence of libraries affords the best evidence that we may yet have hope for the future of man. —T.S. Eliot
The only thing that you absolutely have to know, is the location of the library. —Albert Einstein
The health of our civilization, the depth of our awareness about the underpinnings of our culture and our concern for the future can all be tested by how well we support our libraries. —Carl Sagan
Whatever the cost of our libraries, the price is cheap compared to that of an ignorant nation. —Walter Cronkite
Civilized nations build libraries; lands that have lost their soul close them down. —Toby Forward
Libraries: The medicine chest of the soul. —Library at Thebes, inscription over the door
A library is a place where you learn what teachers were afraid to teach you. —Alan M. Dershowitz
Libraries are the thin red line between civilization and barbarism. —Neil Gaiman (see more Neil Gaiman quotes about libraries, illustrated!)
My two favourite things in life are libraries and bicycles. They both move people forward without wasting anything. The perfect day: riding a bike to the library. —Peter Golkin
What a school thinks about its library is a measure of what it feels about education. —Harold Howe
What in the world would we do without our libraries? —Katharine Hepburn
You want weapons? We're in a library! Books! The best weapons in the world! This room's the greatest arsenal we could have—arm yourselves! —Russell T. Davies (Doctor Who)
If your library is not "unsafe," it probably isn't doing its job. —John Berry
My real education, the superstructure, the details, the true architecture, I got out of the public library. For an impoverished child whose family could not afford to buy books, the library was the open door to wonder and achievement, and I can never be sufficiently grateful that I had the wit to charge through that door and make the most of it. Now, when I read constantly about the way in which library funds are being cut and cut, I can only think that the door is closing and that American society has found one more way to destroy itself. —Isaac Asimov
A library in the middle of a community is a cross between an emergency exit, a life-raft and a festival. They are cathedrals of the mind; hospitals of the soul; theme parks of the imagination. On a cold rainy island, they are the only sheltered public spaces where you are not a consumer, but a citizen instead. —Caitlin Moran
A public library is the most democratic thing in the world. What can be found there has undone dictators and tyrants. —Doris Lessing
Libraries store the energy that fuels the imagination. They open up windows to the world and inspire us to explore and achieve, and contribute to improving our quality of life. Libraries change lives for the better. —Sidney Sheldon
I had found my religion: nothing seemed more important to me than a book. I saw the library as a temple. —Jean-Paul Sartre
Libraries are a pillar of any society. I believe our lack of attention to funding and caring for them properly in the United States has a direct bearing on problems of literacy, productivity, and our inability to compete in today's world. Libraries are everyman's free university. —John Jakes
The public library is where place and possibility meet. —Stuart Dybek
Paradise will be a kind of library. —Jorge Luis Borges
A library could show you everything if you knew where to look. —Pat Conroy
A great library contains the diary of the human race. —George Mercer Dawson
You build a thousand castles, a thousand sanctuaries, you are nothing; you build a library, you are everything! —Mehmet Murat ildan
Public libraries are the sole community centers left in America. The degree to which a branch of the local library is connected to the larger culture is a reflection of the degree to which the community itself is connected to the larger culture. —Russell Banks
When I got my library card, that's when my life began. —Rita Mae Brown
Without libraries what have we? We have no past and no future. —Ray Bradbury
Libraries will get you through times of no money better than money will get you through times of no libraries. —Anne Herbert
The truth is libraries are raucous clubhouses for free speech, controversy and community. —Paula Poundstone
The most important asset of any library goes home at night—the library staff.—Timothy Healy
Libraries always remind me that there are good things in this world. —Lauren Ward
Cutting libraries during a recession is like cutting hospitals during a plague. —Eleanor Crumblehulme
A truly great library contains something in it to offend everyone. —Jo Godwin
There is a hunger in this digital age to hear authors together, to participate in programs, to just be in a place, a community space. —Carla Hayden
Learned institutions ought to be favorite objects with every free people. They throw that light over the public mind, which is the best security against crafty and dangerous encroachments on the public liberty. —James Madison
Librarians are committed to promoting lifelong learning in order to create a community of well-informed individuals. Librarians are catalysts to enlightenment for their communities. —Louise Capizzo
At the dawn of the 21st century, where knowledge is literally power, where it unlocks the gates of opportunity and success, we all have responsibilities as parents, as librarians, as educators, as politicians, and as citizens to instill in our children a love of reading so that we can give them a chance to fulfill their dreams. —Barack Obama
When I was young, we couldn't afford much. But, my library card was my key to the world. —John Goodman
A library is infinity under a roof. —Gail Carson Levine
Had I the power, I would scatter libraries over the whole land, as the sower sows his wheat-field. —Horace Mann, 1883
A library is not a luxury but one of the necessities of life. —Henry Ward Beecher
I want to congratulate librarians, not famous for their physical strength or their powerful political connections or their great wealth, who, all over this country, have staunchly resisted anti-democratic bullies who have tried to remove certain books from their shelves, and have refused to reveal to thought police the names of persons who have checked out those titles. So the America I loved still exists, if not in the White House or the Supreme Court or the Senate or the House of Representatives or the media. The America I love still exists at the front desks of our public libraries. —Kurt Vonnegut
What is the value of libraries? Through lifelong learning, libraries can and do change lives, a point that cannot be overstated.—Michael E. Gorman
The library is the temple of learning, and learning has liberated more people than all the wars in history. —Carl Thomas Rowan
To add a library to a house is to give that house a soul. —Cicero
I was made for the library, not the classroom. The classroom was a jail of other people's interests. The library was open, unending, free. —Ta-Nehisi Coates
The library is an arena of possibility, opening both a window into the soul and a door onto the world. —Rita Dove
In cultivating this list, I steered away from library quotes that were purely about reading—but we already have a whole collection of quotes on reading, if you're interested in those.
Do you have a favorite quote about libraries?