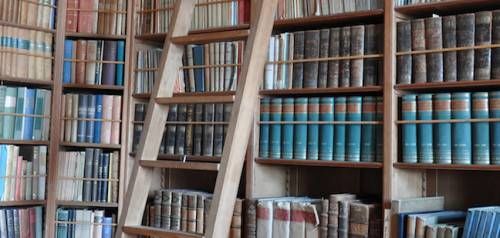 A Buyer's Guide To The Most Beautiful Library Ladders
Have you ever dreamed of having a personal library so big that you would need ladders to navigate the shelves? All kinds of ladders from short to tall, from simple to lavish! From sturdy step library ladders to rolling ladders that zoom down perfectly greased tracks, allowing you to virtually fly from one side of your bookish wonderland to the other without touching the ground. I understand, I really do. I dream of ladders too. (Oh no, rhyming.)
I blame Disney, personally. (For the rhyming, too.)

Beauty and the Beast definitely ruined my lifetime expectations for library ownership. Set the bar way too high. Not to mention that the whole film gave tiny!Jessica greatly exaggerated notions of the general availability of marriageable, library gifting, French princes in a given area.
Now adult!Jessica is much more aware of the various deterrents of massive library ownership. The most prohibitive factor being the cost. And not just of the library itself—it turns out that library ladders are one expensive commodity.
But the dream of a library ladder of your very own doesn't have to die entirely! It's just a matter of knowing what you're getting into. Consider this your guide to library ladder shopping, the good and the bad. Don't let some of the prices scare you away, because I've tried to include less expensive alternatives all the way through. There should be something for everyone, whether you've got one bookshelf or twenty, and can spend $1000 or only $10.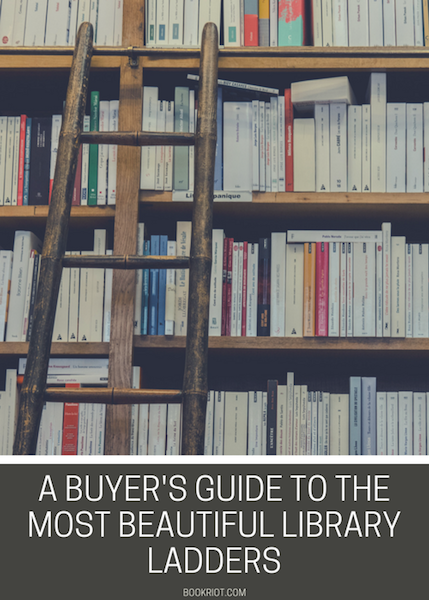 Rolling Library Ladders
Of course I'm going to start with that fundamental feature in the library ladders family: the full-length, rolling library ladder. It's elegant, it's traditional, and it's super functional! Unfortunately it's also the most expensive of the three ladder styles I'll feature in this guide. But don't give up hope already! A rolling ladder will definitely be an investment, but there are a couple of different options available, each with varying degrees of expense and convenience, so you can tailor your library ladder needs to fit your budget.
Pre-built Rolling Library Ladders
Let's assume that you want the highest degree of convenience in your ladder buying experience, to start with. You want someone to build your ladder for you, and deliver it, so that all you have to do is install the track on your bookshelves and stand up the ladder. The following companies will make your ladder for you, and attach its hooks (or rollers), and wheels. Plus send you everything you need to mount the track.
(For the sake of calculating approximate prices we're going to assume an 8 foot ladder with a 12 foot long track for all these examples. Prices will range up or down from those listed here depending on your needs.)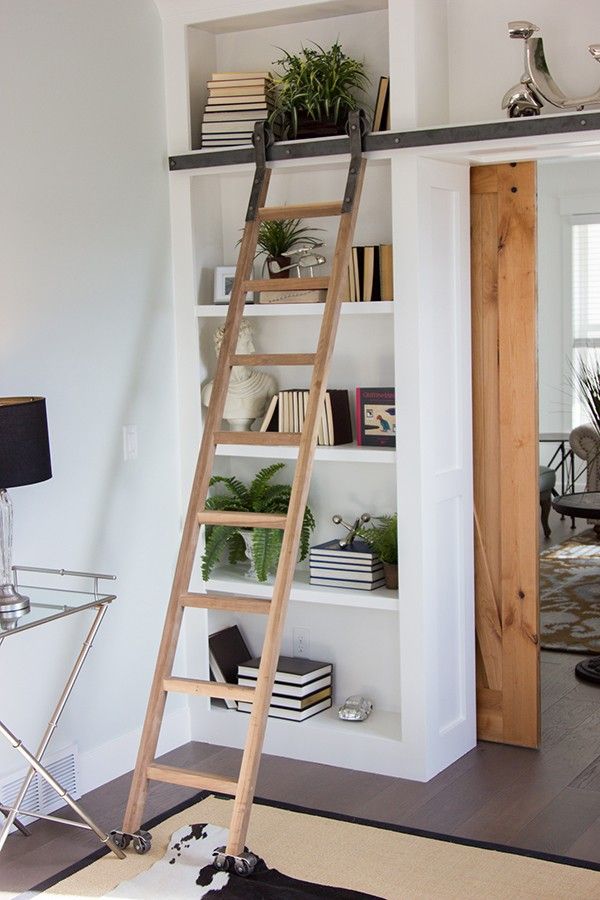 Artisan Hardware. We'll start with the option that will give the least offence to your bank account. Though you'll find that Artisan Hardware's Sliding Ladder is less customizable than the ladders from other companies, it is also just about half the cost. The barn door-esque track (barn doors being the company's specialty) has a flatter, sturdier appearance than the traditional rail and gives this ladder a delightfully rustic feel. This solid, country style rig will cost you between $700 and $900 depending on your custom needs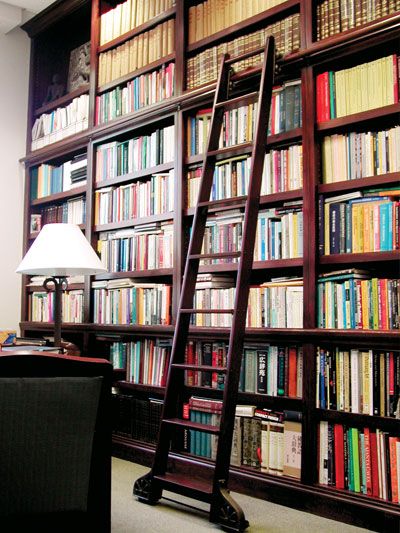 Alaco. Here's the thing about Alaco: they will charge you an arm and a leg for a custom built wood or aluminum ladder, but it will be beautiful. We're talking high-quality, professional work. Aluminum ladders are generally cheaper than wood, come in a variety of environmentally friendly powder coat color finishes, and will give your home library a more modern feel. Meanwhile, wood ladders are available in a number of wood varieties and finishes, and are more traditional in appearance. Ladders are available with hooks or rollers as preferred. You can experiment with Alaco's quote calculator and get an idea of what you'll be paying, but you'll still need to actually contact the company for a final quote. Expect to be paying somewhere between $1500 and $2000 depending on ladder height and features, and track length.
Putnam Rolling Ladder Company. Putnam is legit. Founded in 1905 in the same corner of Brooklyn where their factory still resides, you can find Putnam ladders in many famous homes and in almost every mall in America. With over 110 years of experience, these ladders are the letter in all that is traditional. You'll have to contact Putnam to get a final quote, but preliminary number crunching suggests that a Putnam ladder of your very own is going to cost you upwards of $1700 dollars.
Rolling Library Ladder Kits
Not all library ladders are created equal, and that fact can save you quite a bit of money if you're willing to exchange the cost of labor for some time and elbow grease. I mean, hey, if you have to put the track up yourself anyway, you might as well build the ladder too!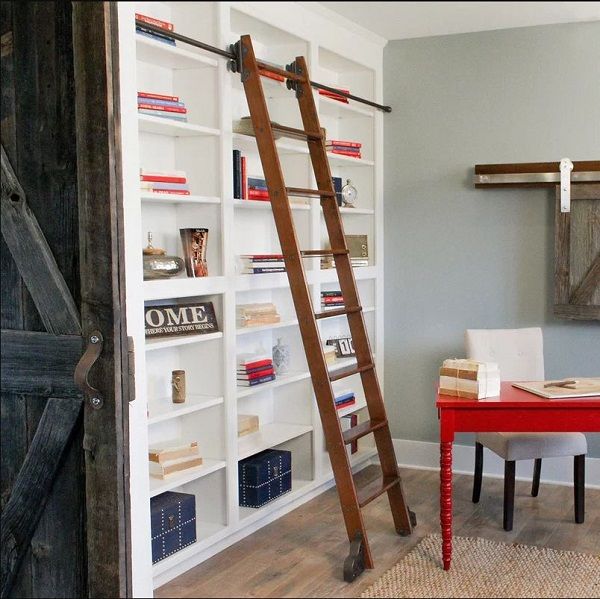 Quiet Glide Rolling Ladder Kits. Quiet Glide kits are available from a couple of different retailers. But crunch your numbers, because depending on who you buy from, prices will vary. Though you have fewer options for customization than with a pre-built ladder, the overall price is also lower. The complete kit (hardware, lumber, etc) will cost you about $1200 if you buy it from Wayfair. However, if you buy the same complete kit, or buy the lumber and hardware kits separately, from Lowes or Home Depot, you can reduce the cost to between $900 and $1000.
You also have the option of starting out with just the lumber kit, for between $400 and $500, and you'll have a perfectly good stationary ladder while you save up for the track and hardware.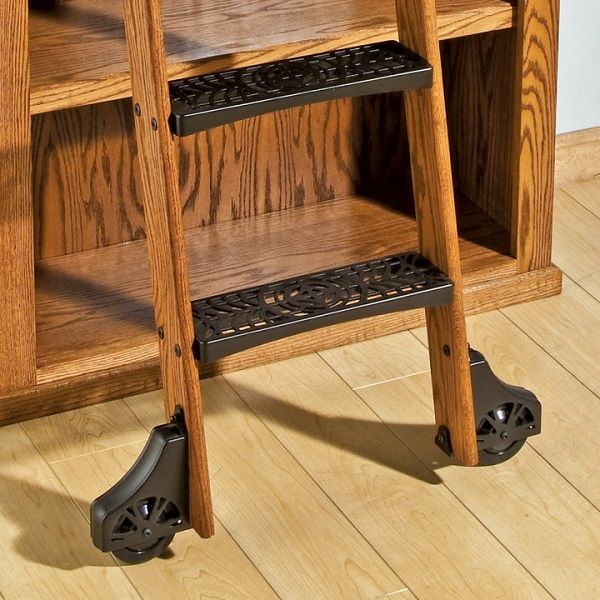 Rockler. Rockler's ladder kits may not be available at Lowes or Home Depot, but they cost you about the same as the retail Quiet Glide kits, depending on how you customize your options. Luckily, their website has this fabulous Ladder Wizard tool, so you can get an idea of what you're dream ladder will cost you. Costs vary with the height of the ladder and length of the track, but using that same 8' ladder on a 12' track model as before, you're looking at paying somewhere around $1050 at least. That's for a completely wooden ladder. But here's the reason I really like Rockler: for about $50 less, you can order what they call a "vintage ladder" kit, in which the usual wooden treads are replaced with beautiful, turn-of-the-century inspired aluminum treads (seen picture above). Talk about making your fairy tale library dreams come true!
Also, in the same fashion as Quiet Glide, it is possible to buy the lumber kits separately from the hardware kits on Rockler's website. You could have a beautiful stationary ladder for about $500—half the price of its rolling counterpart.
DIY Rolling Library Ladders
I can still see your eyes rolling back in your head from the sticker shock, but stay with me. Because there's more than one way to build a ladder. No really. The DIY option may be the least convenient of the three, but it's easily the least expensive. There are a number of sites, like This Old House or HGTV, that will provide you with instructions on how to make your own rolling ladder, completely from scratch. And since you will be buying all the supplies yourself you will have greater control over the overall price of lumber and hardware.
Or, if you're only moderately handy, you can get clever and cut the labor in half the way someone did with this lovely DIY rolling ladder project from The LilyPad Cottage:
She added some barn door rollers and hardware to a salvaged farm ladder. Just make sure that if your ladder is a real antique you test it for sturdiness, and reinforce it as needed!
Stationary Library Ladders
This second section is not going to as financially painful as the first. Bottom line: stationary library ladders reduce costs. However, it turns out that it's not all that easy to find an attractive, freestanding wooden ladder, as opposed to some aluminum safety ladder. Which, of course, would not be a very appealing addition to anyone's library. My motto while searching was "library ladders should be lovely." Thankfully, I did finally find a few stationary ladders that fit that criteria.
Pre-built Stationary Library Ladders
Finding the pre-built stationary ladders was the hardest part of this section, since it's pretty easy to make a ladder yourself but most of the ones you can buy are designed to be decorative, not functional. But if you want the ultimate convenience of having a pre-built ladder shipped right to you, without having to lift a hand (or a hammer), you do have a few options.
Espresso Augustus Bookshelf Ladder. I'm breaking the rules with this one just a hair, because technically you're supposed to buy the Augustus Bookshelf to go with your Augustus Bookshelf Ladder. But hey, World Market sells the ladder separately, and for a fairly affordable $130. And if you want the security of having your ladder hooked onto a track it would be just as easy to measure the cut edge of the ladder when it arrives and buy a suitably sized track from your local hardware retailer. Made of rubberwood with wood veneers, this little 6' ladder may not be as solid as a wooden ladder, but it is designed to be sturdy so have no fear!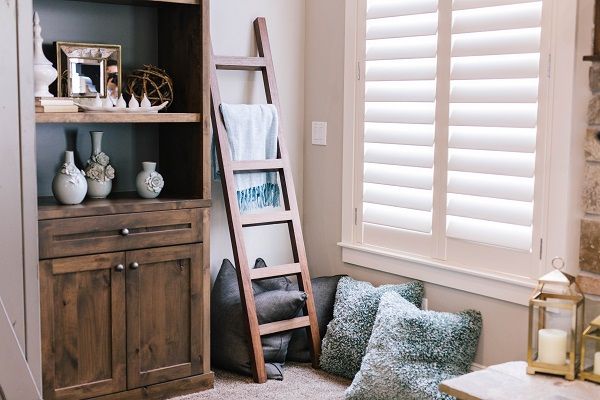 Artisan Hardware Ladder. Designed to be both decorative and functional, this walnut ladder does double duty in any room. At almost half the price of the rolling version Artisan Hardware's stationary ladder can be had for $446. And it is probably one of my favorite library ladders featured on this list. It would be a beautiful addition to any library.
DIY Stationary Library Ladders
Once again, the DIY method is the cheapest way to get your hands on a library ladder. And this time around you'll even save on hardware costs. You could salvage and refurbish a ladder from your local antique or flea markets, or build one from scratch.
This ladder design from Gray House Studio, with it's slight bend at the top for stability, is particularly lovely and perfectly simple.
Step Library Ladders
Let's be honest: Even if most of us had the budget for a full-size ladder for our libraries, we just don't have the shelf space to necessitate one. So this third section is for those of use with library ladder aspirations but limited shelf space and/or limited budgets, since these are also some of the least expensive ladders in this guide. Not to mention multi-functional!
The Folding Chair Library Ladder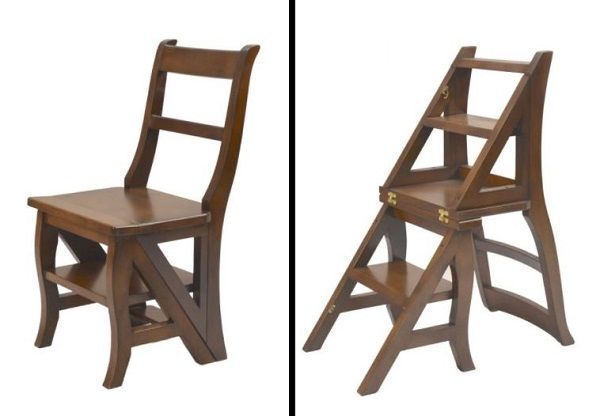 Attributed to Benjamin Franklin (with who knows what degree of historical accuracy…) this is the niftiest ladder I can offer you for your home library. Not only is it a sturdy, three-step library ladder, topping out at probably about 2' to 2 ½', but it also converts into a chair with ease. Just tuck your "chair" in a corner with a pretty throw pillow until it's needed again! This model, the Chestnut Folding Library Ladder Chair from Carolina Chair & Table, is available for approximately $131 on Goedeckers.
Or, DIY enthusiasts, you can make one yourself! You can use this pattern from Popular Mechanics, complete with visual schematics, or you can purchase a set of plans for $1 from our old friends at Rockler.
The Vaguely Vintage 2-Step
So really you could substitute any little wooden, two-step stool, and it wouldn't cost you as much as this Ouareau 2-Step Wood Step Stool, priced at $216. But there are two things that I love about this particular design: the distressed vintage feel, and the fact that it's totally reproducible. In fact this DIY project from Ana White is so close that it would only take a few adjustments to make yourself the same step ladder for much less.
Three Steps on a Folding Theme

As you can see, I actually found three almost identical versions of the exact same step ladder. And the best part? Each is a different price on a scale from reasonably affordable to "this may have to be a tax return gift to myself," so if you like this particular style you have options to choose from! On the far left is the Selamat Mahogany Library Steps from Interior Homescapes. That's right: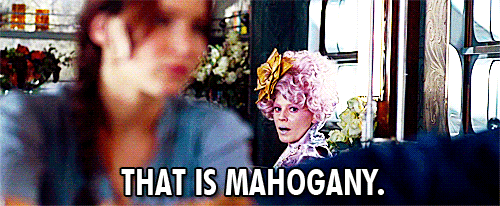 Because it is in fact mahogany, this model retails for $348, which is a bit too rich for my blood. Thankfully that's the most expensive of the three. In the center is the Wayborn 3-Step Wood Retractable Step Stool from Wayfair, for $193. But if that's still above and beyond what you want to pay, on the far right is the Boraam Industries Folding Step Stool in Cappuccino from Target for only $80.
DIY Library Step Ladders
I've already included DIY options for a couple of the step ladders above, but I also want to highlight a couple of other fantastic DIY designs. Keep in mind that you can always salvage some pretty cool step ladders at your local antique or flea markets and refurbish them for a unique look, as well. But if you really want to get down in the sawdust, give these projects a try:
This awesome step ladder from Her Tool Belt is technically designed for tiny children but the designer claims it's sturdy enough to support and adult as well, and I believe her. I love the simple design, and the way the white trim contrasts with the dark stain of the distressed risers. As a plus for the DIYer on a budget, this ladder was designed to be made from a single 1" x 8" x 8' board! The designer clocked her wood costs at just about $9. How's that for value?
This second design, posted on Instructables, is the closest I could get in my desperate search for a set of spiral library stairs that didn't cost me a kidney on the antique market. Just one note: as this was made to support a child, the designer made it out of spare plywood. You'll probably want to consider making the risers and bases out of wood if you're going to make one for your library.
This has been your (mostly) complete look at how to make your home library dreams come true. True, library ladders can be pretty expensive, but they don't have to be a luxury item. With a little shopping around, or some do-it-yourself ingenuity, everyone can have a ladder that fits their style and needs.
Remember to climb with caution!