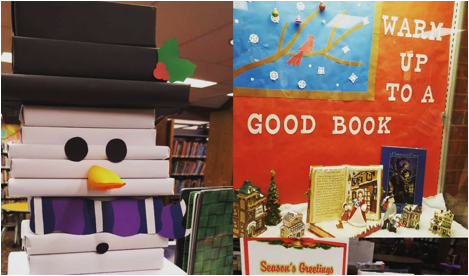 Lists
Library Holiday Displays Abound for the Coziest Season
The holidays are always a great time to browse Instagram and marvel at beautiful decorations and get some inspiration. Some of our favorite bookish spaces are up for the task, natch. Check out this little look at some of the great library holiday displays we've spotted on the bookstagram.
Of course, I'm going to start with the Miami-Dade Public Library since it's my city…
LA County Library is next with this excellent book tree, topped with a book page star:
Abilene Public Library's youth community is making a huge snowman, and it's coming out awesome:
Here's a cute snowman display at Bangor Public Library:
And a lovely wreath at Davenport Public Library:
The Amityville Public Library is ready for cozying up indoors:
Massapequa has an excellent idea, here. Check out a mystery book!
West Chester Public Library used some books to create a snowy village:
Baldwin Library kept things simple and elegant:
While St Paul turned some shelves into a cozy-looking fireplace, complete with a mounted reindeer's head:
What's your library up to this season?