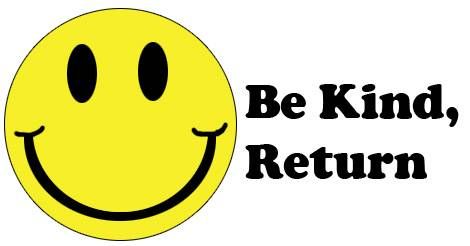 This content contains affiliate links. When you buy through these links, we may earn an affiliate commission.
Back in the day of VHS rentals there was the slogan(s) Be Kind, Rewind/Please be Kind and Rewind. You could usually find a sticker on the tape reminding you to rewind the VHS tape before returning so either the store nor the next renter had to. It only took a press of a button and a few seconds to be nice to the person behind you "in line." Be Kind, Return is that but for library ebook loans.
Unless you return the ebook you have on loan from the library when you're done the next person in queue doesn't get it until your actual loan expires.
For example: I recently got on loan Big Little Lies by Liane Moriarty and while I had 21 days to read it I inhaled it in 2 days (so good!). I returned it as soon as I was finished so the next person could read it. Had I not known about returning the ebook (information I accidentally stumbled across) the next person in line would have waited those extra 19 days before getting their loan. 19 days! To a reader dying to read a book that is an eternity.
So in the spirit of "knowing is half the battle" and being kind to the next person in line I thought we needed a new slogan: Be Kind, Return.
Overdrive (which seems to be the most common service used) has a help page with instructions for various software/apps this applies to: How to Return Titles Before the End of Your Lending Period.
In my case I send my ebook loans to my Kindle so I can give a quick how-to return if that's also how you read your library ebook loans: Amazon account > manage your contact and devices > select the "Actions" box next to the book you're returning > select "Return this book."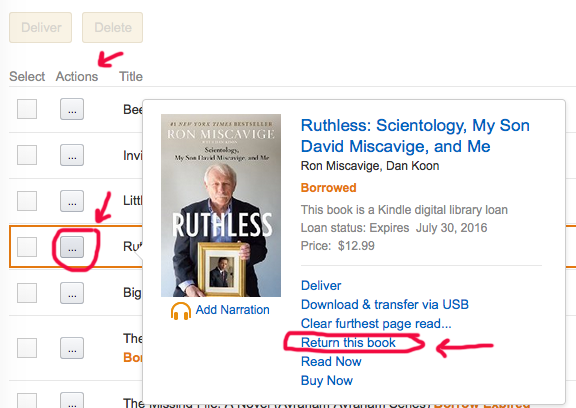 Your library's site will also most likely have an FAQ section with information (if it applies to your software/app/ereader) on returning a loaned ebook once you've finished reading it.
Save
Save
Save
Save
Save
Save
Save
Save