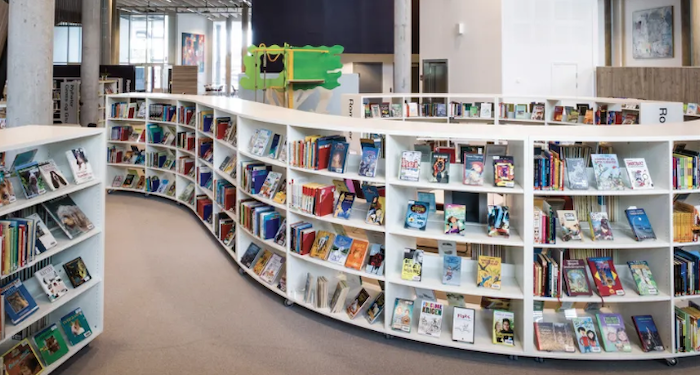 I know I'm not alone when I say that libraries are my favorite place in the entire world. There's something about them that just makes me feel safe, relaxed, and happy. Part of that is of course due to the dedicated librarians, and wonderful books on the shelves, but there's something else too — something that often goes unnoticed or underappreciated. That is, of course, the library bookshelves!
If you are a librarian yourself looking to update your current shelves, this is for you. If you're a reader who wants to store your books in a library bookshelf, this is for you. And, if you're just a casual library enjoyer who's curious about libraries and bookshelves, this is for you. It doesn't matter who you are: these wonderful bookshelves are for everyone.
We are going to cover everything from the best library bookshelves, where they are manufactured, and how to acquire them no matter if you're purchasing on behalf of a library or for your personal use. The world of library bookshelves may not be something you often find yourself considering, but they play a very important role. So, let's duck between the shelves and learn all about them together.
The What of Library Bookshelves
Is there something that makes library shelving different from the ones you find at your favorite furniture store? Well, kind of. What sets library shelving apart is how many different components are required to store all the various types of media the library has.
You have to have your standard shelves, and then most public libraries will also have a kids' section with height-conscious shelving and usually some fun furniture. Next, think about how libraries store audiobooks and CDs. And, of course, there are shelves for display purposes. And all that isn't even taking into consideration archival storage needs.
So the short answer is no, library shelves aren't that different from the ones in your home. The long answer is that while they might be similar, there are a lot more required components, accessories, flexibility, and durability.
Where To Find Library Bookshelves
There are quite a few companies that manufacture and/or sell shelves to libraries. If you're looking for some for yourself, or you work for a library that's investing in some new shelves, here are some of the best available.
The Library Store
The Library Store has dozens of different kinds of shelving options, including kids' ones shaped like trucks or that are kid-height. This site even offers fun curving shelves, as well as accessories to really make each product work for you. They also carry standard bookshelves that will look good in any home.
The Library store has prices for standard shelves ranging from just under $400 to upwards of $4,000. While some of these may be out of the average consumer's price range, they are well suited to last and withstand hundreds of people moving books around each day. With so many options out here, I think this is the perfect place to start.
Demco
Demco is another site that sells shelving systems individually, and they can supply to schools, libraries, or your own home. They sell shelves in all sorts of materials and colors, which can be amazing when it comes to customizing a library space. They also sell important everyday library items, like security DVD cases and book-safe tape.
This site is on the more expensive side: curved shelves like the one pictured can go as high as $3,500. However, all of their shelving is designed to fit together and can be modified for just about any color scheme. Demco could be great for updating on sections of the library or stocking up on everyday supplies.
BCI Libraries
BCI Libraries sells specifically to schools and libraries, so unfortunately it's a no-go for those looking to spice up their home library's shelves. However, what's cool about them is that they do consults and help design the library space. There are so many options for shelves, chairs and couches, and even information desks.
The pricing for these shelves is wrapped up in the design process and isn't really suited for just buying one or two shelves at a time. BCI is a great option for those who are completely redesigning a library space.
Aurora Storage
Aurora Storage is another site that has a focus, this time on storage solutions for museums and schools all the way from kindergarten to post-grad. This company has hundreds of shelving options, both high-density and display storage. Plus, the chairs and couches that they sell look incredibly comfy!
Pricing for these shelves is available on request. Given that they have both standard library shelves as well as special collections, Aurora is a great option for libraries, or those lucky few who have their own special collections that require special storage options.
School Outfitters
School Outfitters creates furniture specifically for, you guessed it, schools! Their Library and Media Center catalog has a lot of offers, from desks to dry-erase boards to shelves of all shapes and sizes. This website also breaks furniture into age groups: you can browse through furniture meant for pre-schoolers without lecture hall furniture getting in the way. In addition, a lot of their furniture comes on wheels, making it perfect for reorganizing and redesigning on the fly.
The prices listed on the site are pretty similar to what we've seen so far. Shelving and storage for libraries don't generally come cheap.
Creative Library Concepts
Creative Library Concepts is another site to consider when it comes to designing a public or school library. They have a wide variety of furniture that ranges from classic academia to modern looks. CLC is also there to help every step of the way. They consult on designs and do all the installation to your library's specifications. Pricing for their shelving and other furniture is available upon request.
These are just a few of literally hundreds of different outlets that provide furniture to libraries and schools!
The How
A lot goes into planning out storage solutions for libraries, and there are many companies ready to fill that demand. But how do libraries acquire their shelving? How complicated is the process? And how do they pay for it?
We got a little glimpse into the process when we looked at the different websites. Most libraries will work with a designer or an architect in addition to the company providing the furniture. Consideration has to go into laying out the floor plan, having space for the community, and space for quiet study and research. While some libraries may purchase and arrange the floor plan themselves, most government-funded libraries deal with library shelf professionals.
Which brings us to the age-old question: how do they pay for it all? For museum or university libraries, it's funded either by donations or finding room in their regular budget.
When it comes to public libraries there's usually a small amount allotted to furniture upkeep and repair. Doing a full overhaul can often require a petition to the city council to release the extra funding.
If you are an avid library patron, there are things you can do to support your local library that's in need of updating, like attending your open city council meetings and speaking about how much value the library has in the community.
Libraries are a unique beast. They do so much and offer so much community support. A library wears a lot of different hats, and figuring out how to store it all in one building can be difficult. The world of library design and shelving is fascinating, and I hope you'll have a special appreciation for them the next time you visit your local library.