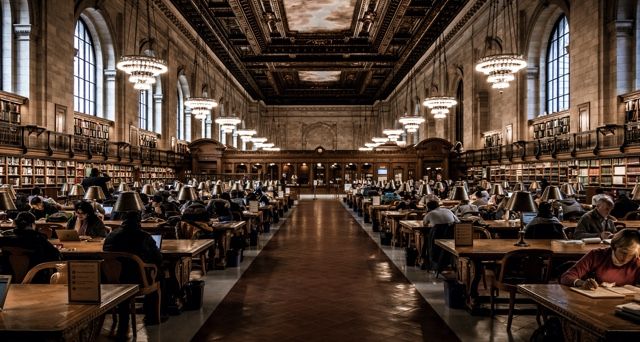 Libraries
8 Bequests By Famous Authors to Libraries
This content contains affiliate links. When you buy through these links, we may earn an affiliate commission.
In October 2019, InsideHook reported that Philip Roth, author of Portnoy's Complaint, gave a bequest of over $2 million to his hometown library in New Jersey. That's in addition to his personal collection that he donated.
As someone who works in philanthropy in my day job, I got really excited. I decided to look into what other authors have made bequests, whether cash or gifts in kind to their beloved libraries.
Octavia Butler's Papers
Famed science fiction writer Octavia Butler left her papers to Huntington Library in her will. The collection included "more than 39 cartons of manuscripts, notebooks, correspondence, photographs and even school papers," reported the Los Angeles Times. The article noted: "Butler had a longstanding relationship with the Huntington: she had given lectures there and participated in a contemporary authors reading series."
Langston Hughes's Papers
Poet and writer Langston Hughes and his estate donated papers to the Beinecke Rare Book & Manuscript Library at Yale University. The collection included letters and photographs spanning 1862–1980. Hughes began giving documents to Yale starting in 1940s and the rest of it was given through his estate. According to the 2017 Yale Library blog post, the collection is the "single most-consulted archive" in the library.
Geisel's Donation
Dr. Seuss's widow, Audrey Geisel, gave University of California San Diego over $10 million in 1995. The library was renamed for her esteemed husband, Ted Geisel, because it was "an architectural landmark that was a favorite of her late husband" per the LA Times. The money was to be "used to increase the university's stock of scholarly information, both in print and electronic databases, and to train students, particularly undergraduates, to access and use that information." When her husband died in 1991, she donated original material by her husband that was valued at $2.3M.
Tony Hillerman's Books and Manuscripts for Auction
Sometimes authors donate items to help raise funds for the libraries. Or sometimes that's what happened to their collections. Hillerman's daughter Anne gave her father's signed books and manuscripts to the Jemez Springs Library and they were auctioned off in 2016 to raise funds. Hillerman was a fan of the library and frequently spoke there until his death in 2008.
Ray Bradbury's Collection
Similarly, Bradbury's collection helped in raising funds for the library. Bradbury's personal books were left to the Waukegan Public Library in 2013. Bradbury had lived in Waukegan, Illinois, until he was 13. The donation was rather extensive. So much so that to help raise funds for the statue of Bradbury, donors of $150 or more got to select something from the collection. Moreover, "Bradbury's manuscripts, art, and rare materials were auctioned in 2014."
Maurice Sendak's Personal Library
Sendak left his personal library of 895 rare books to the Rosenbach of the Free Library of Philadelphia in 2012, according to the Philadelphia Inquirer. However, the bequest was held up by the estate contesting the will. After years of litigation, the case settled out of court and 643 books went to the Rosenbach. Unfortunately, the most valuable books, valued in millions, including William Blake's illustrated Songs of Innocence and Songs of Experience, were among the 252 books that did not go to the library.
Inquirer reported that Sendak had a relationship with the library: "The books new to the Rosenbach hold special significance: Sendak was a frequent visitor to the Rosenbach starting in the late 1960s, eventually becoming a board member and major donor, and his wanderings among the stacks influenced his own work and his leanings as a major collector of rare books."
George Bernard Shaw's Royalties
Unfortunately, the case of Shaw's royalties bears a bit of resemblance to Sendak's story as a bequest going awry. Shaw left one third of his royalties for his work to "the British Museum 'in acknowledgment of the incalculable value to me of my daily resort to the Reading Room'," according to the LA Times. The other two thirds went to the National Gallery of Ireland and Royal Academy of Dramatic Art.
However, Shaw could not foresee that the British Library would become independent from the British Museum in 1973. Thus only a small part of the royalties has gone to the British Library with an estimated $5.6 million as of 1993(!) went to the British Museum. It's unclear what has happened since LA Times wrote the original article. I'm guessing the British Museum didn't give up those funds easily, just like those Parthenon Marbles.
J. M. Barrie's Royalties
Okay, so this bequest wasn't to a library but I think it's a really important one. J.M Barrie left the royalties for Peter Pan to Great Ormond Street Hospital, a children's hospital in London, in 1929. As you can imagine, these royalties for every production of Peter Pan have been very significant to the hospital. They are so important that the British Government changed the copyright in 1987, when the copyright was due to expire, to protect this right in perpetuity in UK. However, the copyright expired in 2007 in the rest of Europe; in the U.S., the play is protected until 2023.
---
These are a few interesting cases of authors (and a few of their family members) leaving money to their local libraries (or hospital). However, it's important to note that the majority of folks on this list are white cis men. As evidenced by the recent fiasco over the Oscars nominations, society has long held that white male writers to be the pinnacle of literature. Being able to donate their work or money is another form of privilege, whether it's being financially successful to make a gift or whether a library would accept their work in the first place. Hopefully, as society becomes more open to the works of authors of all genders, sexual orientations, races and ethnicities, we'll see even more libraries being enriched by their papers and other donations.
Want more? Here's a great list of 10 ways to support your local library or here's a list of amazing library services!