Lists
Libraries Lending Seeds Alongside Books
This content contains affiliate links. When you buy through these links, we may earn an affiliate commission.
Gardeners and book lovers rejoice! The trend sweeping through libraries across the country starts off tiny, but blossoms into beautiful results. What am I talking about?? Seeds! Now in stock at a library near you.
Imagine: you can browse the stacks for books, and stock up on seeds, all in the same place. I'm a bit behind the times – apparently this all started with a library local to me, the Richmond (California ) Grows Seed Lending Library, part of the Richmond Public Library system. The idea is to 'borrow' some seeds for your garden, then when your plants grow just let a few of them go to seed, which you then give back to the library. Bonus – no fines attached! The website provides a video 'how to' tutorial, tips on water conservation (essential in just-about-drought-conditions California) and how to grow high producers, which, again, are essential with the drought conditions and rising costs of California staples like limes, avocados, and lettuce.
Seeds are categorized by type (natives, ornamentals, flowers), and coded as Easy, Super Easy, Difficult, etc. It is recommended that first timers take it Super Easy, and only save seeds from these plants. You're free to try growing as high-risk as you like. All of which made me think of my own little garden, currently planted with tomatoes, peppers, peas and all sorts of herbs, and how I could expand on that idea, through books. The result: my literary garden!
I would start with some book basics: papyrus, birch, and bamboo. All hearty, strong stuff that in a pinch could be used to transmit words, when the Interwebs fail and we're back to the good old days of paper books. I envision it like the Alice in Wonderland ride at Disneyland: a curvy walking path that will take you through the various book-inspired-garden segments. And yes, there would have to be mushrooms & caterpillars, butterflies and a cozy corner for tea. Here's the book-inspired blueprint.
The Signature of All Things, by Elizabeth Gilbert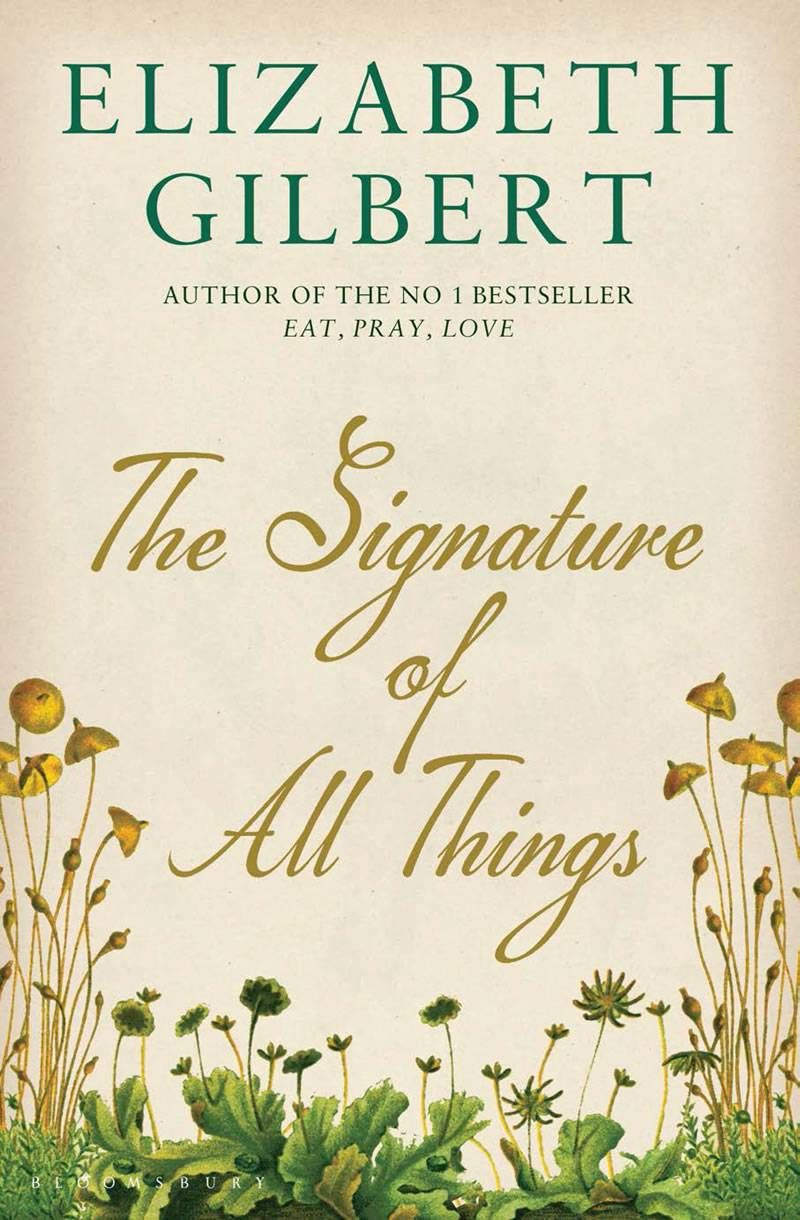 Mosses – it's all about mosses. Green mosses, black mosses, lichens on the shady side of rocks, dried out mosses that magically come back to life with a few drops of water. Alma Whitaker lives on a sprawling 1800's Philadelphia estate, all woods and streams, horses and well-stocked libraries. It's kind of the dream – aside from the part where Alma doesn't leave the estate till middle age, and is basically a slave to her demanding father. But other than that – who wouldn't love to spend their days studying, classifying and dreaming about the life of a moss? Anyway. Pop a couple of rocks under a shade tree next to a (recycled grey water!) pond, and there you have it. Easy peasy.
The Botany of Desire, by Michael Pollan
An excellent nonfiction read, wherein the author breaks down our (meaning, humans') obsession with three plants that changed the world: the apple, the tulip, and our old friend marijuana. I don't think my house can accommodate an orchard, and I don't hold the proper permits to grow mary jane, for medicinal purposes or not. But tulips, which re-grow from bulbs each spring, are definitely within the realm of possibility. I see them lining the garden path, all in a brilliant rainbow of colors.
Rose in Bloom, by Louisa May Alcott.
I love all the Alcotts, but Rose is one of my favorite (non-Jo) heroines. Orphaned, spunky, early-feminist, well-read, generous, and surrounded by family who love her, this second Rose-centric book picks up as the girl with Eight Cousins returns from abroad and settles back into family life in the U.S. Spoiler alert: love me some Mac, but did Charlie have to die? And, more importantly, can't a girl with this much going for her search for a partner outside the familial gene-pool? So yes – roses would be essential to my literary garden, and are fairly easy to grow. Downside-they do require a lot of water, but the leaves are edible. And perfect for the bathtub, along with a good book. Like The Secret Garden, In Search of Our Mothers' Gardens, The Language of Flowers – all inspiration for my efforts.
Snow Flower and the Secret Fan, Lisa See
The residual image this book conjures up for me is all soft pink cherry blossoms floating in a gentle wind. And it brings back memories of my own childhood besties (and current platonic life partner), sharing secret languages (oday uyay peaksay igpay atinlay?) and adventures together. I read this with my own book-club laotongs, and we wanted to have our own Catching Cool Breezes festival, where, between harvests, at the hottest time of the year, women are sent back to their natal families – I'd like to say it's to relax, but that's my idealized version of nineteenth century China. However, a nice cherry blossom tree or two in the garden would allow some shade for the moss rocks, and would be a perfect place to house my tea cozy. What do you think? If I built it – would you come? What books would inspire your own literary garden? And most importantly – have you patronized a book-and-seed-lending library?