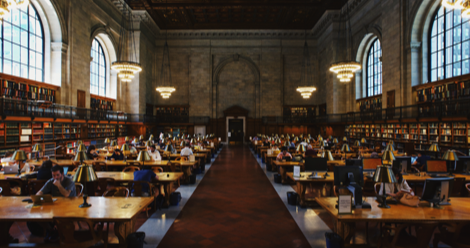 Libraries
An Ode to Libraries, the Original Co-Working Spaces
After my son began daycare, I settled into a routine of sorts. I would drop him off and then search for the nearest café or coffee shop to set up shop—laptop, headphones, cell phone arranged on a table before me. I'd conduct interviews in my car, laptop perched on my lap, phone and audio recorder side by side.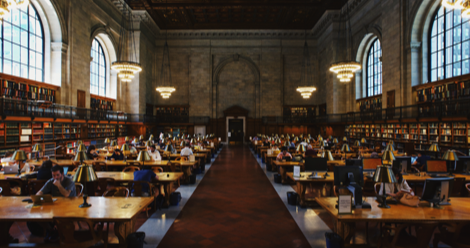 I'd buy lattes and scones out of guilt for taking up a table all morning, and then I'd decamp to another café or coffee shop in the afternoon. Rinse, repeat.
Still, I felt like a drifter—like a cliché of a writer. Also, my latte budget was considerable. But at least it was cheaper (and closer) than a co-working space. Right?
"Have you tried the library?" my mother-in-law asked tentatively one day, after hearing about my latte guilt.
To…work? The thought hadn't even crossed my mind. I was ashamed to admit it. I hadn't gone to a library to work since college—back when I needed a change of scenery and weak wifi to help me focus.
Libraries were a magical place for me when I was growing up. I got my very own library card as soon as I learned how to sign my name in cursive, and I checked out dozens of books at a time. Many of my happiest childhood memories are of browsing through shelves of new releases and finding a quiet corner to lose myself in a book. As I got older, though, I began buying more of my own books—which I still love doing—and spending more time at home reading. I still frequented libraries, but usually it was just to pick up books I'd put on holds or to browse titles for research.
Maybe it was time to return to my first love—and see if it had grown with me.
The next day, I searched for public libraries instead of coffee shops, and I got down to work. After a few hours of excellent focus and absolutely no guilt, I was hooked.
My local libraries have tons of tables and chairs, loads of electrical outlets, clean bathrooms, private rooms for phone calls, unlimited wifi—even free coffee! And the best part (as if the coffee weren't enough): Whenever I need motivation, I look up and see the hundreds of books and magazines surrounding me, and all of the people reading them—and then I keep writing.
There have been rumblings on the interwebs this week about cutting off funding for libraries, which function as an invaluable resource for many people to access information—from books to computers.
And libraries are so much more than places to keep books. They bring communities together. They offer resources and support and, yes, a space to get to work.
No, they're not free—they're paid for by our taxes. But I am more than happy to pay taxes to have a place like this open to me and to others who need it.
Once I loved libraries for the escape they provided—all of those books, all of those lives, just waiting for me to dive in. Now I love them for the refuge they give me—the peace and the space to jump into my work.
That's the amazing thing about libraries. They are many things to many people: a place to check email, to catch up on The New Yorker, to bring your kid for story time. As our needs change, libraries change with us—like our very own Room of Requirement.
And who could put a price tag on that?