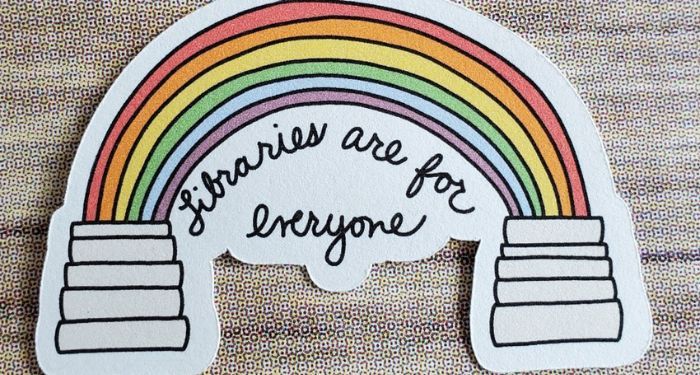 Book Fetish
Libraries Are For Everyone: Pride in the Library Goods
This content contains affiliate links. When you buy through these links, we may earn an affiliate commission.
Libraries have been under constant attack now going on almost three years. Rising fascism, combined with unmitigated bigotry from groups like Moms for Liberty (and dozens of others) has led to an astounding number of book bans, alongside attempts to fully defund one of the most precious public institutions and defenders of the First Amendment in the United States. But no libraries nor library supporters are going down without a fight. If anything, advocates are pushing back harder than ever to make it clear that libraries are for everyone.
With Pride officially here, it seems fitting to emphasize the fact that libraries exist to meet the needs and interests of all people, from birth to the elderly. Not all books in the library are for everyone, but everyone should be able to find a book that suits them. No one person gets to dictate what can or cannot be in the library nor what any individual can or cannot have access to. Despite the right wing dog whistles about porn in the library or about library workers grooming young people, the fact of the matter is those individuals are choosing to offload their duties as parents to guide their children in appropriate reading material by demanding the removal of books they don't like from shelves. For claiming not to coparent with the government, they sure want the government to do the parenting so that they do not need to have tricky conversations with their kids about why they do not want them to read or access certain materials. That is their code of parental rights. What doesn't fall underneath that is demanding that material be made inaccessible for all people.
Let's celebrate the fact libraries are for everyone with this library-themed pride merch. Yes, let's acknowledge rainbow capitalism right here, and let's also accept that emphasizing the importance of LGBTQ+ presence in the library matters. All of these come from small creators, and wearing or sporting these library pride goods helps you identify yourself with the right side of history.
Of course, who needs a time frame when it comes to being proud of an inclusive library? These goods will do you well all year long.
---
Wearing library pride goods isn't enough, of course. But you already know that. Spend some time digging into our tremendous archive of censorship news and writing, as well as our library features, to discover more ways to advocate for your local public library.