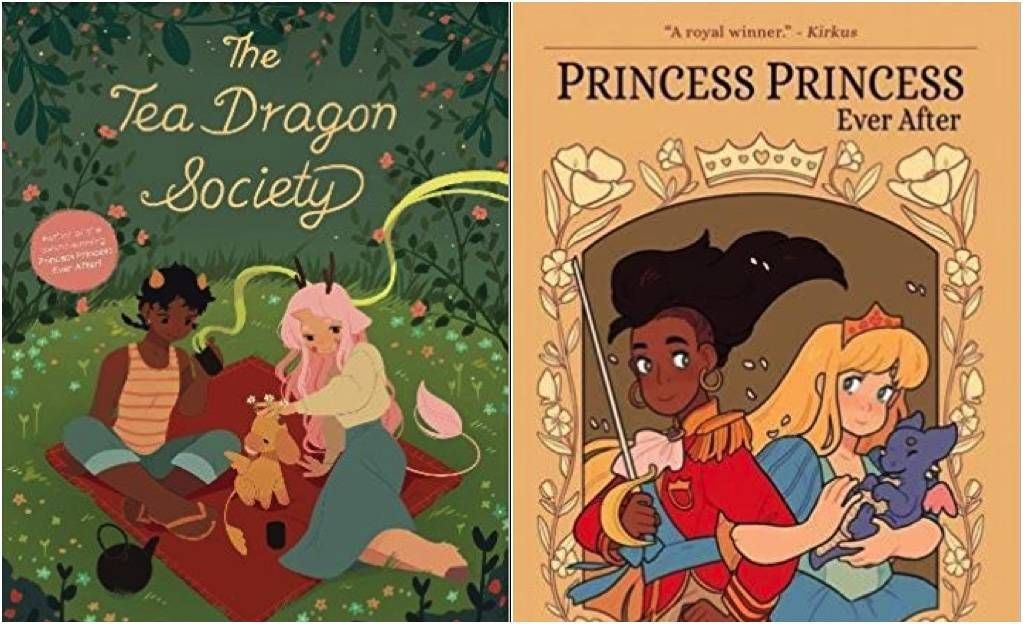 This giveaway is sponsored by Diamond Book Distributors & Oni Press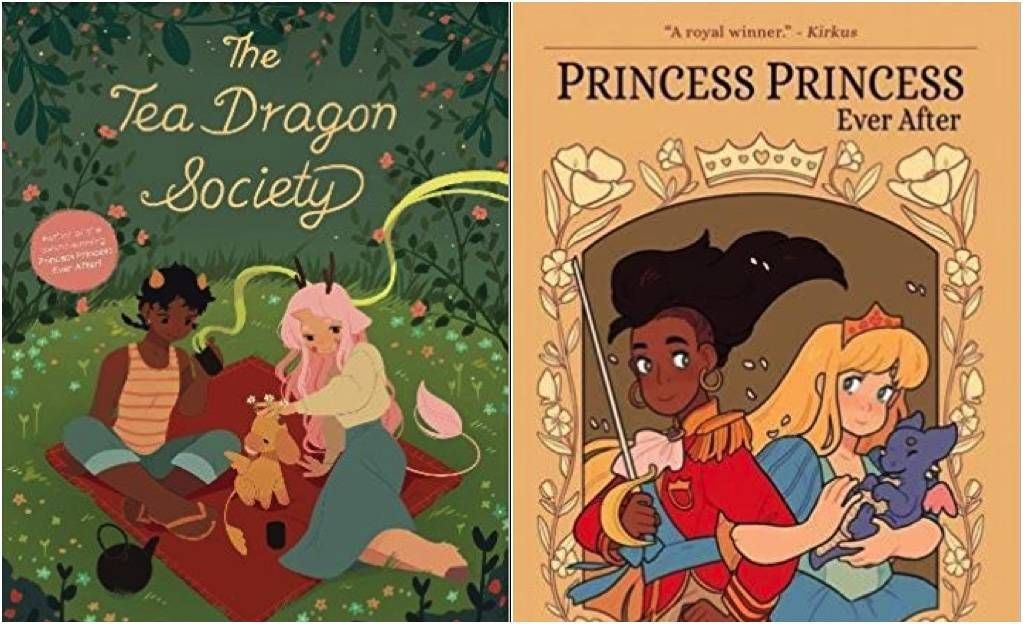 Tea Dragon Society: From the award-winning author of Princess Princess Ever After comes The Tea Dragon Society, a charming all-ages book that follows the story of Greta, a blacksmith apprentice, and the people she meets as she becomes entwined in the enchanting world of tea dragons. After discovering a lost tea dragon in the marketplace, Greta learns about the dying art form of tea dragon care-taking from the kind tea shop owners, Hesekiel and Erik. As she befriends them and their shy ward, Minette, Greta sees how the craft enriches their lives—and eventually her own.
Princess Princess Ever After: When the heroic princess Amira rescues the kind-hearted princess Sadie from her tower prison, neither expects to find a true friend in the bargain. Yet as they adventure across the kingdom, they discover that they bring out the very best in the other person. They'll need to join forces and use all the know-how, kindness, and bravery they have in order to defeat their greatest foe yet: a jealous sorceress, who wants to get rid of Sadie once and for all.
Join Sadie and Amira, two very different princesses with very different strengths, on their journey to figure out what "happily ever after" really means—and how they can find it with each other.
---
Reading diversely is so important for kids—they deserve to see all the amazing people that exist out in the world, and to see themselves represented in the media they read. From George to The Tea Dragon Society, wonderful LGBTQ books for kids are out there!
We asked you tell us your favorite LGBTQ reads for kids, and you answered. Here are more than 20 of your favorites.
And Tango Makes Three by Justin Richardson and Peter Parnell
Boy Meets Boy by David Levithan
Star-Crossed by Barbara Dee
Lumberjanes by Shannon Watters, Grace Ellis, Brooke A. Allen and Noelle Stevenson
Princess Princess Ever After by Katie O'Neill
The Pants Project by Cat Clarke
Introducing Teddy: A Gentle Story about Gender and Friendship by Jessica Walton
I Am Jazz by Jessica Herthel
George by Alex Gino
Drama by Raina Telgemeier
The Vast Fields of Ordinary by Nick Burd
It's Not Like It's a Secret by Misa Sugiura
Worm Loves Worm by J. J. Austrian
Wandering Son by Shimura Takako
None of the Above by I. W. Gregorio
Square Zair Pair by Jase Peeples
Princeless by Jeremy Whitley
Jacob, King of Portalia by Casey Clubb
Aristotle and Dante Discover the Secrets of the Universe by Benjamin Alire Sáenz
My Most Excellent Year: A Novel of Love, Mary Poppins, and Fenway Park by Steve Kluger
About a Girl by Sarah McCarry
Queer, There, and Everywhere: 23 People Who Changed the World by Sarah Prager