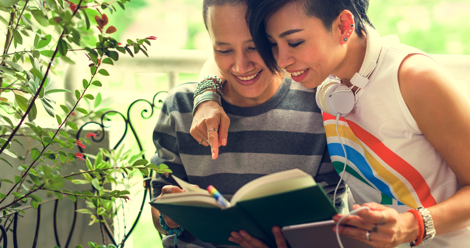 LGBTQ
LGBTQ+ Books That Actually Have a Happy Ending
This content contains affiliate links. When you buy through these links, we may earn an affiliate commission.
Being queer is hard. There's no denying it. It's a tough world to live in. And yet, I still don't want every book with queer characters to be a festival of unending sadness and suffering. (Even though those can be wonderful. See: A Little Life by Hanya Yanighara. You will need tissues. Many tissues.) So, a list of LGBTQ+ books that actually end on a positive note can be what we need.
Some of these reads aren't happy all the way through, but they do end on a high note. For LGBTQ+ books that are unequivocally light and fluffy, check out this post on Cotton Candy reads.
Follow the inspiring story of Jazz Jennings, a transgender girl who transitioned at the age of five. Since then, she's been the center of media attention and has taken it in stride. Jazz is sweet, smart, and confident as she tells her story. This young activist will give you hope for the future generation. It's also refreshing to hear a story about trans youth that involves supportive, understanding parents.
Now a movie entitled Love, Simon, Becky Albertalli's young adult romance is one to cherish. Simon is gay and in the closet and loves emailing his anonymous pen pal, Blue. Everything is fine until both of their identities threaten to come to light. Simon aims to protect Blue (and himself) while he falls deeper in love with him and aches to know his true identity. This is an adorable, fluffy teen romance, with an ending that will definitely warm your heart.
Harry and Craig are two boys who (you guessed it) are kissing. Why? To break the world record for longest kiss. What seems to be a superficial story turns out to be a larger, more worldly affair as support for them grows and grows. Even more, those lost from the tragedy of the AIDS virus watch from the grave. Despite its heavy overtones, Two Boys Kissing remains a sweet exploration of gender and sexuality and a staple of modern young adult LGBTQ+ books.
Aristotle has anger issues. Dante is a know-it-all. Together, they form an unlikely friendship. Throughout the novel, the friendship blossoms into something beautiful and unexpected. Aristotle and Dante Discover the Secrets of the Universe probes our own understandings of masculinity, sexuality, and love. This is a book that'll have you squealing every time these two get a little closer to understanding what's right in front of them.
Mostly Void, Partially Stars is the transcript of the first two seasons of the cult favorite podcast Welcome to Night Vale. Clever, Lovecraftian, and just plain weird, this book is for those looking to delve outside of their comfort zones. Cecil, the velvet-voiced narrator of Night Vale radio, tells us the various bizarre events that occur in the strange desert town of Night Vale. From the mysterious glow cloud—ALL HAIL—to the angels who definitely don't exist, this is an adventure into the weird, with a queer narrator to guide you. The romance of Cecil and his boyfriend Carlos is a slow burning, satisfying arc in the podcast and they never experience the stereotypical sad queer ending.
The Price of Salt might be more familiar to you as the novel that the movie Carol was based on. Carol, a lovely gay romance between the beautiful Cate Blanchett and Rooney Mara, comes from Patricia Highsmith's novel, published in 1952. Talk about radical for its time. This story chronicles the intense, alluring relationship between Carol and Therese, both women seemingly trapped in their heteronormative lives. And it still holds up today, giving us a refreshingly happy ending for a 20th century queer romance.
Talk about a book that surprised me. At first glance, The Gentleman's Guide is a 18th century historical romance. At least, that's how someone described it to me. Personally? Not my cup of tea by a long shot. But I adored this book. The historical romance is between a bisexual Lord and his best friend, in a world that keeps trying to tear them apart. However, The Gentleman's Guide gives us hope even in a society that hadn't yet progressed as much as we wanted it to.
Jaya and Rasa tells the tale of Jaya, a wealthy, transgender Indian boy, and Rasa, a mixed Hawaiian girl who has never known financial privilege. Rasa's life story is riddled with trauma, experiences no one should have to encounter, and Jaya can't find the acceptance he craves despite all that he has. Together, they cultivate something new and worthwhile, something that just might keep all the world's worst at bay.
Lumberjanes Series by Noelle Stevenson
Noelle Stevenson, author of the acclaimed Nimona, brings yet another sweet, heartening adventure to the graphic novel scene. Lumberjanes takes place at a summer camp for girls who end up getting into all sorts of trouble. With that trouble comes lasting relationships none of them will ever forget, including some that aren't just platonic. This book is beautifully illustrated and painfully cute, perfect for when you need a reminder of good still existing in the world.
Ash by Malinda Lo
Ash is Cinderella retold with more than a few twists. Autonomous female characters, a queer love story, and a princess who might save herself. After her father's death, Ash feels lost, desperate, hopeless. Then, everything changes when she sets eyes on the Huntress, a seductive new element in her day-to-day life. As they become closer and closer friends, Ash faces choices that could very well change everything she holds dear.
Claire Kann's debut novel is an instant classic for those who want asexual representation, or simply a sweet, fluffy romance. Our main character Alice is biromantic (meaning she's attracted to two or more genders) and asexual (meaning she doesn't have much interest in sex, if at all). Though she loves to have crushes, she wonders if anything substantial can ever happen because of her lack of interest in sex. Thankfully, circumstance gives Alice a cute boy at her library that might finally be different than the others.