This content contains affiliate links. When you buy through these links, we may earn an affiliate commission.
Sometimes the cover is better than the original. For a lot of people, the cover is even better if it comes out queer. Singers who don't change pronouns are fighting the good fight, for sure. A gay film version of Romeo and Juliet seems fresh and new. And authors rewriting the tales as old as time are doing more than just zhuzhing them up a bit. LGBT fairytale retellings – and other types of LGBT book retellings, for that matter – can give us something we've always been missing. They are the same classic stories we're used to, in a fresh and more relatable package.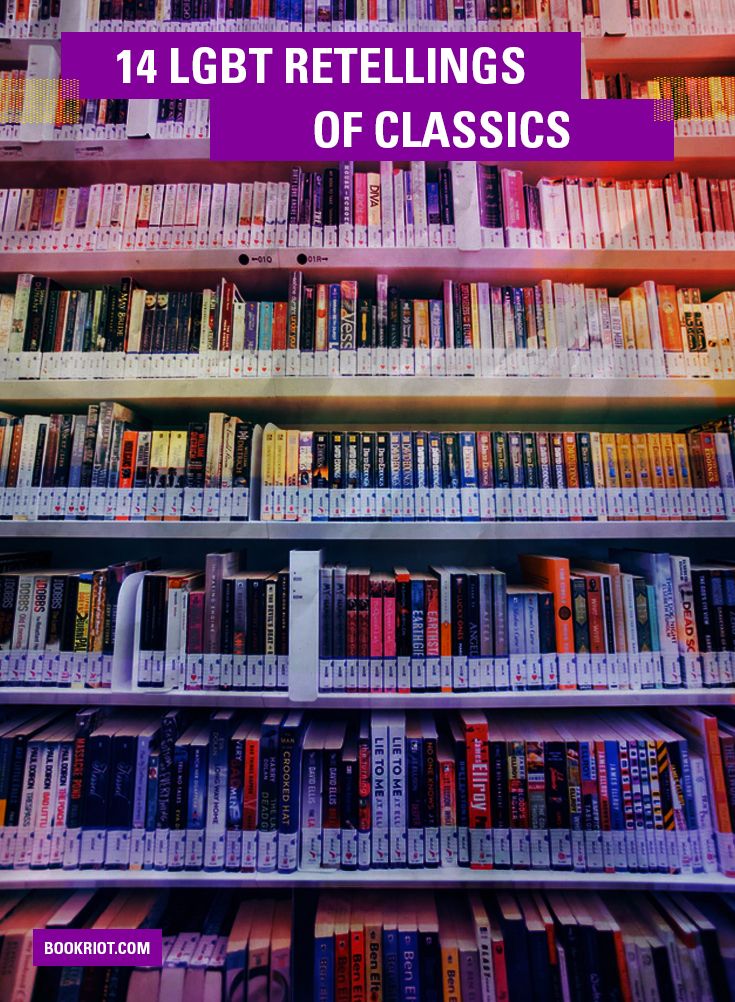 If the reception of Love, Simon tells us anything about queer narratives, it may be that the community is ready for old tricks done by a new dog. LGBT rom coms are just as exciting on the page as they are on the screen. Books like Aristotle and Dante Discover the Secrets of the Universe, Tell Me Again How a Crush Should Feel, and the upcoming graphic novel Check, Please! make use of romcom tropes which are somehow new and surprising when the characters aren't straight. It feels good to get excited about storylines which could otherwise be stale. It's the excitement of getting to experience a well-loved trope, in a way which feels personalised and inviting. Representation does matter.
Getting more specific than mere tropes, there is also the potential to completely retell a well-loved story with a queer filter. We've all seen the tweets and the Tumblr posts – what if Grease was remade with Kristen Stewart as Danny? What if there was a lesbian version of Pride and Prejudice? What if Nick and Gatsby were really the ones in love?
These wonderings express a desire to be included in classic stories, and to see ourselves reflected in the tales that we love. It feeds into this wider notion that "we were always here" – a pride catch-cry that reminds the world that queer people have always existed but have been silenced in insidious and insoluble ways. There is healing to be done, though. Authors are filling those gaps in our literary history and giving us those cherished stories with exactly the kind of queerness we've been hoping for. Here are 14 LGBT book retellings to whet your appetite.
Retelling: Macbeth
Robin Talley takes the much-studied story of murder and megalomania to an exclusive private school, with power couple Maria and Lily thirsting after the Cawdor Kingsley scholarship and willing to go to any lengths to secure the futures they dream of. There is death, and underhanded bargaining, and all of the hauntings we might expect from a Macbeth adaptation – but there are also Characters of Colour, and a lesbian relationship at the centre of it all.
Retelling: Peter Pan
More of a sequel than a complete retelling, Peter Darling allows Peter Pan to return to Neverland as an adult, after having grown up with Wendy in the real world. His old band of Lost Boys are now men too, and Peter is feeling an inescapable pull towards his old antagonist, Captain Hook. The story maximises on the potential darkness of growing older, and also explores Peter's relationship to masculinity as a trans man.
Retelling: Much Ado About Nothing
The actions shifts from an idyllic island to an idyllic summer camp, but all the misunderstandings and farces are kept. Sisters Bee and Hana have grown up together at the camp their parents own, and one summer all the simmering romantic tensions come to a head. Bee's fraught and complicated relationship with fellow counsellor Ben is only more troubled by something that happened last summer. Hana's potential romance with the sweet Claudia is threatened by the villainous John. We all know how it goes from there, but that doesn't make it any less fun.
Retelling: Romeo and Juliet
Of course there has to be a R&J retelling on this list, not least because I am such a sucker for it. By Any Other Name is set in the small town of Bishops' Crook, and the star-crossed lovers are Lane Whittaker and Casey Goodwin. They are willing to risk everything in the face of small-town scrutiny and the feud between their families. This version definitely plays up on the comedic aspect of the play, and makes for an enjoyable romcom.
Gale by Lyssa Chiavari
Retelling: The Tempest
The subtitle of this Tempest retelling is "a sci-fi novella", and if that doesn't hook you in, I don't know what will. As a novella, it's a more condensed version of the play, but still packs in all the key beats. On the planet of Gale, differences are punished, so Miranda keeps her seizures and visions a secret – especially the one of a girl coming down from the clouds like lightning. Despite the ever-watchful authorities, she works to figure out the meaning of her visions. A lot of nice familiar nods for fans of the play.
Retelling: Twelfth Night
If you liked She's the Man, this adaptation is probably right up your alley too. It even centres around soccer. Viola impersonates her brother Sebastian, Crown Prince of Belgium, after he overdoses – the hope is that his campaign to host the FIFA World Cup doesn't fail. Viola's deception is uncovered by freelance reporter Missy Duke, who decides to play along with it to get a bigger scoop. Of course, a romance develops between the pair, but their lies may get the better of them.
Ash by Malinda Lo
Retelling: Cinderella
The Cinderella romance of Ash is shifted from the prince to the King's Huntress, Kaisa. Orphaned Ash dreams of being whisked away from her cruel stepmother by the fairies – and seems close to getting her wish when she meets the fairy Sidhean. It's her blossoming romance with Kaisa that makes her consider what it is she really wants. This offering from Malinda Lo puts a darker twist to the classic fairytale. If you're hungry for more, the prequel Huntress is also available.
Retelling: The Winter's Tale
Part of the Hogarth Shakespeare canon of cover versions, The Gap of Time was a pleasant surprise for me. I confess that I picked it up based only on the cover and Jeanette Winterson's name. It excites me because it is one of the lesser-known Shakespeare plays. It's handled with Winterson's typical deftness and engrossing prose. Like all Shakespearian tragedies, the plot is complex: a London-based titan of industry banishes his newborn daughter to the American city of New Bohemia, believing that the child is not his own.
Retelling: Snow White/The Snow Queen
There are elements of two fairytales in this fantasy tale from Melissa Bashardoust. Sixteen-year-old Mina is the daughter of an evil magician who cut out Mina's heart and replaced it with one of glass. On moving to the castle and meeting the king, she orchestrates a plan to win the king's affection and become his wife. This also means she will be stepmother to the king's fifteen-year-old daughter, Lynet. The story only becomes more complex and entangled from there. The two girls are set as rivals who cannot succeed without the other failing.
Retelling: Cinderella
Mistakenly invited to the Royal Ball, Eden attends in the hopes of getting close to his mother, who used to work in the castle before disappearing mysteriously. While there, he stumbles upon Prince Jared, who is supposed to be using the ball to find a bride. The two fall into a romance which must be kept secret – just as the secrets around Eden's mother's disappearance must be uncovered.
Retelling: The Little Mermaid
Combined with Norse mythology, this retelling of the classic fairytale has mermaid Ersel falling in love with shield-maiden Ragna. When a suitor of Ersel's discovers their romance, he threatens them with exposure and punishment. Ersel turns to the trickster god Loki for help. Of course, the deal isn't quite as simple as it seems.
Retelling: The Iliad
This retelling of the epic poem has become a classic in its own right. It can be summed up quite simply: a retelling of The Iliad from the perspective of Patroclus. What is hidden underneath that short blurb is a heartbreaking love story, told with delicate and beautiful prose. It is a sweeping romance that does more than justice to the mythology of the original, and is sure to have you consumed until the final word.
Great by Sara J. Benincasa
Retelling: The Great Gatsby
Pulled into modern times and the elite Hamptons social circle, Great still makes us of the core triad of its inspiration. The difference is, it turns it in to a romantic tangle between three teenage girls. Interloper Naomi becomes fascinated with her neighbour Jacinta, but Jacinta's attentions are truly focused on beautiful Delilah. It has all the energy of the Jazz Age, brought through to a modern setting, with none of the drama lost.
Beast by Brie Spangler
Retelling: Beauty and the Beast
Beauty and the Beast for modern times. It is a more complex exploration of what it really means for others to view you as a beast. Dylan is an outcast at his school, rejected for being bigger and hairier than the other kids his age. He falls off his roof and is directed towards group therapy for self-harmers, where he meets the beautiful Jamie. The two become more than just friends, but Jamie isn't sure how Dylan will react when he finds out that she is transgender. It's a raw and honest story that is sure to give any reader food for thought.