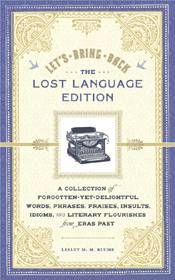 Giveaways
Let's Bring Back These Words and Phrases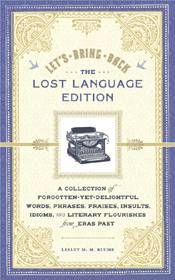 Last week, in a giveaway sponsored by Chronicle Books and Let's Bring Back: The Lost Language Edition, we asked you to share the good old-fashioned words and phrases you want to bring back into common use.
We were tickled pink by all the entries we received, and we've collected our favorites for you here. You Riot readers are just the tops! And because you're so well, we've randomly selected five participants to receive the book! Thanks to all of you who chimed in. We love you a bushel and a peck.
_________________________
bee's knees
betwixt
caddywompus
cat's pajamas
druthers
fiddlesticks
flibbertigibbet
fop
gadzooks
guttersnipe
hither
hootenanny
hot diggity
huzzah
noddycock
persnickety
poppycock
pulchritude
tomfoolery
untoward
vittles
You're darn tootin'
whippersnappers
zounds!
_________________________
Sign up for our newsletter to have the best of Book Riot delivered straight to your inbox every two weeks. No spam. We promise.
To keep up with Book Riot on a daily basis, follow us on Twitter or like us on Facebook. So much bookish goodness–all day, every day.