This is a guest post from Cassandra Neace, who blogs about books at Indie Reader Houston. You can also find her on Twitter.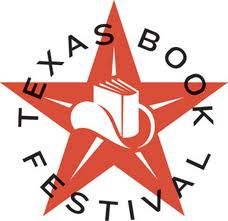 The State Capital in Austin is a pretty impressive building, though I am not usually impressed by what goes on in there. Filling it full of readers and the authors who write their favorite books did a lot to improve my opinion of the place.
This past weekend marked the 16th Annual Texas Book Festival, an event that attracts thousands of people to the grounds of the State Capital to share their love of books. According to The Statesman, more than 35000 people attended, a number that surprised me until I remembered the long lines to get in to the building, the full rooms for nearly every session, and 5 or 6 blocks of tents outside. It is not some little local affair.
I was only able to attend the first day of festivities, and I had to leave before Saturday night's Lit Crawl, but the quick trip (and the 6 hours of driving) were worth it. It was a highly educational experience. Here is a look at what I learned:
Lesson 1: Some classics are worth revisiting. Others are best left in the past.
At the "Wrestling with the Classics" panel, authors Mat Johnson, David Liss, and Hillary Jordan discuss their most recent novels, which all have strong connections to works/authors that are considered, well, classics. When an audience member asked if readers should go to the source material before tackling their books, the answers varied a bit.
Jordan thinks everyone should read The Scarlet Letter because it deserves a second chance. So many people hated it when they were forced to read it in high school. If reading (or wanting to read) When She Woke leads readers to rediscover Hawthorne, all the better.
Johnson does not hold his source material in such high esteem. In fact, he says to avoid reading Poe's The Narrative of Arthur Gordon Pym of Nantucket at all costs. Anyone who reads it will likely run screaming from his own hilarious follow-up, Pym, and all of its Little Debbie goodness.
Liss draws on so many different sources for his novel The Twelfth Enchantment that a reader would be hard-pressed to read every single one of them. With that in mind, he told readers to read Pym and When She Woke.
Lesson 2: Everyone is equal in the author tent.
I admit that my time in the author tent was brief. I did see, however, that the authors that were hanging out there before their afternoon sessions were all on pretty even footing. They all seemed to be equally in awe of each other, no matter if they were old pros or debut authors. They were all so happy to meet each other and talk about each other's books. It seemed a little too perfect, but it also seemed very sincere.
The one that I had been assigned to escort for the afternoon, Preston Lauterbach, fell into the latter category. Of all the interactions that I watched in the tent, my favorite was probably how he made a point, first thing, of pulling a picture book from his suitcase and walking across the tent to its author to get an autograph for his four-year old daughter. Turns out she is a big fan of Max and Ruby. Rosemary Wells was happy to oblige.
(P.S. I do not read a lot of nonfiction, but after hearing his talk, I am very interested in reading Lauterbach's book The Chitlin' Circuit and the Road to Rock 'N' Roll. If any of you have, I would love to hear what you thought.)
Lesson 3: Corporate sponsorship has its perks.
The chief perk, I guess, is that the Texas Book Festival is a free event. They make the money that they need to keep it that way from book and merchandise sales. Their book vendor? Barnes & Noble. How do they make sure people buy books? To get a book signed, it must be purchased at the festival. At least, that is how it worked on paper.
I have limited experience in the world of book festivals and similar events, but what I have learned by the example set in Houston is that book sales at special events are handled by local booksellers. I, for some reason, thought that was the norm. Book People, in Austin, has a reputation as the premiere independent bookstore in the state. I expected to see the book sales handled by them. I was surprised when I saw the Barnes & Noble sign.
I can make sense of why they went that route. Barnes & Noble has lower costs because they are a volume buyer, and that leaves more profit to be "donated" to the festival. And Book People was there, in the vendor tent, and they were doing good business by what I saw. Several indie stores and publishers were represented, as well as a few of the bigger names. Everyone had a place.
Perhaps that is the lesson to be taken from all of this – in the book world there is a place for everyone.