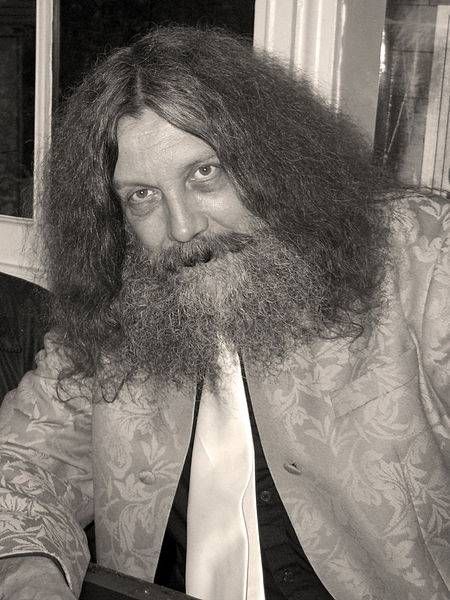 This content contains affiliate links. When you buy through these links, we may earn an affiliate commission.
I probably don't need to tell you who Alan Moore is, or at least I'd like to think so. Alan Moore is an astonishing writer whom you know from a handful of very famous comics of amazing quality, which have been turned into (in this writer's opinion) abysmally stupid films not worth the hours of your life you won't get back. The big comic names usually come after his name when he's mentioned in articles. Watchmen, V for Vendetta, From Hell. It occasionally varies from those three, but not all that often. I think people know about a few other things he's written, like The League of Extraordinary Gentlemen, and perhaps they know that he did Swamp Thing, way back in the day…but it frequently feels to me that people aren't aware of his huge body of work, and some of the really interesting little corners it's gone off into. So I'm gonna educate you.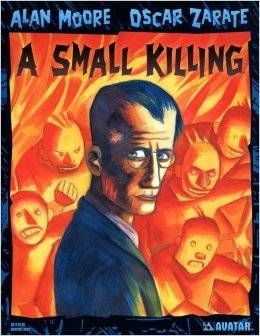 Why not start with one of the oddest corners on the list? A Small Killing is a small, self-contained graphic novel that is practically diminutive next to a lot of Moore's other work. It's a comic he did with Oscar Zarate solely because Oscar Zarate had the idea of a man being followed by a strange boy. That was it. Alan Moore turned it into a fascinating ghost story of sorts, about an extremely neurotic ad writer who returns to England and the haunts of his youth. The comic is much larger than a lot of other comics, and you are rewarded by this extra size with luscious, gorgeously painted panels. The first page is nothing but a shot of a huge commercial airliner trundling down the runway as the sun sets…and it is gorgeous.
The story is strange, rambling, and disturbing. Alan Moore has never been a 'mere' comics writer, and while we acknowledge this with works like From Hell, it's on display everywhere else in his work too. A Small Killing is a fine example of that. It provides no real answers, no real action, just a fascinating meditation on a neurotic time period (the late 80s), a neurotic person, and the frightening little boy who seems to be tailing him and why.
Alan Moore wrote a short story about his friend Steve "No Relation" Moore, detailing his life, his occultist habits, and his existence in precision detail. Then, he and photographer/filmmaker Mitch Jenkins turned it into, among other things, a stunningly gorgeous oversized book of text and photographs blending together to form a powerful, mesmeric work. It's another big, not-a-brick-sized book, but there is so much raw detail in each page that one can, occasionally, wander off from the story and get lost in the pages themselves. Plus, it can be bought in a fancier edition which comes with Alan Moore reading the story out loud…and that is a haunting, magical experience. His is a deep, powerful voice, and he is very good at reading work out loud. Listening to it is an amazing experience, particularly as you browse through the book. For a little bit of time, you wind up occupying another man's life, and it is an unsettling experience…but in the best way possible.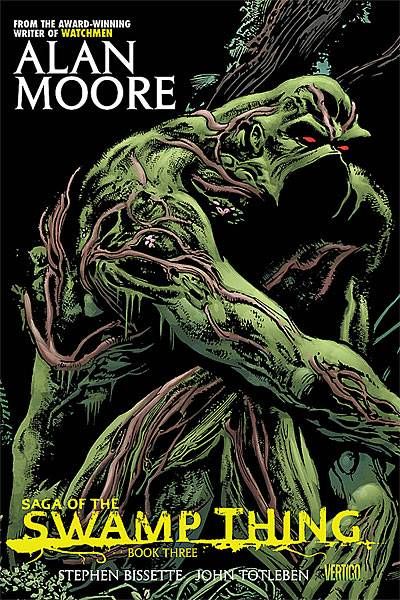 This one might seem kind of odd. Mostly, we know about Swamp Thing, and we know that Alan wrote it, and that he really shot to fame through his work here. Sure. But I do get the sense that while a lot of people know this, plenty of people haven't read them. Perhaps because they're older, perhaps because Alan Moore isn't quite as honed to precision here as he would be a very short time later (frankly, he's practically as honed and as brilliant. The nature of the comic itself is rougher, so it's harder to spot.)
Alan Moore's Swamp Thing starts brilliantly. Previous Swamp Thing stories tended to be about Alec Holland, who had become this swamp creature, trying to find a way back to being human again. Alan Moore tied that up with what I consider to be a genius character reinvention: instead, Alec Holland sank into the swamp and died, and Swamp Thing is a sentient plant who grew instead, a plant who imagines it had once been human but never, ever was.
The story goes from there, Swamp Thing growing and expanding in power and knowledge as he slowly comes to understand that he's no longer searching to become human, and indeed is no longer limited to a human form at all. Anyone who enjoyed the more commonly read Sandman series by Neil Gaiman needs to read Swamp Thing, because the bones of Sandman are here, in a lot of ways. It's a fantastic comic. And sometimes, big ideas aside, it's a really cool monster comic.
Film Work
Alan Moore is excellent on camera. Whether he's acting the part of himself, but goofy, or he's being a menacing gold-skinned figure in the short films he's been making with Mitch Jenkins, or he's just staring unblinkingly into the camera with Unearthing, or The Mindscape of Alan Moore, he is terrific to watch. But as someone else used to say, you don't have to take my word for it. You can watch the first parts of their Jimmy's End films right now. I will warn you, they aren't easy viewing. It's dark and serious stuff.
[youtube]https://www.youtube.com/watch?v=EdgC09C7GVE[/youtube]
But if you don't feel like that right now, here's a rather goofier video, in which he begins advertising an issue of his magazine Dodgem Logic, and the video goes rather awry toward the end. Watch all the way through. Trust me.
[youtube]https://www.youtube.com/watch?v=c4il1-2wBPk[/youtube]