This content contains affiliate links. When you buy through these links, we may earn an affiliate commission.
Do you need more lesbian comic books in your life? Then you've definitely come to the right place. Whether you're looking for fiction or nonfiction, science fiction or romance, slice-of-life or mystery, we've got you covered.
Lesbian comic books come in all shapes and sizes. This list includes completed and ongoing series, webcomics, and one-sitting reads. Here are stories about friendship and family, college life and intergalactic cooking competitions, summer camp and roller derby, growing up and getting old and everything in between. All of these comics feature queer women starring in their own stories, real or imagined.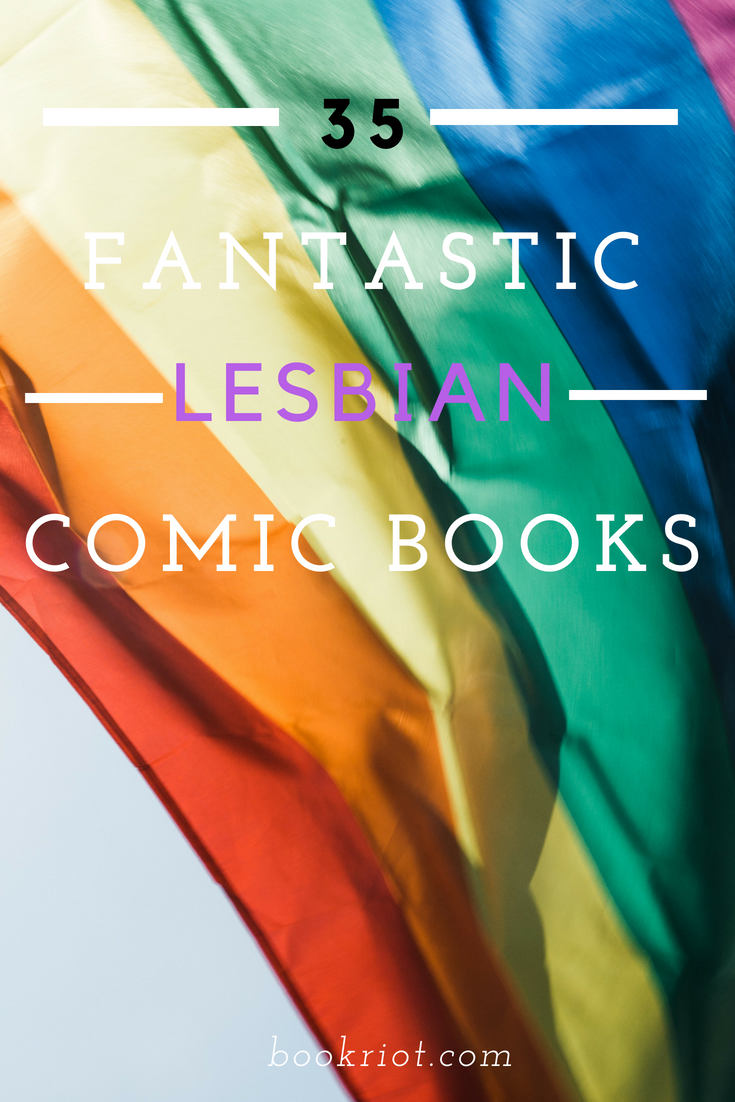 COMICS & GRAPHIC NOVELS: Ongoing
Batwoman (Rebirth) by Marguerite Bennet, james tynion IV, steve epting & stephanie hans
No list of lesbian comic books would be complete without a lesbian superhero. Batwoman has been around for a long time, but in her current incarnation, she's a badass lesbian, and, let's face it—who doesn't need more lesbian superheroes in their life?
Bitch Planet by Kelly Sue DeConnick, Valentine de Landro, & Robert Wilson IV
In a terrifying future controlled by an evil patriarchy, non-compliant women are exiled to an off-world prison colony. This comic is smart, heartbreaking, powerful, and sometimes even funny. Best of all, it's full of complicated and diverse queer women, and explores their friendships, families, and romantic relationships.
Giant Days by john allison & lissa treiman
A slice-of-life comic about the triumphs and prevails of college life, Giant Days follows three young women as they navigate friendship, love, and a whole lot more while at university.
Goldie Vance by hope larson & brittney williams
I fell hard for this mystery comic about a crime-solving queer teenage girl who lives with her father at the Florida resort hotel he manages. Goldie is smart and confident and spunky and I love that her gayness is just another part of her identity—no big deal.
Kim is an ordinary college student working a part-time job, but it's not an ordinary job: she works as a grim reaper. Becka is another ordinary college student with a crush on Kim—but little does she know that her crush helps ferry souls into the afterlife! Kim Reaper is an adorable magical adventure/love story sure to make you smile.
Lumberjanes by grace ellis, noelle stevenson & brooke allen
This magical, feel-good, all-ages comic about a group of girls at the most unusual summer camp you've ever heard of is quirky, fun, and empowering. There's a sweet love story between two of the campers, and the whole thing is mega queer in lots of other wonderful ways.
Monstress by marjorie liu & sana takeda
Set in an alternate 1900s Asia, in a matriarchal society, with gorgeous art that's part steampunk and part art deco, this comic follows Maika, a teenage girl who's not fighting the evils all around her, but wrestling with an actual monster that lives within her. This one is definitely very dark and graphically violent, but if you can stomach it, it's worth it.
Moonstruck by grace ellis, shae beagle, kate leth, caitlin quirk, & clayton cowles
This charming comic about a crew of supernatural friends centers around Julie, a barista and werewolf, and her girlfriend, who find themselves solving magical mysteries and fighting magicians with dubious intentions.
Motor Crush by brenden fletcher, cameron stuart & Babs tarr
This sci-fi adventure comic has got a little bit of everything. It's about Domino Swift, a competitor in the worldwide motorcycle racing league, who also participates in the vicious wars between various bike gangs over a machine-enhancing drug called "crush." This comic is fast-paced, creative, and super queer.
Nancy Drew #1 by Kelly Thompson & jenn st-onge
In this brand-new Nancy Drew reboot, one of Nancy's best friends, George, who has long been read as queer by fans, finally gets to be unapologetically gay and out. Not only that, but she has a girlfriend, Danica, who is also a queer woman of color. This comic is the queer, feminist, intersectional retelling of Nancy Drew of my dreams.
If you're looking for a fantasy comic about a group of smart queer women who are fiercely loyal to each other, look no further. Raven and her crew of women pirates are both independent and deeply reliant on each other. They have a lot of adventures and there's a fantastic and nuanced love story, but the best part of this comic is queer family dynamic that exists among the characters.
Comics & Graphic Novels: Completed
America by Gabby Rivera and joe quinones
America Chavez, once a Young Avenger, now gets her own series. Like any teenage superhero, she has to balance going to college with fighting monsters and alien cults. Not only is America Chavez a kick-ass queer Latinx teenager, but this run is written by a queer Latinx author as well.
Originally a webcomic, this is the story of Charlie, a black queer teenager at a Christian youth backpacking camp populated by white campers. It's a story about the painfulness of being an other, and what it means to belong.
Set in the world of Black Panther, this is a standalone love story about Ayo and Aneka, two woman who join the Dora Milaje, the elite group of women soldiers trained to protect the crown. The violence in this book is softened a bit by the honest, tender, and beautifully drawn love story.
Bingo Love by tee franklin, joy san, jenn st-onge, & genevieve ft
Bingo Love is the queer black love story you didn't know you needed. It's about two grandmothers (re)falling in love after having been separated as teenagers. It's heartfelt and heartwarming and full of fantastic drawings of older women enjoying life and loving each other.
Dykes to Watch Out For, Alison Bechdel's long-running comic about a group of queer friends—living, loving, fighting, getting political, having kids, and attending potlucks—in maybe-Minneapolis is an essential lesbian comic book if there ever was one. Funny, scathing, honest, and endlessly relatable, it's certainly one of the best fictional accounts of gay womanhood I've ever read.
In this yuri (girls' love) manga, two new friends, shy Mari and popular Akko, navigate their changing feelings for each other (as well as the ups and downs of being teenagers).
Heavy Vinyl by carly usdin, irene flores, nina vakueva & rebecca nalty
When she starts working at her local record store, Chris is surprised to learn that it's also the front for a secret fight club that takes on the patriarchy (as well as fighting crime). You won't want to miss this feminist comic about friendship and music.
kim and kim by magdalene visaggio & eva cabrera
Kim and Kim are best friends and bounty hunters, traveling the galaxy in search of the next job. This fast-paced comic is equal parts queer friendship and non-stop action/adventure. There's monsters, evil villains, complicated family relationships, and a lot of snark.
When Chimaka, who once lost a battle with her greatest foe and all but disappeared, learns her old enemy is on the prowl once again, she pairs up with her best friend Pippa to try to reawaken her old magic, and save the world in the process.
Written as the notebooks of ten-year-old Karen Reyes, living in 1960s Chicago with her mother and older brother, the story begins when Karen's upstairs neighbor is murdered and Karen decides to solve the crime. But the book is about so much more than that, delving into history, politics, and the complexities of family. The art is truly spectacular and utterly unique.
Set on a spaceship that travels the galaxy repairing antique structures, this beautiful book is an ode to queer family in space. The world-building is fascinating, the love story is tender and surprising, and I fell pretty hard for all the characters (mostly queer women).
In the Empire of Migdal Bavel, Cherry's husband promises her to another man, Manfred, if he can seduce her in one hundred nights. But Cherry is in love with another woman, and so they decide to trick Manfred, distracting him by telling him a different story every night for one hundred nights. This gorgeous graphic novel tells those tales, as well as the love story between the two women who narrate them.
This adorable fairytale about two princesses who end up saving each other (because who needs a prince?) is a quick and affirming read that left me smiling for days.
Skim by mariko tamaki
This coming-of-age story set at a private all-girls boarding school is about Skim, a teenage girl who is not cool and not skinny but is starting to fall in love with her English teacher, Ms. Archer. It handles a lot of heavy subjects, including depression and suicide with a lot of deftness and honesty.
Slam! by pamela ribbon & veronica fish
This slice-of-life comic about roller derby and the power of friendship will make you want to join derby (or at least go see a bout) even if you've never heard of it. This comic is honest and cheeky and funny and full of women with all kinds of bodies being strong and awesome.
What could make a comic about an intergalactic cooking completion even better, you ask? A queer love story between the only human contestant and one of her alien competitors, obviously.
If you're looking for a sweet, queer, poly, kinky love story, look no further. When Hazel, while visiting home for a few weeks, meets Argent, a woman who works as a dominatrix, sparks fly. The two navigate the beginnings of a relationship while also nurturing their existing ones. It's full of fantastic communication, sexy moments, and queer people taking care of each other.
Teenagers at the SuperMutant Magic Academy have the same concerns as other teenagers, except that they also have strange paranormal abilities. Funny, irreverent, and strange, this comic charts the lives of a group of teens just trying to figure it all out (while also casting spells and flying).
GRAPHIC MEMOIRS
This quiet and reflective memoir focuses on Kabi's exploration of her sexuality as well as her experiences dealing with mental illness.
Fun Home by alison bechdel
Part coming-of-age memoir, part analysis of her relationship with her closeted gay dad, Fun Home remains one of my favorite memoirs of all time. It's intricate and thoughtful and layered, with writing as clear and beautiful as the artwork.
This coming-of-age memoir is about Thrash's experience falling in love for the first time—and realizing she's a lesbian—at a summer camp for Christian girls. It captures the sweetness and heartbreak of first love, and all the anxieties, insecurities, and joys of being a teenager.
In this memoir, A.K. Summers explores what it's like to be experience pregnancy as a butch lesbian. In a world that associates pregnancy with femininity, it can be complicated to be pregnant when you don't identify as feminine. She uses her own pregnancy to delve into bigger issues around pregnancy and gender, what it means to be queer and pregnant, and the ways that who we are and who the world sees us as affect pregnancy and childbirth.
Sezen, the daughter of Turkish immigrants in Europe, recounts her experiences coming out and coming of age in western and Islamic cultures. Her memoir is a collection of vignettes about ordinary life that explores modern queer culture, dating, and family.
In this short graphic memoir, Cristy Road delves into her adolescence in Miami, growing up as a queer Cuban punk-rock girl. There's a beautiful and unabashed urgency in both the writing and the art. She writes about the intersection of various identities and the strength and power that lies in creating (and telling) your own story.
---
Looking for more lesbian comic books? Check out 5 Fantastic Comics about Queer Women and 5 Lesbian Mermaid Comics You Need to Read.