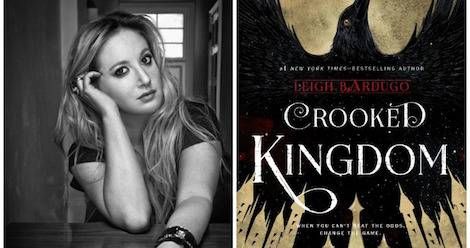 Newsletter 1
Leigh Bardugo: Crooked Kingdom is a Darker, Sadder and Funnier Sequel
This content contains affiliate links. When you buy through these links, we may earn an affiliate commission.
Like many debut authors, Leigh Bardugo's only goal when she started working on her first book, Shadow and Bone, was to finish the novel. After that, she hoped for an agent. Then a publisher. Then a deal that would allow her to write a trilogy rather than a stand-alone story.
"Our idea of success evolves, success is a moving target – every moment has been a surprise," Bardugo said.
Today, Bardugo is beginning the publicity blitz for her fifth novel set in the Grisha-verse, Crooked Kingdom, while also working on her next project, a YA adaptation of Wonder Woman.
Six of Crows and Crooked Kingdom
The duology of Six of Crows and Crooked Kingdom is set in the same world has Bardugo's Grisha Trilogy, but comes from a totally different perspective. Instead of focusing on the world of imperial sorcerers and Ravkan royalty, the novels follow a teenage criminal prodigy, Kaz Brekker, and his crew as they try to pull of a seemingly-impossible heist with world-altering consequences.
Bardugo described Crooked Kingdom as the "revenge and redemption" book of the pair.
"There are a lot of old scores that needs settling and a lot of demons coming home to roost," she said. "Basically all of the big powers of the world are descending on Ketterdam looking for information on this scientists and this drug that is causing magical upheaval. Kaz and his crew are stuck in the middle of the storm. … The future of the world is going to get decided on the streets."
One of the big world-changers in Six of Crows was the introduction of jurda parem, a drug that amplifies the Grisha power… but at a huge cost to those who take it.
Bardugo said she introduced the drug as a way of playing with the magical system and to get around some of the limitations she's created basing a magical system – known in the books as "the Small Science" – around the principles of molecular chemistry.
"I thought 'All right, well if we're going to play with chemistry let's really play with chemistry' and kind of blow the doors off," she said.
That's not to say that all rules of magic are out the window.
"For one thing, your powers are still constrained by what you have an affinity for," Bardugo said. "A Corporalnik can manipulate the human body, but they can't do the same thing a Fabricator could do using parem. The drug also creates it's own limitations. As much as it is Grisha powers sort of 'leveled-up,' the penalties for that power increased as well."
So what does this mean for Nina Zenik, a Heartrender who took jurda parem during the escape from the Ice Court so she could have the rest of the ream?
"Nina's power has changed a lot," Bardugo teased. "Jurda parem had an unexpected price attached to it."
Like the Grisha Trilogy, Six of Crows has developed an immense collection of fan art that Bardugo frequently shares on her Tumblr.
"I'm very inspired by fan art. I love to see the way people draw these characters and how the choose to draw them and who they choose to draw the most," said Bardugo.
For Six of Crows, in particular, Bardugo said she's been gratified to see how people have attached to different characters and relationships from the story.
"Nobody has been the bad guy or, like, the 'why doesn't this person get out of the way so this relationship can happen.' It's been a very, very positive kind of thing," Bardugo said. "There's no question that people want to see more of Jesper and Wylan – that's abundantly clear in the fan art – but luckily that was already in the cards. … We will learn a lot more about Jesper's past and Wylan's past (in Crooked Kingdom)."
Crooked Kingdom will also be a much longer book, and for a group of readers with high expectations for the stories and the characters.
"I'm very proud of Six of Crows but, to be honest, I've never had a book received that positively before. People really love the characters!" Bardugo said. "I hope people will go on the journey with the crew. (Crooked Kingdom) is a lot darker and a lot sadder, but also a lot funnier than the first book. It's kind of wacky."
Despite the fact that Bardugo will be switching gears to take on a superhero story, she said there are still more areas of the Grisha-verse that she would like to come back to.
"The Grisha world is so wide to me, there are so many parts of it I would still like to explore," she said. "To know that people might be willing to go on those adventures even if they're not with the same characters is a really nice to know. It kind of feels like you have your own crew."
Wonder Woman
After writing a coming of age trilogy, a heist novel, and a con novel, Bardugo's next project will have her taking on a superhero story. Bardugo, along with fellow YA writers Marie Lu, Matt de la Peña and Sarah J. Maas will be taking on YA retelling of Wonder Woman, Batman, Superman and Catwoman respectively.
Bardugo's take on the warrior princess is set to be published first in August 2017, just after the planned release of the Wonder Woman film starring Gal Godot.
Like many young girls, Bardugo said she grew up loving Wonder Woman – "I was like every other girl – I had Wonder Woman underoos, a bathing suit, the whole bit. I would make construction paper bracelets and twirl around in my living room."
But, Bardugo said she also remembers the moment when she fell away from comics around puberty, when the characters she saw on the page didn't reflect how she saw herself.
"Not only that, I was uncomfortable with what I was seeing reflected on the page. … I developed early, I got attention from guys early, much older guys, I did not look like my age so I was already freaked out," said Bardugo. "And all of a sudden there was something scary about the idea of running around in your underwear. It was like, 'I don't want to fight crime that way, I want some armor!'"
Despite her fade away from superheroes, Bardugo said she never fell out of love with Wonder Woman, a character that represents one of the truly kind and compassionate heroes.
"I never fell out of love with Wonder Woman because I think people don't – they fall in love and they understand what she is meant to represent even if sometimes she's presented in ways that don't resonate with us," said Bardugo. "Honestly, after coming off Six of Crows where all of my characters are so morally gray, it has been a pleasure to write somebody who is so kind."