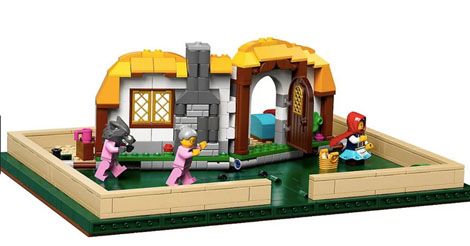 Critical Linking
LEGO Made A Fairytale Pop-Up Book! Critical Linking, April 3, 2019
Sponsored by The Things We Cannot Say by Kelly Rimmer. Published by Graydon House Books.

---
Illustrations of a ferocious-looking wolf have been swapped out for a comical LEGO minifigure in the toy company's new book-building kit, called "Once Upon A Brick." LEGO calls it the "first-ever pop-up book made from LEGO bricks."
The 859-piece set lets kids (and adults) build scenes from two classic tales: Little Red Riding Hood and Jack and the Beanstalk. Five minifigure characters are included in the set, including Little Red Riding Hood, Grandmother, the Wolf, the Giant, and Jack.
---
She is looking to sell her wall of fame, with the proceeds going to offset some of the debts at the store and keep it open as she finalizes its fate. There are some caveats, however: The wall must be purchased intact, and not sliced up for commercial purposes. And it preferably will go to a place where children can witness the history it bears.
A sad story, but hopefully this amazing wall will bring joy in a new place.
---
Fatventure Mag is a printed and digital magazine focusing on active lifestyles beyond the boundaries of weight-loss culture. We're shining the spotlight on work by fat creators who love spending time outdoors, communing with nature, and being active, no matter what "fitness culture" has to say about it.