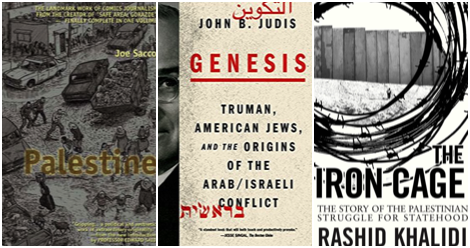 Lists
Learning about Israel and Palestine Through Books
This content contains affiliate links. When you buy through these links, we may earn an affiliate commission.
The Israel/Palestine conflict is bloody, nuanced, and entrenched in hundreds of years of history. Learning about Israel and Palestine seems incredibly intimidating—where do you even start? If you're already a bookworm or perhaps don't know where to find valid sources on this topic on the internet, this list of literature is for you.
However, let me just get this out of the way: none of these books are non-partisan or unbiased. It's hard to claim a conflict so debated actually has an objective voice or solution. So I will admit, the books on this list are biased, but I will say, there is a diverse range of bias here. Some are pro-Palestine, others pro-Israel, and by varying degrees.
There is a definite upside to learning about Israel and Palestine by exploring both sides (without normalizing what you might find reprehensible, like some of the anti-semitism or anti-muslim sentiment that occurs during this debate). Through this method, you might gain a clearer picture of a particularly muddy situation.
The Pro-Palestine Lineup
This is a beautiful graphic novel detailing the author's experiences in the West Bank and Gaza Strip in the early 1990s. Palestine offers a startling look into the lives of Palestinians by following the footsteps of other "war zone reporters" before him. Yet, because he chose the graphic novel medium, it makes the war tangible and accessible in a way few others can do.
Pappe frames the tragedies of Palestine as an ethnic cleansing brought on by Zionist (pro-Israel) movements. By putting blame on those pushing for a Jewish state, Pappe cements himself as a voice of the Pro-Palestinian movement. He offers an unadulterated look into the terrorism committed against the Palestinian people.
The Iron Cage attempts to explain why the Palestinians have failed at achieving statehood. Khalidi argues that part of this failure stems from the Palestinians, but also gives blame to British colonialism, Zionism in the United States, and Israel itself. He argues that all of these factors have pushed Palestine into "an iron cage," one with no solution.
Mornings in Jenin was the first mainstream English novel about life in Palestine after 1948. It approaches the conflict through fiction, creating a novel that tells the multi-generational story of a Palestinian family. As the reader empathizes with the Abulheja family, they also learn Palestinian history. (If learning about Israel and Palestine through academic texts sounds exhausting, try historical fiction like this one instead.)
The Attempts At Impartiality
Genesis by John B Judis (somewhat impartial but anti–Zionist Lobby)
Genesis presents a view of the conflict from a primarily American standpoint. In particular, this book recounts President Truman's decisions regarding Israel and Palestine and how they came to be. But in general, Judis crafted a work that focuses on America's failure in creating a viable Israel/Palestine solution. He largely places the blame on America's powerful Zionist lobby.
As the title suggests, in this book Thomas Friedman makes a journey from Beirut to Jerusalem. He speaks to both the powerful and the not-so-powerful in order to gain a clearer picture of the situation. Friedman does not villianize Israel nor Palestine in his attempt to understand the truth. This is what makes his work so compelling to those on all sides of the conflict.
The Lemon Tree: An Arab, a Jew, and the Heart of the Middle East by Sandy Tolan
This is the unlikely story of friendship. Friendship between the Khairi family and the Eshkenazi family—two groups of people on opposite sides of war. Using this true story as a sort of metaphor for a larger meaning, The Lemon Tree is the most hopeful story on this list. Through its heartfelt story, Tolan dares to suggest that the Israel/Palestine conflict might in fact be solved without violence.
Waltz with Bashir was originally an animated film (one that you should definitely check out if you are interested in this topic). The graphic novel came later, but is just as poignant. Waltz with Bashir is the true story of Ari Folman, who was an Israeli soldier when he was 19. In the novel's present, Ari struggles with repressed memories of a tragedy that he cannot access. Through talking to other soldiers, Ari begins to piece together a past full of trauma and strife.
The Pro-Israel Lineup
O Jerusalem! by Dominique Lapierre and larry collins
Many scholars regard this book as one of the most in-depth accounts of the conflict. It took the authors three years to complete their research, which involved thousands of interviews and hundreds of hours spent reading public documents and other primary sources. Though it attempts to be unbiased, many sources have labelled it pro-Israel.
As you can tell by its title, The Case for Israel is just that: a persuasive, Zionist novel. It aims to respond to common criticisms of Israel. Though claims of plagiarism have mired the book, it still stands as a good look into the Pro-Israel side of the conflict.
This is the autobiographical novel of Amos Oz, who tells the story of his life. He details his childhood and his tragic relationship with his mother, who would later commit suicide. Though focusing on the personal, A Tale of Love and Darkness takes place during the founding of Israel. Therefore, it offers a larger historical narrative about Israel's inception. (Natalie Portman also developed this novel into an award-winning film.)
Any other books for learning about Israel and Palestine?
This is only one reader's list of books for learning about Israel and Palestine. There are several stories out there waiting to be discovered. So, readers, what other books have enlightened you on the Israel/Palestine conflict?