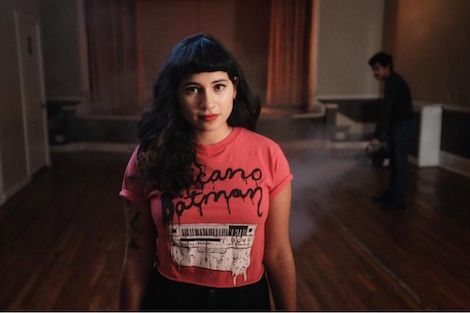 Lists
15 Latinx Poets Who Are Breaking Down Borders
This content contains affiliate links. When you buy through these links, we may earn an affiliate commission.
It would be so easy for me to get into discourse about how Latinx people are facing such trying times and are creating beautiful art even through that—and it's true, we are. But to say that would be reductive. It would completely disregard the fact that Latinx cultures have such strong oral storytelling traditions, and poetry is a direct descendant of that. There is a long lineage of Latinx writing, an ancestry of words that go beyond borders and politics.
And it's undeniable that we're in something of a poetry renaissance, with a clear shift towards diverse voices. Poets are exploring identity in new ways, and with the help of the internet, have access to new platforms and ways of reaching readers en mass. But I still feel that sometimes Latinx writers are excluded from these conversations, like unless we're talking about immigration, Latinx writers don't get mentioned. The work that is being created by these poets defies expectations—it is deeply personal, and yes, political, because we are political animals and brown bodies are so frequently policed, but contemporary latinx poetry is also joyful, sensual, indulgent, and vibrant. Latinx writers are doing work that feels important now more than ever, but has been important, beautiful, and necessary always.
Ada Límon
Okay, let's talk about Ada Límon. She might be the mom of Latinx poetry, and I mean that in the best way possible. She's one of the most renowned living poets, with accolades from the New York Times, National Book Critics Circle Award, and the National Book Awards for her last book, Bright Dead Things. Her other books include Sharks in the Rivers, This Big Fake World, and Lucky Wreck, and her newest collection is The Carrying. And she's co-written a series of poem-letters with superstar Natalie Diaz for the New Yorker which are just absolutely breathtaking. Ada Límon is talented in a way that's both intimidating and inspiring, and is definitely a strong pillar of contemporary poetry.
Melissa Lozada-Oliva
You may have seen this absolute BANGER of a poem floating around the internet—it's Melissa Lozada-Oliva's "Bitches," and it's just one of many unapologetic, powerful poems from her. She writes in a way that is both relatable and impactful, and even more so when she performs. She is a 2015 National Poetry Slam Champion and an editor for Pizza Pi Press. Her chapbooks are Plastic Pájaros and rude girl is lonely girl! (a collection of poems about Jessica Jones), and her full length collection is Peluda.
José Olivarez
José Olivarez is a busy man. In addition to being an accomplished poet, he works with Young Chicago Authors, teaches writing, and co-hosts a podcast called The Poetry Gods. He's received fellowships from many prestigious programs including CantoMundo, Poets House, and the Poetry Foundation, and co-wrote a book of poems called Home Court with poet Ben Alfaro, which deals with sports and masculinity. Olivarez is the son of Mexican immigrants, which plays a big part in his work. His first book, Citizen Illegal, will publish in September.
Javier Zamora
Javier Zamora is maybe one of the most exciting young poets working right now. His book Unaccompanied details his journey from El Salvador to the U.S. by himself at nine years old, and it is heartbreaking and beautiful and resilient. His work has received many prizes including the 2016 Barnes & Noble Writers for Writers Award for his work with the Undocupoets Campaign (with Christopher Soto and Marcelo Hernandez Castillo). He writes in both English and Spanish, and is definitely someone to keep an eye on.
Eloisa Amezcua
Eloisa Amezcua's full length collection, From the Inside Quietly, was selected for publication by Ada Límon, which tells you all you need to know, really. I mean, come on. She is also the founding EIC of The Shallow Ends, an online poetry journal, and the owner of Costura Creative, an agency for poets & writers (including big names like sam sax & Analicia Sotelo)—so not only is she writing incredible poetry, but she's supporting and nurturing other poets as well. Her chapbooks are Mexicamericana, Symptoms of Teething, and On Not Screaming (which is like, super relatable).
Denise Frohman
Denise Frohman is another one you may have seen around the internet—she is the voice of Twitter's #HereWeAre campaign featuring female artists & creators like Issa Rae and Ava Duvernay. Denise is a Queer Jewish Puerto Rican spoken word poet whose work has appeared in places like the Metropolitan Museum of Art and ESPN, and she also does national speaking engagements on identity and storytelling. She's been published widely and racks up views on Youtube like nobody's business. Go ahead, search for her—and prepare to be awed.
Vanessa Angélica Villarreal
Vanessa Angélica Villarreal's Beast Meridian is a work of art—both her words and from a visual standpoint, which makes sense given that she's also a designer and video artist. Her work deals with sexuality, gender, and race; growing up, falling in love, getting into trouble, and finding your place in the world. She grew up in a border town and is the child of undocumented Mexican immigrants, which spills over in all of her work. It is clear from her work that she's a formidable voice, and she's only just getting started.
Carmen Giménez Smith
Carmen Giménez Smith is also someone who could be considered a mom of Latinx poetry, especially considering she's currently the co-director of CantoMundo, a fellowship program for Latinx writers, as well as the publisher of Noemi Press and poetry editor for The Nation. But beyond that, she's had a long and prolific career. Her collection Milk and Filth was a National Book Critics Circle Award finalist, and her other collections including Goodbye, Flicker, The City She Was, and Bring Down the Little Birds have all been showered with praise. Her latest is Cruel Futures, and no poetry shelf is complete without it.
Analicia Sotelo
Analicia Sotelo made a huge splash with her debut collection Virgin, which was selected for publication by badass poet Ross Gay. She was also highlighted as one of the Best New Poets of 2015 by Tracy K. Smith—which like, okay, Tracy K. Smith??? I die. She's a mentor with Adroit, a CantoMundo fellow, and she writes beautiful, lush, powerful poems about the experience of a Mexican-American woman. Her previous chapbook is Nonstop Godhead. If you're a feminist who loves myth, Analicia Sotelo is the writer for you.
Rosebud Ben-Oni
Rosebud Ben-Oni is the second Jewish Latina on this list and truly a special writer. In addition to her book Solecism, she writes for the Kenyon Review blog, is a contributor for The Conversant, and an editorial advisor for VIDA: Women in Literary Arts. She even had a poem commissioned by the 9/11 Memorial & Museum, which speaks to the impact of her words. Her next collection is turn around, BRXGHT XYXS, coming in 2019.
Roy Guzmán
Roy Guzmán hasn't even put out a full-length collection and is already making their mark on the poetry world—most notably for the work they've done following the shooting at Pulse Nightclub in Orlando. Their poem "Restored Mural for Orlando" became a visual chapbook in both English and Spanish and profits went towards the recovery of the victims and Pridelines, an organization for queer youth in Miami. Roy also edited an anthology in remembrance of the tragedy called Pulse/Pulso. Their work for the queer latinx community is invaluable, and was recognized by Natalie Diaz for the 2017 Best New Poets anthology. Look for their first collection in 2020.
Yesenia Montilla
Yesenia Montilla's poems are packed with emotion and intention. Her collection The Pink Box was long listed for a PEN award in 2016. She is a CantoMundo fellow and is a founding member of Poets for Ayiti (Haiti). Her work is infused with her New York Afro-Latina identity, and has been widely published and recognized. Without a doubt she is a woman on the rise.
Ariana Brown
Ariana Brown has two Academy of American Poets Prizes and a 2014 collegiate national poetry slam championship title under her belt, and is an alum of Brave New Voices, a spoken word festival for young creatives. Her work spans subjects like race and language, gender identity, mental health, and culture, and is fueled with passion, anger, and determination to make change in the world. Her chapbooks are messy girl and three-headed serpent, but also look her up on YouTube and listen to her tell her own story. It's powerful.
Marcelo Hernandez Castillo
Marcelo Hernandez Castillo is the first undocumented student to graduate from the Helen Zell Writers Program at the University of Michigan, and went on to found the Undocupoets campaign with Christopher Soto and Javier Zamora, which eliminated citizenship requirements for major poetry prizes and helps support writers with submission fees. His impact on the poetry community is profound and important, and he is also a teacher and translator of poetry. Castillo's chapbook is Dulce, and his full-length collection Cenzontle was chosen for publication by Brenda Shaughnessy. He'll have a memoir out in 2020, which will no doubt be just as impactful. He is definitely a driving force for Latinx poetry.
Looking for more? Check out 15 WoC Poets to Read and 100 Must Read Latin American Books
*Ed.'s Note: This piece has been updated to remove an author incorrectly identified for inclusion in a list of Latinx writers.