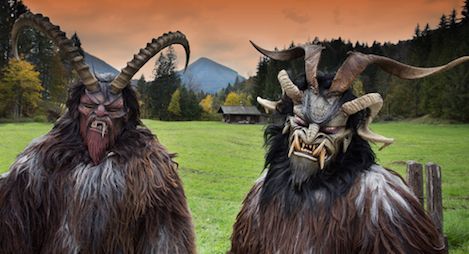 This content contains affiliate links. When you buy through these links, we may earn an affiliate commission.
The holidays are a time for joy and cheer. But there is a dark side to the holidays.
This can be taken literally, as the sun rises later and sets earlier this time of year, and also figuratively—many suffer from depression around the holidays, and family time is not a happy time for everyone.
This has been manifested in pop culture in stories like Tim Burton's A Nightmare Before Christmas. But before Tim Burton, there was the krampus.
The krampus is a Christmas demon of Austrian folklore. An unsettling counterpart to St. Nicholas, the krampus beats naughty children or drags them back to his lair. Or to hell.
So, carrot and stick, in Austria.
As a fantasy author and reader, I am fascinated by this evil creature. If you are too, here are a few great novels to get your imagination churning with visions of rotten sugarplums.
Something terrible has just come from Europe and landed on the American shores. As a snowstorm strikes New Jersey, so does a hooved creature that is stealing the town's teens. Merry Christmas, right?
Caught right in the middle of Matt Manocio's young adult novel is 17-year-old Billy. And between his competition with his flawless older brother and the rejection from his dream girl, Billy's got nothing left to lose. So he starts to look for whatever has been hunting his peers. To do it, he'll have to face demons, both his own and from abroad.
Snowed by Maria Alexander
This Bram Stoker Award–winner from Maria Alexander starts with Charity Jones's mother bringing home a strange boy for the holidays. (Always a good idea.) At first, Charity is intrigued by the boy, who seems an unusual equal for her engineering genius. But then, her school bully is found dead. With a killer on the loose, Charity and her friends investigate, and the mystery turns darker at every turn.
While all of these stories are awesome, I saved my favorite for last. This origin story from M.C. Norris traces two brothers back to Medieval Europe and examines how they both became legend.
Klaas Krengel flees his home as a boy and finds shelter with a strange, blue-furred beast, the Kramupsz. But neither is what he first appears. The Krampusz is a hoarder driven by jealousy for Klaus's privilege, while the boy has his own dark side, too. The two face off in a battle of wits and entrapment, chock full of dark magic.