Essays
Kobo Plus Review: Is This the Best Kindle Unlimited Alternative?
This content contains affiliate links. When you buy through these links, we may earn an affiliate commission.
The ebook and audiobook subscription services market is rapidly growing. As an ebook connoisseur, I've tried, covered, or reviewed many of such services for Book Riot, including Scribd, Audible, Storytel, 24symbols, Kindle Unlimited, ComiXology Unlimited, and BookBeat. All of them are unique in their own ways, trying to gain a foothold in the shaky ebook and audiobook market.
Recently, there's another one in line: Kobo Plus. While it's not really a new service, Kobo Plus launched in the United States and United Kingdom in April. The brand is already a household name in the ebook world, and its flagship subscription service, Kobo Plus, has been available for many years in Canada, Australia, and some European countries. What baffles me is that Kobo Plus has only been available to these selected countries when the company could have easily launched it big in the first place. Now that the market is saturated, this expansion to the broader English-speaking market of the U.S. and the UK would prove to be challenging, what with the plethora of choices available for readers and listeners.
So what makes Kobo Plus different from other services? What are its unique features, and how's the quality of the catalog, price, perks, etc. that would entice readers? Let's find out and more in this Kobo Plus review.
How to Get Started with Kobo Plus
If you're new to Kobo, you need to sign up for an account first. Otherwise, you can just log in and access the Kobo Plus page, which is prominently displayed on its platforms.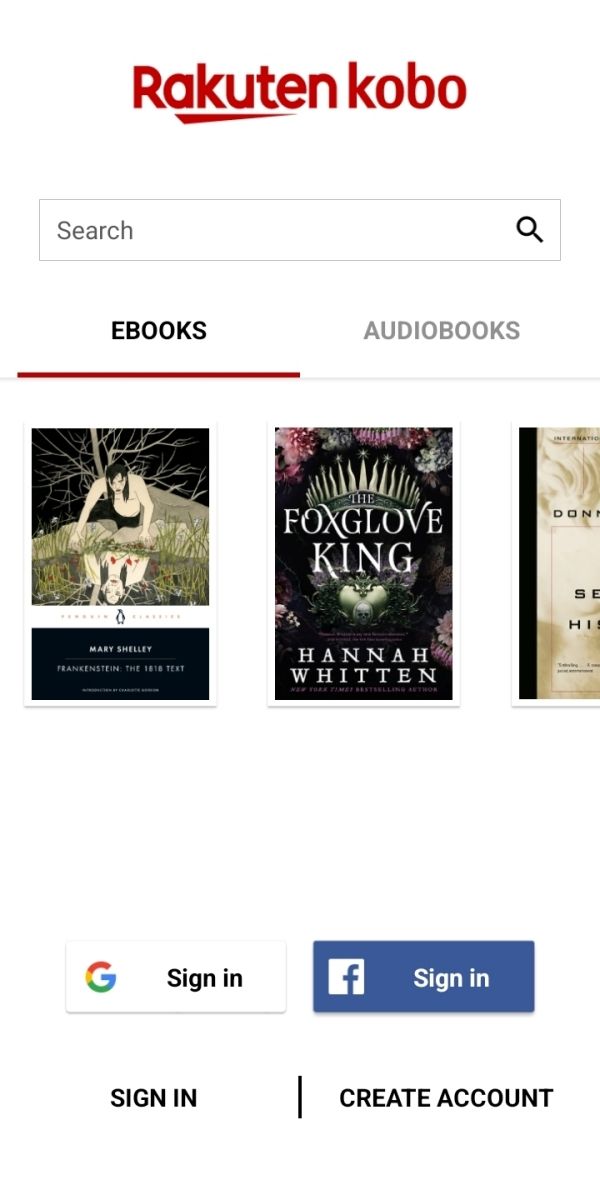 On the Kobo Plus page on a Mac or PC, make sure to switch to the U.S. store because, sometimes, the URL defaults to the Canadian store.
In Kobo, there's two separate storefronts: the regular Kobo store where you can buy ebooks individually and the Kobo Plus store in which you can rent from a limited selection of titles.
You may choose to check out the catalog first and decide which ones you'd like to read. When it's good to go, you can subscribe with the following prices.
How Much Does Kobo Plus Cost?
Kobo Plus has three subscription levels that come with a 30-day free trial should you wish to test the waters.
Kobo Plus Read: unlimited access to 1.3 million ebooks for $7.99 USD or £9.99 GBP per month
Kobo Plus Listen: unlimited access to 100,000 audiobooks for $7.99 USD or £9.99 GBP per month
Kobo Plus Read and Listen: unlimited access to ebooks and audiobooks for $9.99 USD or £12.99 GBP
How Does Kobo Plus Work?
You can read unlimited ebooks and audiobooks from a selection of titles that change occasionally. If you see an ebook now and decide to save it for later, the ebook may not be available in the catalog anymore. The selection may change, but new titles also get added.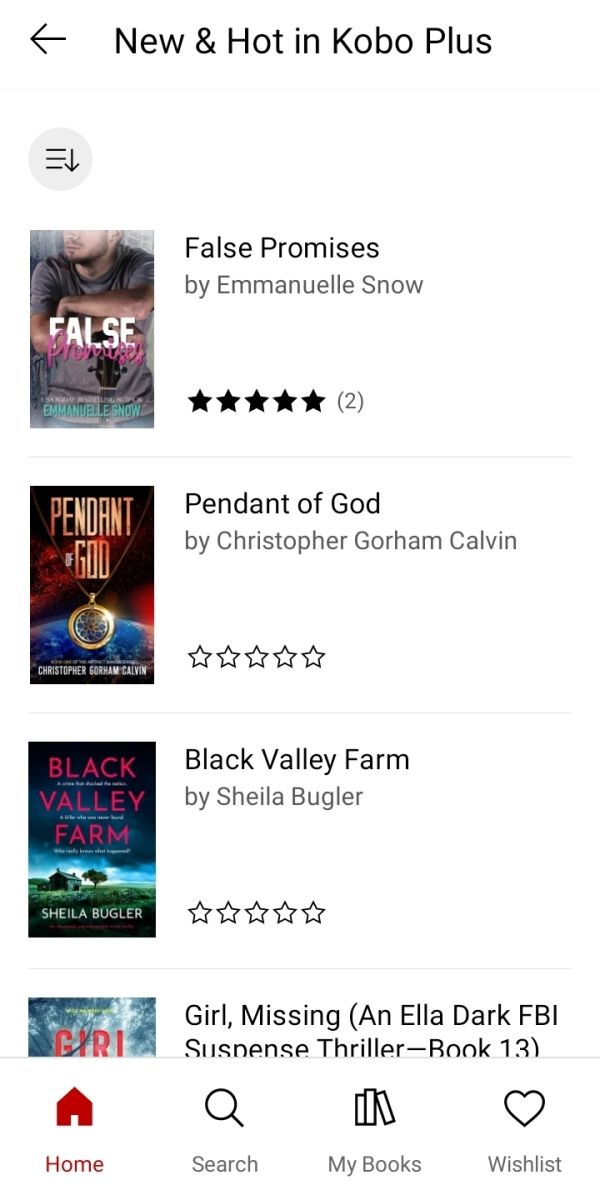 I tried sampling five titles, a mix of ebooks and audiobooks. I found that there's no "throttling." In Scribd, throttling happens when the usage gets restricted after a certain number of titles. Per my experience, you're allowed to download one frontlist (or almost frontlist) title, and then you get backlist titles during the rest of the billing period. The newer titles are hidden from your catalog, and the selection only resets in the next billing cycle. But, to be fair, Scribd offers frontlist titles.
In the case of Kobo Plus, it appears that there's no such restriction. Still, the titles are apparently older. Some authors whose ebooks and audiobooks are on Kobo Plus are Ian McEwan, Elena Ferrante, Alice Hoffman, Patricia Highsmith, and Barbara Freethy.
Where Is Kobo Plus Available?
Aside from the U.S. and the UK, Kobo Plus is also available in Belgium, the Netherlands, Australia, New Zealand, Portugal, and Canada.
The other similar subscription services that I've reviewed are widely available in many countries. This factor is important when deciding to subscribe to Kobo Plus as it may affect the reading experience during overseas travel. In addition, services, such as Storytel, even have their own localized catalog. For instance, in Storytel India, there's an option for readers of Indian languages other than English.
Kobo Plus is available on major platforms, including its flagship Kobo ereaders.
What Kinds of Books Are Included in Kobo Plus?
Like other subscription services, Kobo Plus has a lot of romance, thriller, mystery, science fiction, and fantasy ebooks. These fall under genre fiction, and it's known to be a staple of this subscription-based business model. It may be because genre fiction is often devoured quickly, making a subscription service attractive to these readers. If you like reading a lot of genre fiction, Kobo Plus would be right up your alley.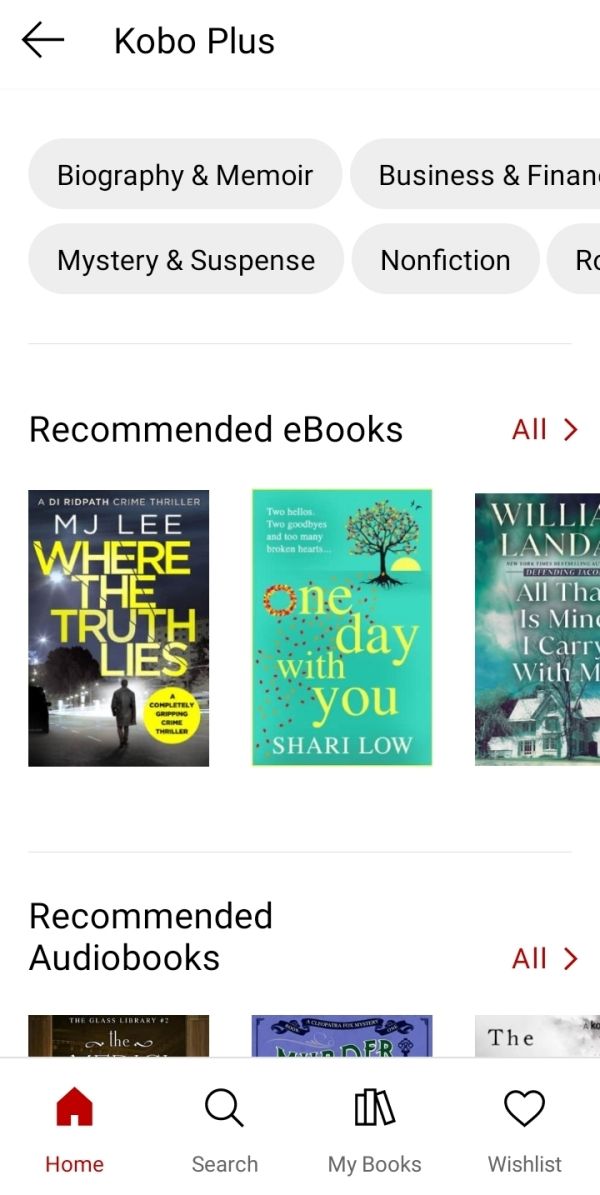 Though genre fiction is its bread and butter, there's also contemporary or general fiction, classics produced by Kobo (known as Kobo Edition), comics, manga, graphic novels, biographies, memoirs, and Kobo Original titles. These are organized in lists, and if you want to browse ebooks by genre, you could easily pull it up.
In the mood for a series? There's also a list that compiles all of them, but the downside is that it mixes different genres.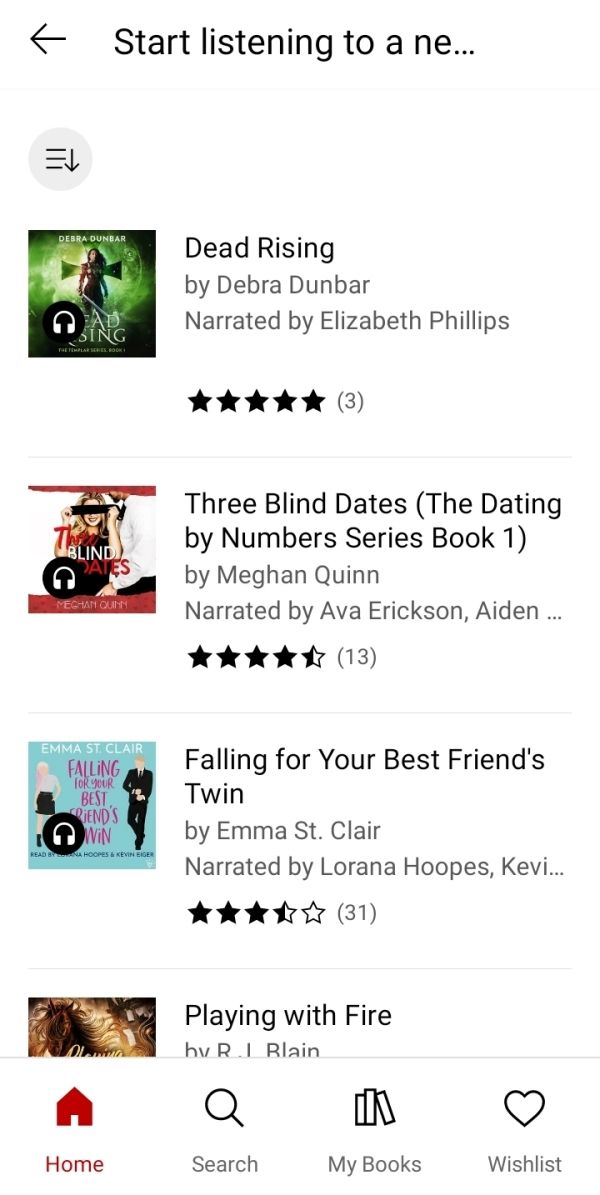 When it comes to audiobooks, there's romance, fantasy, science fiction, mystery, thriller, nonfiction, biographies, memoirs, and children (though it's very limited at the moment). I find it surprising that the library also has some audiobook editions of comics, manga, or graphic novels.
How Does the Catalog Compare to Kindle Unlimited and Similar Services?
Kindle Unlimited charges a monthly subscription fee of $11.99 USD, granting access to a library of over 4 million titles, including the popular bestseller The Hunger Games. In addition, subscribers can read magazines as part of the package.
Another frontrunner is Scribd, which offers a subscription at $11.99 USD per month, providing access to "unlimited" ebooks and audiobooks, among other things. Its library, which has hundreds of thousands of books and audiobooks, includes titles from both major and independent publishers, along with millions of user-contributed reading materials. However, Scribd gained notoriety for limiting usage once a certain threshold is reached, resulting in a smaller catalog.
Another service is Storytel, which is unfortunately not available in the U.S. In India, subscriptions start at around $2 USD per month, while in Singapore, they begin at $10 USD per month. With a combined library of 700,000+ titles from all of its global stores, subscribers have unlimited access to ebooks and audiobooks in languages other than English.
BookBeat, a service primarily catering to UK and European citizens, is an appealing alternative to Scribd when it comes to English-language titles. However, it is not currently available in the U.S. Unlike traditional title-based subscriptions, BookBeat operates on a time-based model. For £5.99 GBP per month, the Basic level provides 20 hours of usage, while the Standard subscription offers 50 hours for £9.99 GBP per month. For avid readers, the Premium subscription grants 100 hours of usage for £14.99 GBP per month. All of these subscription levels include access to its library of more than 700,000 titles.
Pros and Cons of Kobo Plus
The Kobo Plus catalog is more or less similar to its competitors. If I happen to own a Kobo ereader, it's a perfect service, as the reading experience would be seamless. It makes sense to settle on this over other subscription services.
One major pro is that the subscription price is cheaper: $9.99 USD for both formats compared to $11.99 USD with others. This is a great deal if you don't mind the older titles. And did I already mention that it's truly unlimited?
There are three flexible subscription options as well. If you only read ebooks, it only costs $7.99 USD per month, and that's the same price with audiobooks.
The only major con is that there are only certain Kobo devices that can play audiobooks, which are Kobo Clara 2E, Kobo Sage, Kobo Libra 2, Kobo Elipsa, and Kobo Elipsa 2E. So if you plan to use an old Kobo ereader, check if it can support audiobooks.
Kobo Plus is also limited to select countries. For U.S. citizens, it's not really a problem, but readers from some other countries won't be able to enjoy it.
Verdict: Who Is Kobo Plus For?
Kobo Plus is for readers who already own an existing Kobo ereader. Think of it as a companion service to the regular Kobo store.
It's for people who aren't picky readers — bookworms that don't have a specific title in mind that they want to read. They don't mind the titles or authors, as long as they get their fantasy or science fiction or romance fix.
On the other hand, Kobo Plus is not for readers who are after front list titles, latest releases, or big-name authors. If there's something that's coming out today, tomorrow, or next week, it won't likely be found here.
---
Ebook and audiobook subscriptions abound, and the market is already crowded. Still, Kobo Plus is one of the best services out there because of the cheaper price and the truly unlimited access to a selection of titles that keep growing.
But if you're interested to try other services aside from it, here are eight ebook and audiobook subscription services and nine of the best audiobook subscription services. If you're planning to have a Kindle ereader instead, you might also want to check out Kindle Unlimited.