News
Knife of Never Letting Go Adaptation to be written by Charlie Kaufman
On Monday night, Patrick Ness, author of magnificent YA novel The Knife of Never Letting Go, tweeted this brilliant piece of news: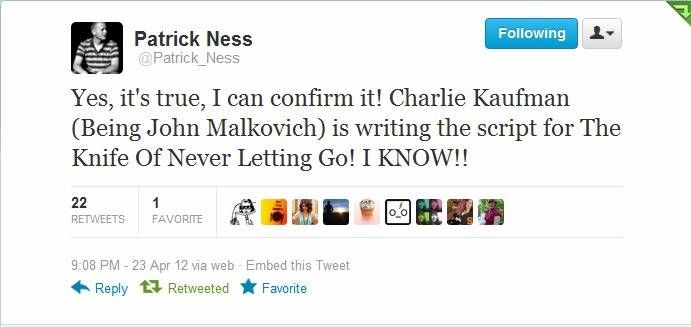 Can we cue the exclamation points and fangirlish squeals, please? First of all, it really sounds like The Knife of Never Letting Go movie is more than just an optioned film at this point. It's still very early in the writing stages, but Kaufman is a big name to have attached to the project, which makes me much more optimistic than I was when I wrote My YA Film Adaptation Wish List. Beyond that, though, I'm just so excited! I really can't think of another person who is thoughtful and weird enough to be compatible with The Knife of Never Letting Go.
As I mentioned in my previous post about adapting this science fiction novel, there's going to be a lot to get right. It takes place in the future, on another planet, there are aliens, there are new technologies and machines, but the setting is very rural. Most of all, though, there is the Noise. You see, everyone can hear the thoughts of men; it is in the very nature of the planet they live on. It's going to be an incredibly difficult thing to portray well.
But this is the point where I get excited. If there is anyone who can do this, I think Charlie Kaufman can. Adaptation is an excellent movie and Eternal Sunshine of the Spotless Mind is downright brilliant. I haven't seen Becoming John Malkovich, something I should probably change. I think what connects the first two, at least, is the fact that they are stories that would seem to be impossible to tell visually. They are too twisty, too complex. Adaptation was, well, an adaptation, from the novel The Orchid Thief by Susan Orlean. He's done this before, and I think he can do it again. Now it's a long wait from writing the script, to getting the greenlight, to casting, to that long-awaited trailer, but I'm more hopeful than I've ever been before.