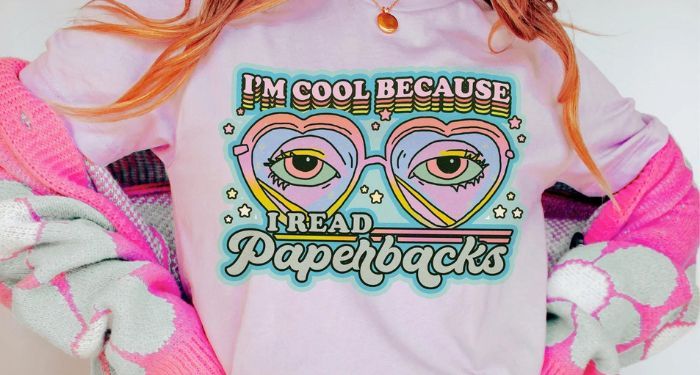 This content contains affiliate links. When you buy through these links, we may earn an affiliate commission.
Do you want to update your wardrobe for the changing seasons? If you're the bookish type, chances are you have one — or manyyyyy — reader-themed tees you wear out and about or as loungewear in your home. As we shift into warmer days in the northern hemisphere, it makes sense that a closet update might be in order, including some new bookish threads.
There are numerous great bookish shirts out there. But here's a thing: many of them are also very similar. More and more Etsy stores have moved from hand made and hand created to more mass-produced items. There's nothing wrong with getting your buck where you can, but a quick Etsy search + Canva image search + creator accounts linking Etsy to Printify mean it's easier than ever for anyone to set up shop (one tell is the photos are styled the same and/or the models are the same across shops). Sometimes, those shops blend into one another, and finding truly unique bookish goods can be challenging.
So I took the challenge on. I dug through what's out there to find some of the kitschiest and more whimsical bookish shirts. Yes, some of these might be produced with a little Canva magic, but they're different enough to stand out and make other readers ask where you found such a gem.
In defining kitschy and whimsical, consider things that are funny or a little off beat or the kinds of things that evoke a weird nostalgia deep in your heart and belly. They're the kinds of shirts you'd find in the thrift store and fall in love with for the weird or funny factor.
---
Snap up some more bookish tees with this roundup of the best bookish tees. You can also show your indie bookstore pride, your library love, or style the young ones in your life in their own kids bookish shirts.