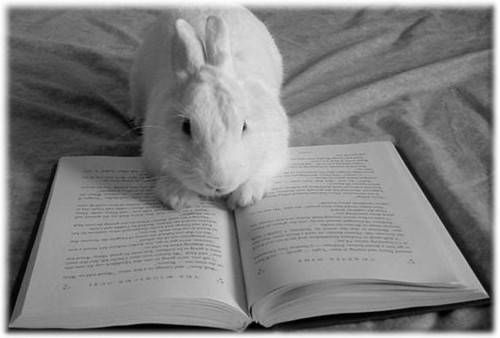 Critical Linking
Killer Rabbits In Medieval Manuscripts—What's Up With Them? Critical Linking, April 2, 2019
Sponsored by The Things We Cannot Say by Kelly Rimmer. Published by Graydon House Books.

---
In all the kingdom of nature, does any creature threaten us less than the gentle rabbit? Though the question may sound entirely rhetorical today, our medieval ancestors took it more seriously — especially if they could read illuminated manuscripts, and even more so if they drew in the margins of those manuscripts themselves. "Often, in medieval manuscripts' marginalia we find odd images with all sorts of monsters, half man-beasts, monkeys, and more," writes Sexy Codicology's Marjolein de Vos. "Even in religious books the margins sometimes have drawings that simply are making fun of monks, nuns and bishops." And then there are the killer bunnies.
Attack of the bunnies = medieval humor.
---
There has been one book, though.
Michelle Obama's memoir, which is now said to be on track to be the bestselling memoir in the world. It has been hugely popular with conservatives and liberals in the store.
"They're people who come in, buy one copy of the Tucker Carlson book and at the same time buy Michelle Obama's book," Sindwani said.
A bookstore and their political section—nothing has made me happier to not be working in retail right now.
---
The Library of Congress has acquired a trove of letters from American artist Georgia O'Keeffe and her husband, the photographer and art promoter Alfred Stieglitz, shedding new light on art history as the correspondence is being made available to the public for the first time.
The collection is a set of mostly handwritten letters dating from 1929 to 1947, totaling 157 items. O'Keeffe and Stieglitz wrote the letters separately to their friend and artistic colleague, the filmmaker Henwar Rodakiewicz. The letters were preserved in private hands for decades in Santa Fe, New Mexico, never before seen by the public.