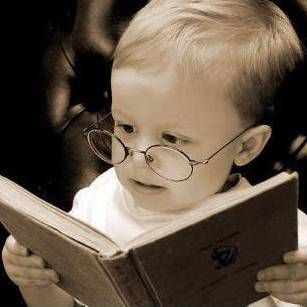 Newsletter 1
Kids Should Read Whatever They Want, Whenever They Want
This content contains affiliate links. When you buy through these links, we may earn an affiliate commission.
While we at the Riot take some time off to rest and catch up on our reading, we're re-running some of our favorite posts from the last several months. Enjoy our highlight reel, and we'll be back with new stuff on Monday, January 11th.
This post originally ran November 4, 2015.
_________________________
Time and again, I've come across scenes in novels where a young character is wandering around a library, whether personal or public, entranced by the endless possibilities offered by the books. These characters aren't sure where to start, so they choose a book at random, and go from there.
Scenes like this occur in such works as A Tree Grows in Brooklyn, Black Boy, Dirty River, and The Book Thief, suggesting that discovery through reading is a universal experience, one that enables readers to imagine other lives and other worlds. To me, it doesn't get much better than that.
Which is why I will place no restrictions on my personal library when my kids learn how to read. With nearly a thousand physical books and scores of e-books, our house is almost groaning under the weight of all those words. Poetry, fiction, history, biography, drama, anthologies: they're all there on my bookshelves (and floors, and futons). They tell stories that are uplifting, disturbing, gruesome, inspiring, and hilarious. They reveal the kaleidoscopic diversity of human experience. They will show my kids that the world is an infinitely fascinating place.
But, some might say, you'd let your 8-year-old read Lolita? You'd let your 10-year-old read Lady Chatterley's Lover? And anything by Emile Zola???
Yes, yes I would. You know why? Because I believe that you connect with books that you're meant to connect with at a specific time. Reading Thomas Hardy, for instance, informed how I read Salinger and Faulkner, Morrison and Mann. I read voraciously, and my parents, who didn't read much fiction themselves, left me alone with my literary choices. My mom listened for hours as I told her about the books I was reading, and while she lifted eyebrows and asked questions, she never told me I wasn't allowed to read something. For that I'm eternally grateful.
This smörgåsbord of genres and time-periods and styles ultimately enriched my understanding of the world and my place in it. I realized through my reading that "the good old days" never really existed, that human nature never changes, and that I must keep an open mind if I wanted to keep on learning.
I bounced around between India and France, Israel and Alaska and South Africa and beyond, traveling in my mind and enjoying it especially because we never traveled much in real life. My family's idea of a vacation was the ocean two hours away. Every. Single. Summer. I used books to explore places I couldn't otherwise access, and built up a list of literary pilgrimages I wanted to make when I was older.
The key to having your kids' reading be free-wheelin' and unfettered but also informative is your availability to answer their questions and listen to them figure out what they've read. You won't need to schedule specific times to have "Big Talks" about various issues because those issues will naturally come up in their reading. They'll read Ralph Ellison and ask you about racism and injustice and identity; they'll read Charlotte Perkins Gilman and ask about feminism and equality; they'll read Dickens and Orwell and ask about poverty and surveillance and war. They'll read histories of World War II and plays about apartheid and poems about faith or sexuality or despair. They'll read graphic novels and comic books and libretti and screenplays. You'll realize that answering their questions is a full-time job and that your books are making them really smart and thoughtful and pretty soon they'll be outmaneuvering you in debates about when and for how long they can take the car and whether or not they can get a tattoo or dye their hair blue. But you'll be proud of them.
I will admit, though, that there is one single book that, if I still had it in my library, I'd try to keep it out of my kids' hands: American Psycho. It was assigned in my senior English course in college and you know what, I wish I could unread it. Look, if my kids found it elsewhere and read it, I couldn't stop them. But I won't be the one supplying it.
Anyway. You guys know how I feel about censorship and book-banning and mind-control bullshit, so this post should come as no surprise. Kids are more thoughtful than they're sometimes given credit for, and they should be allowed to browse and sample and explore. Who cares if they don't understand a book they read in 6th grade? They'll read it again later, perhaps, and then all will be illuminated. After all, you can read the same book every three years and each time your life experiences will make you see the book differently.
So unleash your kids in your personal or public library and watch the magic happen.