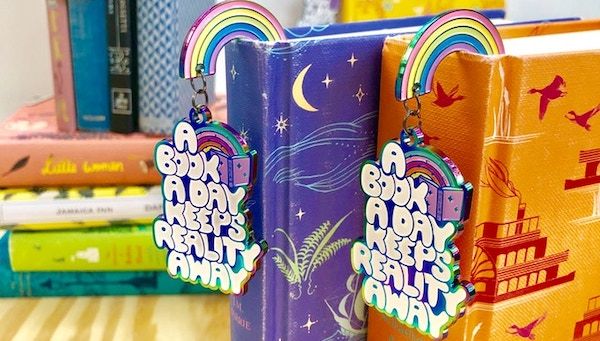 Do your books need a little bookish bling to go along with them? Are you always drooling over the cool finds in our regular Book Fetish features? Then you'll want to know about—and back—the Rainbow Punch Press Kickstarter which launched in mid-September.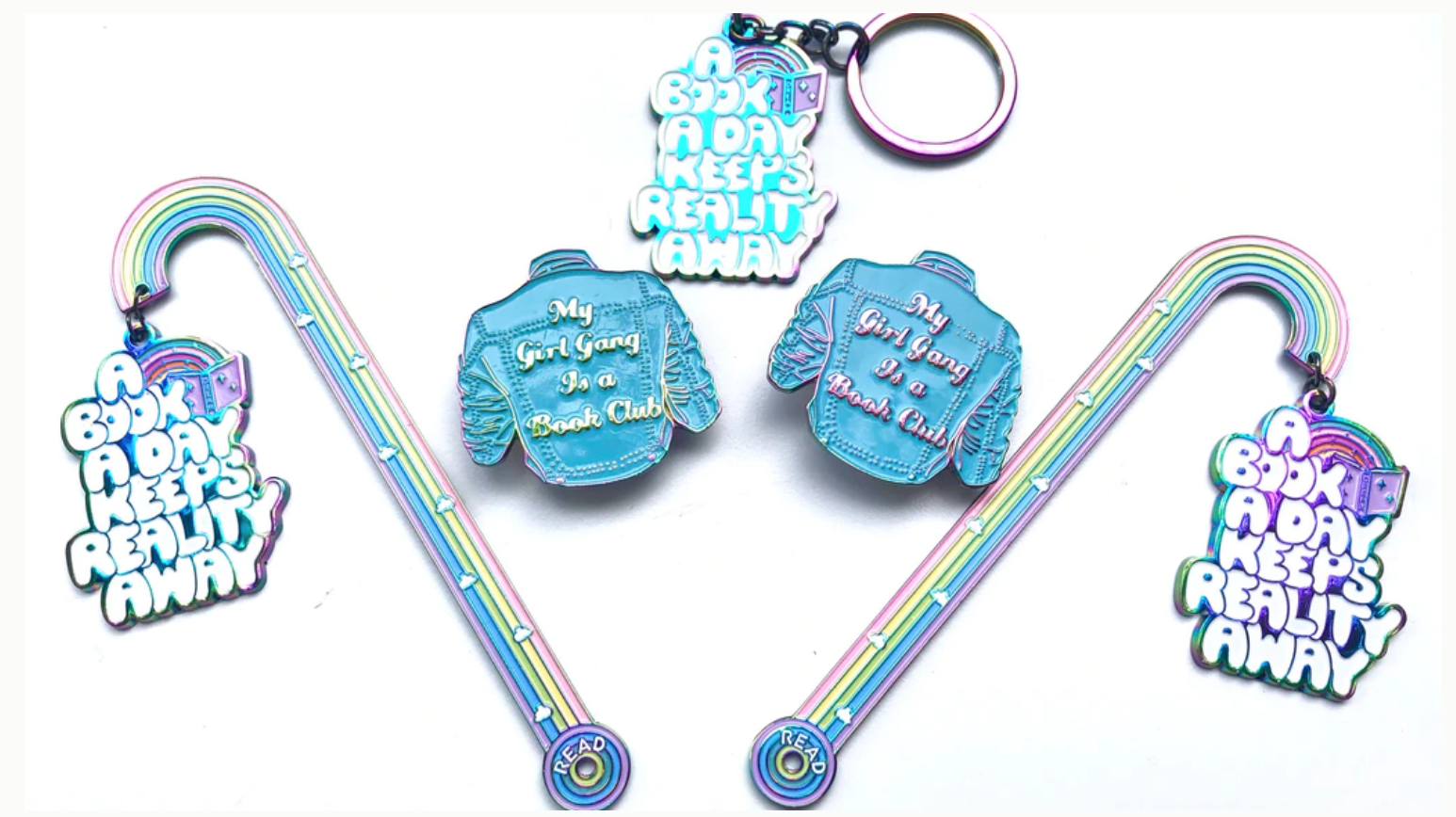 "We decided to use Kickstarter because we wanted to release a collection of themed items. In order to do everything all at once we really needed some help with the up-front costs. We decided that by using Kickstarter, we could do a small capsule collection, and if it took off we had many more ideas we could incorporate," said the sister team Tianna and Melissa, who go by Titi and Mimi.
Rewards for the Kickstarter include a wide range of their items. Small-amount donors can score "My Girl Gang Is A Book Club" vinyl stickers, "Girl Gang" enamel pins, an "I don't use bookmarks" keychain, or one of their rainbow enamel bookmarks. Bigger ticket items include tote bags, candles, and even a custom denim jacket with the "Girl Gang" design. Readers who are looking for their next bookmark, sticker, or tote bag will receive their items sometime in December, perfect for gift-giving season.
The duo are no strangers to working with readers, and not just as huge readers themselves. Prior to launching their Kickstarter and Rainbow Punch Press, the Titi and Mimi were the force behind the Landfall Freight subscription box. The subscription box, which launched in 2015, was among the first in the field, and it focused on comics and graphic novels, as well as art and products, by women creators.
"Each month we would find female artists, often on Etsy, who had something that would fit the theme of each box. We would also design a bookmark and bookplate to go with the theme. As we progressed, we started doing more and more in-house design to fit our themes. We took a lot of pride in our quirky themes! For 'The Night is Long and Full of Terror' box, we designed a memento mori keychain in enamel, Tianna drew a whole year of beloved characters for our 'Freaks and Geeks' box, and we did enamel pins and book totes, a mug for our 'You got Game Girl' box, a little bit of everything," they said.
It was their fanbase, located around the world—well beyond their home in Vancouver, Canada—which made them realize they were onto something.
"[W]e had women in Ireland, the Netherlands, Australia, Spain, France, China- that part was very inspiring. It was so cool to be talking to other women reading comics and interested in that form of story telling from so many places. There really is only one place to do that, and it is the net and the Bookstagram community which is an incredibly supportive and generous collection of people. We think we connected with our subscribers because our boxes focused on women's stories and had that handmade element. They were packed on my kitchen table and we would post pics. We wanted them to feel like they were getting a care package from their best friend. And along with the books we sent them, they could see two sisters who just had an idea and decided to do it instead of just thinking about it. If we could do it—literally ANYBODY could do it."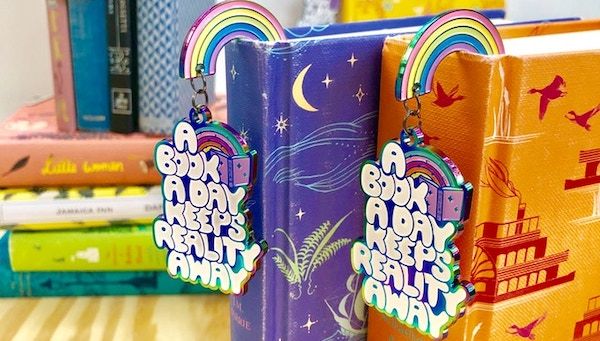 The Landfall Crate lasted for a year, coming to an end as the team's personal circumstances shifted.
"Landfall was a passion project—after a full year of running subscriptions, we pretty much broke even. Tianna was pregnant and I started a new job and we kind of ran out of the steam needed to juggle so many balls in the air every month," Mimi said.
"But, we never stopped designing things, and following the community, and when we were ready to come back, we were surprised to see not that many people had stopped following our account. So we took the leap to try opening a small bookish shop instead of the monthly demands of a book subscription box, and our very loyal and supportive gang from Landfall days has pretty much stuck with us and have been encouraging us."
What makes their items unique is they're themed in ways that other bookish good shops aren't. Rather than focus on a theme or on a type of book, the sisters expand on and beyond what they see in the handmade market, as well as create the things they are eager to have.
"We are less inspired by specific works than a lot of other bookish shops, and get our inspiration more from moods and vibes and eras. For example, this collection is rainbows and bubble letters and a fun kind of retro vibe that threw back to our childhood sticker books and pages of trying to draw puffy letters and some fun book quotes. But we have plans to do a more dramatic art deco inspired collection next, and we have some really cool vintage inspired patterns and imagery we are playing with. [O]ur inspiration comes from a lot of reading vintage books and just enjoying vintage design, trying to expand on the stuff already out there in a new way, and then things we want really. Yup. We really just make the things that we want and hope others want them too!"
Their Kickstarter, which ends on October 17, is nearly fully funded as of writing. With the money, the girls plan to expand their shop, using the money to cover the costs of production and ensure they can maintain a high quality of work, along with smaller collections that will really resonate with and excite readers. They're eager to maintain momentum and excitement, but in a way that differs from how they took Landfall Crate.
"We hope that Rainbow Punch grows at a steady pace to allow us to keep doing new designs, but not so fast that we can't accommodate it. So far things are going well. If the Kickstarter is funded, it will allow us to put three different bookmark designs up in the shop after, along with the totes, candles, and keychains which is a big deal to be able to offer more selection to people in a tiny shop," they said.
They also are eager to get back into writing about and recommending comics and graphic novels, especially as their children grow up and seek out great reads. Titi and Mimi are also hoping to reconnect with the women around the world who'd found them through Landfall Crate.
"As our kids grow and we carve out more pockets of time to read again we see that becoming a focus of our social media. That connection is really important. We want our shop to succeed but we miss connecting with women all over the world and sending those packages out to far flung destinations."
Despite keeping themselves busy with Rainbow Punch Press, growing families, and full-time jobs, both Titi and Mimi remain dedicated and passionate readers. They aren't sure how they make it all happen, though, as Mimi says, they do.
"Tianna has young kids so she doesn't ever get to sleep and is excited to be reading Wayward Son by Rainbow Rowell and is waiting for The Queen of Nothing next month. She reads between diaper changes and naps and when she is up all night due to her chronic illness. I read before my kids wake up, before I go to bed, and well, in the bathroom to tbh. It's the mom life. Right now I am trying to diversify my bookshelf and so am reading Trickster Drift by Eden Robinson (magical realism is a fave genre) and I just finished volume 3 of Monstress by Marjorie Liu."
You can back the Kickstarter here and follow Mimi and Titi through their active Instagram account.