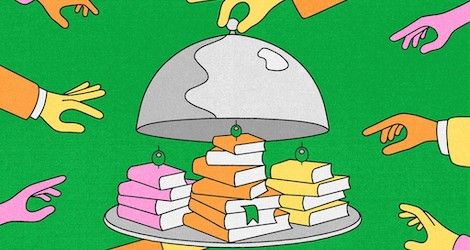 Critical Linking
Kick-Start Your Reading Habit With Bite-Sized Books: Critical Linking, April 5, 2019
Sponsored by the audiobook edition of The Girl He Used to Know by Tracey Garvis Graves.

---
Everyone wants to read more, and over the last few months I've finally figured out how to fit more reading into a busy schedule. It's surprisingly simple: Instead of trawling through Twitter or hitting up Instagram whenever I've had a few minutes to spare waiting for a train, I've been opening the Kindle app and sticking my nose in a book. Here's the catch though: What got me started are what I call "bite-sized books": books made up of loads of small chunks that are easy to dip in and out of, whether you have two minutes free standing in line or an hour to kill on a short-haul flight.
A great idea. I only wish the examples had more authors of color, but I have a feeling we have some lists of inclusive "bite-sized" books on this here website.
---
QC Entertainment, the producers behind Get Out andBlacKkKlansman, are branching into TV. They have closed a deal in heavy bidding for Wanderers, the upcoming novel by bestselling author Chuck Wendig. They aim to turn it into a socially relevant, provocative TV series that will be produced by QC's Sean McKittrick and Ray Mansfield and producer Ilene Staple, who brought the project to QC.
---
Even after his passing in 1960, Wright's empowering work lives on, with HBO cementing his ongoing legacy in a new book-to-movie adaptation of Native Son. On April 6, the network will deliver the classic novel's provocative and intense subject matter to small-screen audiences in the eponymous film starring Nick Robinson, If Beale Street Could Talk's KiKi Layne, Sanaa Lathan, and Ashton Sanders.
Ahead of the premiere, brush up on all of the books, short stories, and poetry by the unapologetic writer and man who was a leading pioneer of "The Black Arts Movement" in the '60s.
Get some Richard Wright in your eyes (many of these would be great for the reading suggestions in the top link here!).