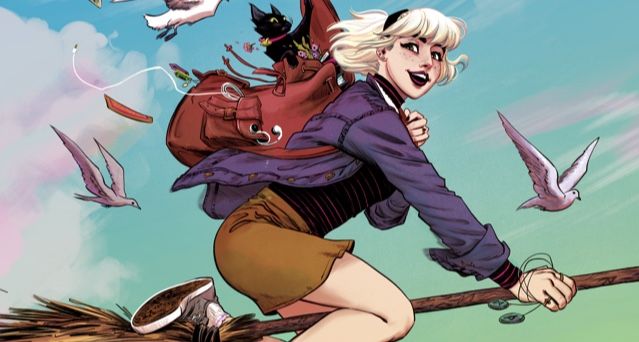 This content contains affiliate links. When you buy through these links, we may earn an affiliate commission.
I was first introduced to Sabrina through the 1990s television show Sabrina the Teenage Witch. The show was delightful as we saw Sabrina surmount many of the challenges of being a witch and a teenager. When the Netflix version of The Chilling Adventures of Sabrina began in 2018, I was pleasantly surprised that this blast from my past was coming back but with a darker tone. Little did I realize that my beloved childhood television show was but one version of Sabrina!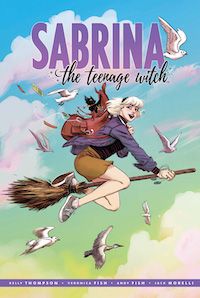 I recently had the opportunity to read the newest version of Sabrina the Teenage Witch (trade to be released in bookstores 12/10), written by the amazing Kelly Thompson with art by Veronica and Andy Fish. In her introduction she wrote, "Ever since those classic Sabrina days there have been so many incarnations of Sabrina. She's a character that—so long as you capture her essence—you can place her into almost any story and she blossoms."
Digging into the history, there have been so many versions of Sabrina over the years. Her first appearance was in Archie's Mad House in 1962. It's incredible how many times Sabrina has been rebooted both in comics and television. An animated version of her shows up in 1969 TV special "Archie and His New Pals" and later on there was an ABC series "Sabrina: The Animated Show" in 1999–2000, along with other versions along the way. Comic versions of her popped up through the decades, including the more recent Chilling Adventures of Sabrina in 2014. And of course, we have the 1990s version and the current version on Netflix.
I had the opportunity to talk to Kelly Thompson about her version of Sabrina. In an email interview I asked Thompson about her introduction and how she sees her version of Sabrina as different and similar to the other versions of Sabrina,
"I think our version of Sabrina (and her world) is certainly more serious and grounded than some of the very early comics, but also much lighter tonally than something like Chilling Adventures," Thompson said. "But the core remains—her difficulties dealing with the duality of her life, her surprising power, and the themes that come from horror stories in high school settings."
Looking back at the television shows and comics, there's definitely a spectrum of Sabrinas. There's the silliness of many of the Sabrinas in Archie comics as well as several television shows like Sabrina the Teenage Witch and the animated show. Then there's the delicious dark version in the comic and TV show of Chilling Adventures.
"I was very interested in showing a different aspect of Sabrina," wrote Thompson. "There are things about Sabrina and witchcraft that I'm really interested in and wanted to explore that's a little different than the darker take—the bonds of sisterhood, connection to nature, the idea of witchcraft having both dark and light aspects. So I really wanted to highlight that stuff and celebrate it. Fortunately I had Veronica and Andy Fish to help me bring it to life so beautifully."
I asked Thompson about the biggest misconception she thinks people have about Sabrina (either as a comic or the TV show or as a franchise).
"I think it depends on what iteration of her someone has seen before," Thompson wrote. "If someone has only seen the '90s TV show they might think she's only a sort of sitcom comedy character, if they read the Chilling Adventures comic they might think Sabrina is just a super dark retro story. And that's what's so beautiful about Sabrina as a character—and the property more generally—it's very flexible to accept a lot of different interpretations."
One of the things I love best about Thompson's version of Sabrina was how toxic masculinity seemed to pop up at various points in the comic.
"I think toxic masculinity, while it feels like a modern concept, has been around for a very long time—and certainly it's not a stretch to tie it historically to witches (or at least the historical accusations of witchcraft made against women)," said Thompson. "So for Sabrina it makes sense to tackle something like that in both a modern and a historical context."
In a previous interview with Thompson, she had mentioned that she was a "huge fan" of Chilling Adventures. I asked her if what she found so compelling about the Netflix show and whether she would call herself a fan of horror.
"Well, the show is of course based on the absolutely incredible Chilling Adventures of Sabrina graphic novel—which was a shockingly dark take on Sabrina's world," Thompson wrote. "I think part of what compels people about that take is that it's really bold and different than anything that had been done before with the character. I am definitely a fan of horror but I think my favorite horror stories tend to be blends of horror with something else, rather than just pure horror perhaps?"
There's something to Thompson's idea of blended horror. I've only recently come around to the horror genre, thanks to the sweet horror of Harrow County. I wonder how many Sabrina fans may be recent converts to the genre.
I look forward to seeing more of Kelly Thompson's Sabrina in the upcoming issues.
Want more comics like The Chilling Adventures of Sabrina? Check out this Rioter list. Want to learn more books about witches, check this Rioter list of 20 Witchy Books from 2019.