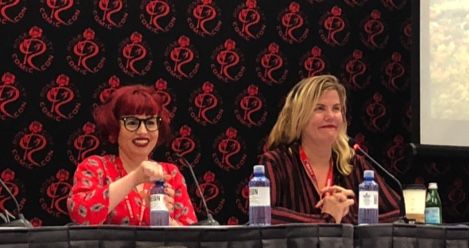 This content contains affiliate links. When you buy through these links, we may earn an affiliate commission.
Between Emerald City Comic Con, San Diego Comic Con, and Rose City Comic Con, I've been to a fair number of panels in 2018. Some were okay, some were solid, and some were epic.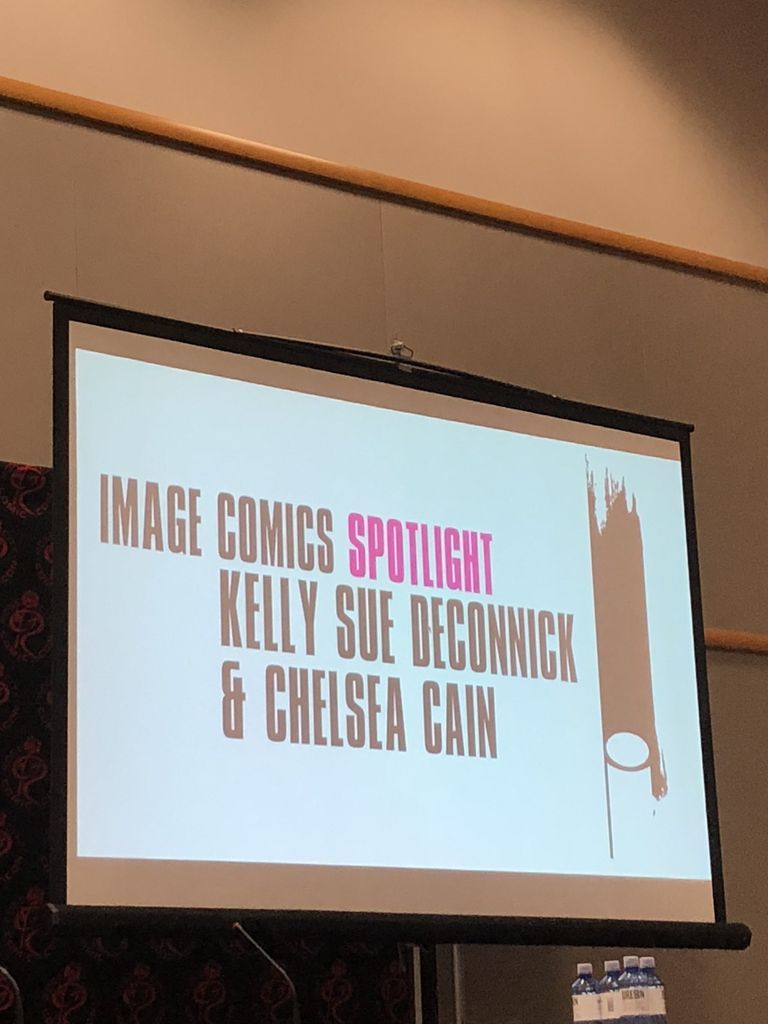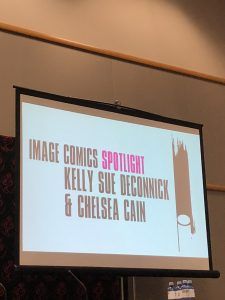 The best of them, and perhaps the best I've ever been to, was Rose City's Image Spotlight: Kelly Sue DeConnick and Chelsea Cain panel. Because it was held on the first day of the con, a Friday, the crowd was a bit smaller, allowing an intimacy between the audience and the writers that wouldn't have been possible on a more heavily attended day. It allowed for a more free form discussion between DeConnick and Cain, which was meaningful, honest, and hilarious by turns, and sometimes all at once.
First, the newsy bits:
DeConnick (Captain Marvel) announced that the long-awaited Pretty Deadly Vol. 3 (with Emma Ríos and Jordie Bellaire), a noir murder mystery, is ready for solicitation. She also reassured us new Bitch Planet is on the horizon. Additionally, Black Phoenix Alchemy Lab, who did a line of fragrances based on characters from Pretty Deadly, will be launching Bitch Planet scents as well. DeConnick said her initial reaction to the proposal was, "Really?" but she went along for the ride and is immensely pleased with the results, some of which, she opines, are eminently wearable and some of which are…not so much. "The best one," she said, "is called Gynetize, the one from the douche ad in the book. It smells like chemical daisies. It's repulsive. I don't know how many of those we'll sell, but I laughed my ass off."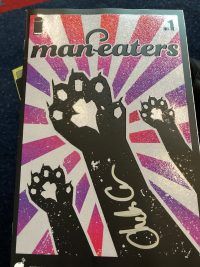 Cain's (Mockingbird) new book, Man-Eaters, about women who transform into murderous big cats when they get their period, (with Kate Niemczyk, Rachelle Rosenberg, Joe Caramagna, and Stella Greenvoss, who with Lia Miternique and Katie Lane make up Cain's Ministry of Trouble Incorporated) drops 9/26, though we were able to buy early copies at her booth, which I of course did. It's fabulous and deep and terrifying and sharp and insightful and unabashed and it has a sparkly cover. Make sure your LCS has ordered it and if they haven't, I highly recommend you demand they do so immediately.
The rest of the panel focused primarily on making comics in the current climate and the state of the comics industry.
"If you're going to do something," Cain said, in response to a question about crafting stories focused on marginalized groups, "do it now…(the) Mockingbird experience made me realize how important telling those stories are…we have a responsibility to make something beyond ourselves."
"My life," Deconnick said, "feels like a series of embarrassing revelations. I had ideas about what our country was and stood for that weren't true. I had to spend the last two years—and it's still a process—letting go of that. It's humbling but it's also an incredible place to grow from, an opportunity…I had this idea about American exceptionalism and how special we are and it's a lie. As a writer, I've always been interested in writing about power, who has it and who doesn't, but like John Lewis says, you have to put your body in the fight and that wasn't something I had done before. Our job as artists and humans is to seek the truth…it's my responsibility to mode, strength and vulnerability."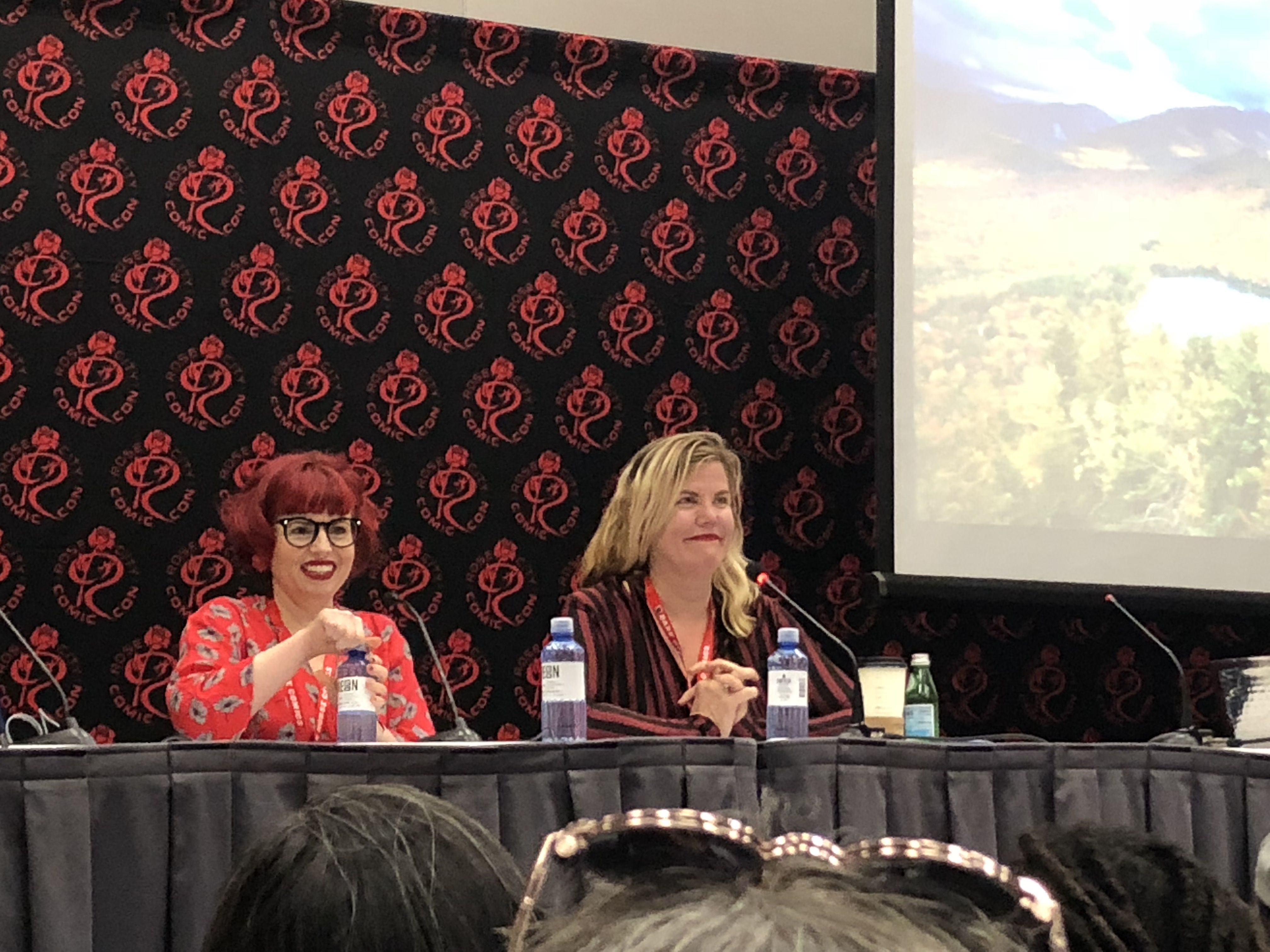 Does that mean all is doom and gloom in the comics industry as well as pretty much everywhere else? DeConnick says she knows writers and artists who think so but also those, including herself, who see the shattering of our illusions as an opportunity to grow and evolve. To provide readers with real insight, with the experience of that which is not themselves, with new understanding and empathy. "I'm inherently optimistic," she continued. "In Bitch Planet, the women are ultimately going to win. Comics will be okay. The direct market may change but narrative is integral to the human brain…comics will be around."
"I'm amazing the industry functions at all," Cain added. "It's fucked up. Kudos to anyone who gets a comic made at all. It's hard." (Contributor note: since this piece's initial writing, Marvel has announced cancellation of Cain's The Vision book. Before the first issue drops. Because…Lordy, who even knows at this point. Their loss will most certainly be someone else's gain when Cain finds another project, though I'd like to know who's going to make up for my readerly loss because I have no doubt Cain and her team killed the four finished issues and would have continued to do so—but we'll never know now, will we Marvel?)
"But our industry was founded by smugglers and pornographers," DeConnick concluded. "And you don't fall far from your roots."
I left the room inspired both as a writer and, more importantly, as a reader. Compelled to seek out as many stories as possible, to read as widely as possible. To expand my world when the stress of politics and world events seems too much and I want to hide in my cave. To put myself out there, to dive out of my comfort zone instead of easing my way into the deep end.
Because, as a reader, I have the same responsibility as Cain and Deconnick feel they have as writers: to make something beyond myself.