Interviews
Katherine Webber On Her New YA Novel, Only Love Can Break Your Heart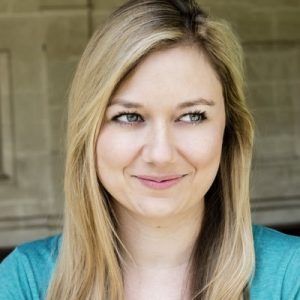 Katherine Webber's new YA novel, Only Love Can Break Your Heart, is a dreamy, smart story about loss, love, friendship and consent.
Only Love Can Break Your Heart is set on the edge of the desert, the endless Californian summer is about to descend upon Reiko and her group of popular friends. Reiko is holding on to a secret, however: she still talks to her sister Mika, who died five years ago in a tragic accident.
When she meets Seth, a troubled but alluring boy in her school, Reiko feels like she's met a soul mate. But when their relationship begins to dissolve, both teens must decide what they really want out of life.
I was lucky enough to interview Katherine about Only Love Can Break Your Heart recently. Enjoy!
Lucas Maxwell: The supernatural plays a subtle yet important role in Only Love Can Break Your Heart, did you intend for the novel to have this element from the beginning? Alternatively, did you have the supernatural play an even bigger role in the novel before the final edit?
Katherine Webber: I always wanted to have an element of the supernatural in the book, I'm drawn to light fantastical elements set against realistic settings. In an early draft, the slight fantastical element of the book wasn't revealed till the end, and my editor wisely pointed out that it might have more emotional weight if the reader knew what was really going on earlier in the novel. I tend to have more supernatural in earlier drafts, and then scale back as I edit.
LM: I got the feeling that Reiko, the main character, is filled with a kind of restlessness, a desire to explore and discover new things. Does this reflect your emotional state at that age?
KW: Absolutely. The summer I turned seventeen, which is how old Reiko is at the start of the book, I lived with a host family in Taiwan. I knew the world was so much bigger than my high school, and I wanted to explore it, but I also felt extremely tied to the small world I lived in, and everything took on huge importance. I vividly remember feeling conflict between who I was perceived to be, who I was, and who I wanted to be.
LM: The desert and the Californian landscape is in itself a character in the novel. Having family members from southern California, there is a certain kind of demeanour and approach to life that I think differs than other areas of the world. I wouldn't necessarily say laid back but maybe more contemplative. I feel like the characters in the novel also inhabit these traits even though it is something I can't quite put my finger on. Is it something you can reflect back on now that you live away from the area or is it all in my mind?
KW: In some ways, this book is my love letter to the California desert. There's something really magical about it. I don't know if I consciously put 'Californian' traits in the characters, but I definitely wanted Reiko's love for nature and the desert to come through.
LM: Are you influenced by music when you write? Only Love Can Break Your Heart evokes a late-night, dreamy, endless summer feeling for me when I read it. Do you listen to specific kinds of music or do you find it a distraction?
KW: Late night, dreamy, endless summer feeling is exactly what I was going for, so I'm so pleased to hear that! It depends where I'm at in the writing process. I usually make a playlist for a new book, and when I'm drafting I'll play it on repeat to get in the mood for that novel. When I'm editing I prefer to have classical music or ambient background sounds.
LM: Reiko feels a ton of pressure to get accepted to certain types of universities in the U.S. even though university life isn't for everyone. Did you feel this kind of pressure growing up? Were you secretly competitive with your friends to be accepted – at university or other social circles?
KW: I felt a tremendous amount of pressure to get into a good university. In the fall of my senior year, all of the adults in my life were asking me where I was applying. I know they meant well, but it was very stressful. I was fortunate in that I ended up getting into a few good schools, but I also got quite a few rejections! And it was hard to feel like you weren't competing with your friends, almost everyone I knew was applying to all of the UC schools, and the acceptances all came at once. I didn't feel directly competitive with any one person, but it stung when you knew someone had gotten into a school and you hadn't. I think it has just gotten even more competitive and stressful since then, I have a lot of sympathy for people applying for university! I wish I could tell them all that it will work out, they'll end up somewhere they like, and if they don't, transferring is always an option.
LM: Only Love Can Break Your Heart focuses on several issues, teen mental health, loss, relationships and consent. What were the novels that you read as a teen that made you aware of these topics or did you find the YA market lacking in this area?
KW: I vividly remember reading STAR GIRL by Jerry Spinelli, and that explored high school social cliques and relationships in a way that really stuck with me. SPEAK by Laura Halse Anderson dealt with consent and high school relationships, and that was another big one for me. I also read a lot of Judy Blume, Caroline B Cooney, Sweet Valley High, and historical YA. Some of those, especially Judy Blume, dealt with these topics but I think today's YA market has much more to offer. I wish I had some of the books that are out now when I was a teenager!
LM: Reiko hesitates to introduce Seth to her circle of friends because she's anxious about how they will receive him once they discover he's not popular or financially well off. Do you think this kind of clique mentality negatively affects how teens discover who they truly are or is it all part of being a young adult?
KW: I think cliques in high school are such a funny thing, in some ways they are so arbitrary. And often, all it takes is one person to 'accept' or 'reject' someone else, and this was something I wanted to explore. I think teens should try to be as open minded as they can.
LM: What's one thing you'd like teens to take away from Only Love Can Break Your Heart?
KW: That they can decide who they want to be, not their peers or their parents, that who they are and who they become is in their control. And that they are stronger than they think they are.
LM: The artist Ruth acts as a kind of spiritual guide for Reiko and even other characters in her life. Did you have someone like this in your life? Someone who wasn't part of your immediate family yet made a huge impact on your decisions?
KW: Ruth was meant to be a kind of a stand-in Grandmother for Reiko, since her own grandparents are either dead or live on the other side of the world. Growing up, I took an art class from a woman named Abby every Wednesday afternoon for 10 years, and I drew on that for inspiration for Ruth. She was also inspired by an elderly lady who lived on my street who always took young people's opinions seriously.
LM: Finally, and I ask this of every author I interview: You've been sucked into the television for reasons unknown. The plus side is that you get to choose which TV family you get to live with. The downside is you have to live with them….forever! Which family do you choose and why?
KW: It would have to be Sabrina the Teenage Witch! I'd have magical powers and a talking cat, plus her aunts are amazing.