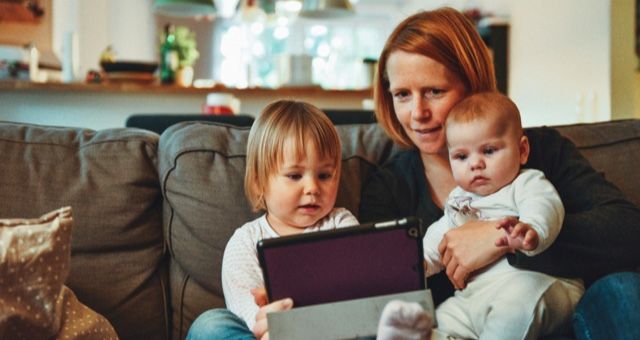 Children's
Any Time Can Be Storytime with Kanopy Kids
This content contains affiliate links. When you buy through these links, we may earn an affiliate commission.
Summer is coming and for lots of kids, that means tons of free time and vacations. Sounds great, right? Well, free time often turns into bored-out-their-minds time, and going on vacation usually means there is some sort of family travel involved. Whether it be by plane, train, or automobile, spending prolonged periods of time in an enclosed space can be trying for anyone. If only there was something besides brain-candy TV shows and mind-numbing game apps that could keep young ones occupied and engaged during these potentially difficult times.
Books are the obvious answer, but what about kids who can't read yet? Kanopy Kids might be the perfect solution. Kanopy is a free-with-your-library-card video streaming service, and Kanopy Kids is their collection of films specifically geared towards younger viewers. Check out the 15 Book Adaptations To Stream for Free with Your Library Card post to learn more details on accessing the service through your public library.
The streaming service has some great features, such as parental controls and age-appropriate ratings from Common Sense Media, plus the programming itself is fantastic. From foreign animation to educational PBS shows to language videos, there's something for every kid out there, but what I love the most are the animated storybooks.
Kanopy Kids offers more than 200 picture book titles that have been adapted as short films. Some, like Mo Willems's Pigeon books are fully animated, while others are primarily shots of the book pages with elements of the illustrations that move. They all use the book's original text, and music and sound effects accompany the narration.
The films can be streamed using a computer, television, or mobile device, so it's possible to have storytime any time, any place! And unlike the films for grown-ups on Kanopy, there are no limitations on the number of times they can be viewed.
To get you started, here are a few storytimes I've developed using animated storybooks available on Kanopy Kids right now. Each storytime is between 30 and 45 minutes long. To recreate these playlists, all you have to do is search the titles, then click the plus symbol to add it to your Watchlist.
Fabulous Fairytale Retellings
Translated from a collection of Chinese fairytales, Young tells the story of three sisters left home alone by their mother and warned not to open the door for anyone. When a wolf dressed as their grandmother comes knocking, the younger siblings let him in. It is then up to oldest sister, who sees through his disguise, to come up with a plan to save all the girls from their frightening predicament.
In this retelling of the classic Three Little Pigs story, the villainized wolf is the narrator and has quite a different take on what went down his visits to the pigs' houses. You might just take his side once he's done telling the tale from his point of view!
Mufaro has two beautiful daughters: Nyana who is sweet and kind and Manyara who is very much the opposite. When the king announces he is in search of a wife and invites the most beautiful women of the land to meet him, Mufaro brings both daughters to the palace. Which one will the king choose?
Friends are Fantastic!
Scaredy Squirrel has chosen a friends-free lifestyle because he's scared they'll bite, but now he's ready to push himself and find himself the Perfect Friend. He's armed with lots of tools and an extensive game plan to make the Perfect First Impression, but Scaredy Squirrel can't prepare for everything. Will he ever find a best buddy?
Stick and Stone may seem unlikely friends, but when Stone is bullied by Pinecone, Stick stands up for Stone and they become great friends. Then, when a storm whisks Stick away, it is Stone's turn to save the day.
Friendshape by Amy Krouse Rosenthal
Square, Triangle, Rectangle and Circle are all pals and through the use of their shapes, they create visuals explaining the beauty of friendship.
Let's Make Some Music
Using the text from the traditional spiritual, Nelson adds lush, warm illustrations, and spotlights the beauty found in diversity and community.
From his childhood to his rise as a brilliant pianist, orchestra leader, and musical icon, Pinkney provides swingin' look at the life of jazz great Duke Ellington.
Paintings by Kathy Jakobsen accompany Woody Guthrie's beloved song and takes readers on a trip across America highlighting its beauty and diversity.
If you want to try creating storytimes yourself, just browse in the Story Time subject and start adding to your Watchlist. Have fun!